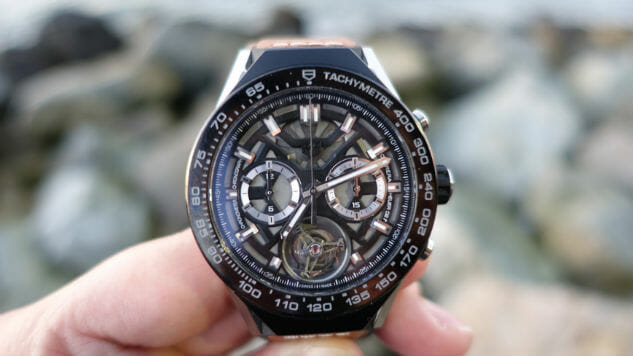 In launching its highly customizable second generation smartwatch, Tag Heuer killed off one of the most popular features of the original Connected watch that made it a household name in Silicon Valley. At an event in San Francisco, California ahead of the global launch of the Modular 45 in Switzerland, Tag Heuer announced that it is moving away from its discounted mechanical upgrade strategy.
When the original Connected launched about a year and a half ago, Tag Heuer wanted to meld the digital with the mechanical, allowing smartwatch owners the ability to purchase its artisan-crafted smartwatch for $1,500. Come two years time when the technology is obsolete, Connected owners can trade in their tech model for a similarly designed mechanical watch for $1,500. While this may sound pricey, Tag hopes that the combined $3,000 outlay offers an affordable way for tech users to get into the mechanical wristwatch market, and the final watch that you'll get has a value north of $3,000.
With the second version of the Connected, Tag representatives in San Francisco informed me that such an upgrade strategy is no longer needed—instead, the personalization and customization achieved from the Modular 45 series' modular approach means wearers can choose between mechanical or digital module at purchase, along with options for straps, lugs, case finishes and even a diamond-encrusted version.
Unfortunately, the price of entry is also creeping up. Even though Tag Heuer will offer up to 56 different combinations of the Modular 45 for purchase—it's a strategy that falls somewhere between Motorola's phone personalization with Moto Maker and luxury Vertu's assortment of premium metals and leathers in luxury smartphone market. Pricing starts at $1,650, unless of course you want diamonds on your watch (and who wouldn't?), which will bump up the Connected Modular 45 to $6,750.
Like its predecessor, the Modular 45 is powered by Google's Android Wear software, making it compatible with Android and iOS smartphones, and runs on Intel's wearable chipset.
A Modular Approach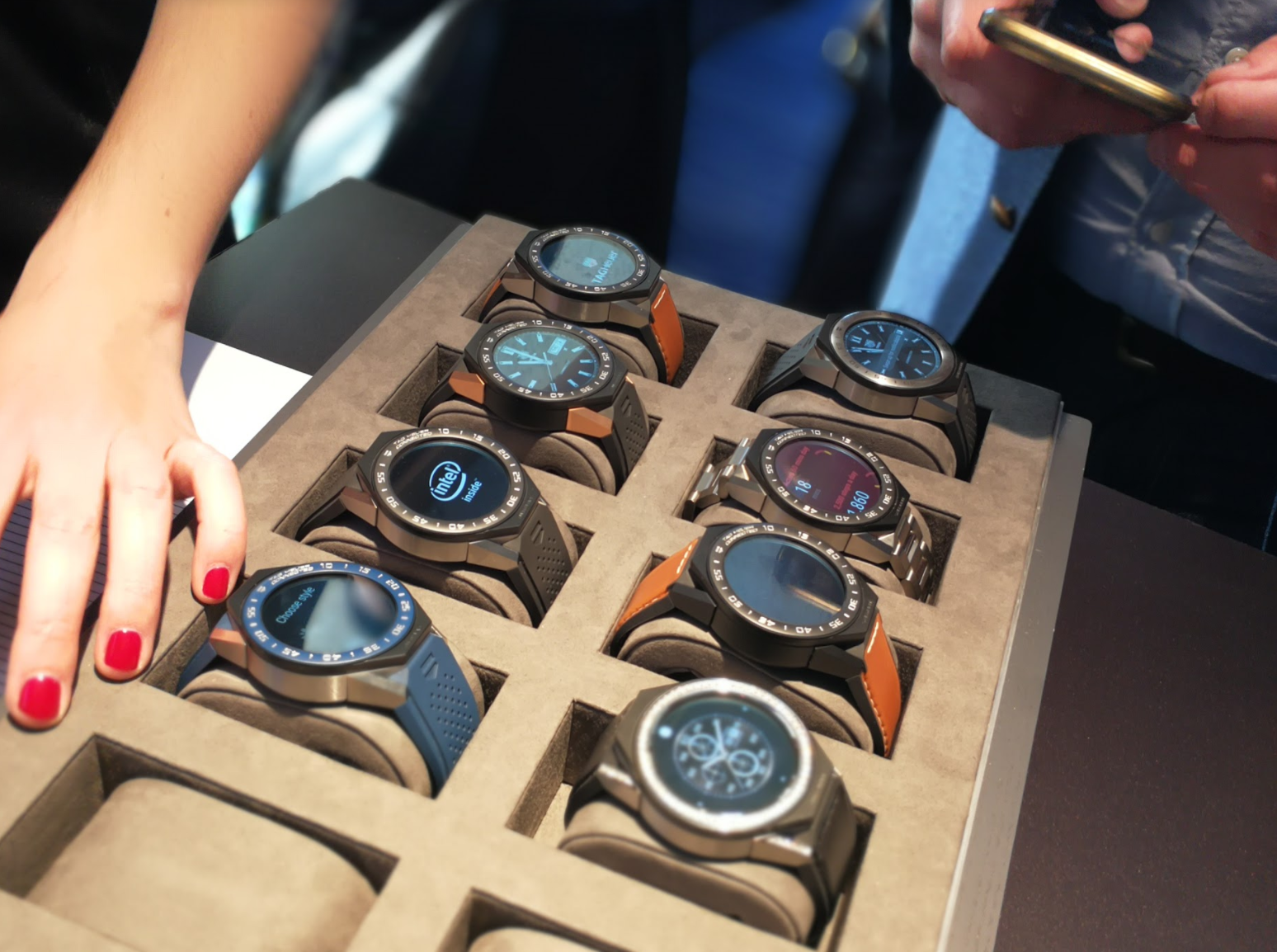 On its surface, the Modular 45's modular approach offers an unusual level of customization for an Android Wear device. On the watch module itself, you can choose from Tag Heuer's Connected smartwatch, a simple Calibre mechanical module or a mechanical Tourbillon module at the premium end. And while you can get the basic Connected Modular 45 module with rubber straps and titanium bezel (the ceramic bezel option costs more) and a buckle for $1,650, the mechanical module retails for the same price but doesn't come with straps, lugs or a buckle.
The pricing and customization compares favorably against Apple's premium Watch lineup. The Apple Watch Edition in ceramic starts at $1,249, for example, but doesn't offer the option to swap in a mechanical module that will delight Tag's loyal watch-wearing customers.
The Connected Module itself, for example, is available in several different options, with price varying depending upon what you choose. The module is enclosed in a sturdy, but surprisingly lightweight titanium construction with options such as steel, ceramic or rose gold bezel finishes. Unlike smartwatches like Samsung's Gear S2 and Gear S3 watches, the bezel doesn't rotate.
Instead, there is a digital crown—located at the 3 o'clock position—that allows you to scroll through menus without having to flick through the screen. It's a similar implementation that LG used on its most recent watches. No matter what option you choose, a Tag spokesperson informed me, the Connected comes in a full titanium metal case and sapphire glass screen for durability. The $17,000 COSC-certified chronograph Heuer 02T Tourbillon mechanical edition, I was told, includes the Connected module along with a second set of black rubber straps.
In handling all the various modules, I was impressed at how well balanced the Modular 45 felt in the hand. I had expected the digital module to weigh more than its mechanical counterparts, but I was surprised to feel that all three modules weighed roughly the same on my wrist. For watch wearers, you won't be able to discern, at least by weight, if you have on a $1,650 digital Tag watch or the $17,000 collector's dream. It's a bold strategy, but one that will serve Tag Heuer well if it intends for its buyers to swap between different modules depending on the wearer's mood.
In terms of customizability, Tag Heuer executives showed off a range of options. Wearers can choose the strap materials and colors, the lugs and deployment buckles. Straps are available in choice of leather colors, ceramic band and rubber bands. You can choose between various lug finishes to complement your module or watch faces, with a darker PVD coating, a lighter titanium option, rose gold tone or even a module embedded with small diamonds to match the diamond-finished face. There are also buckle options to give the whole package a put-together look.
The downside with the removable lug system on the models I tried at Tag's event is that constant attachment and removal can scratch the the watch case at the connection point. When the lugs are attached, you won't see these scratch marks, but perfectionists should beware.
Like the Apple Watch bands, changing between the various options doesn't require any tools —a push button mechanism found on the underside of the watch where the band meets the module allows you to quickly swap bands and lugs. The deployment buckle slides onto the band, so you can change things on the go. The first generation model required watch tools to change the straps.
Refinements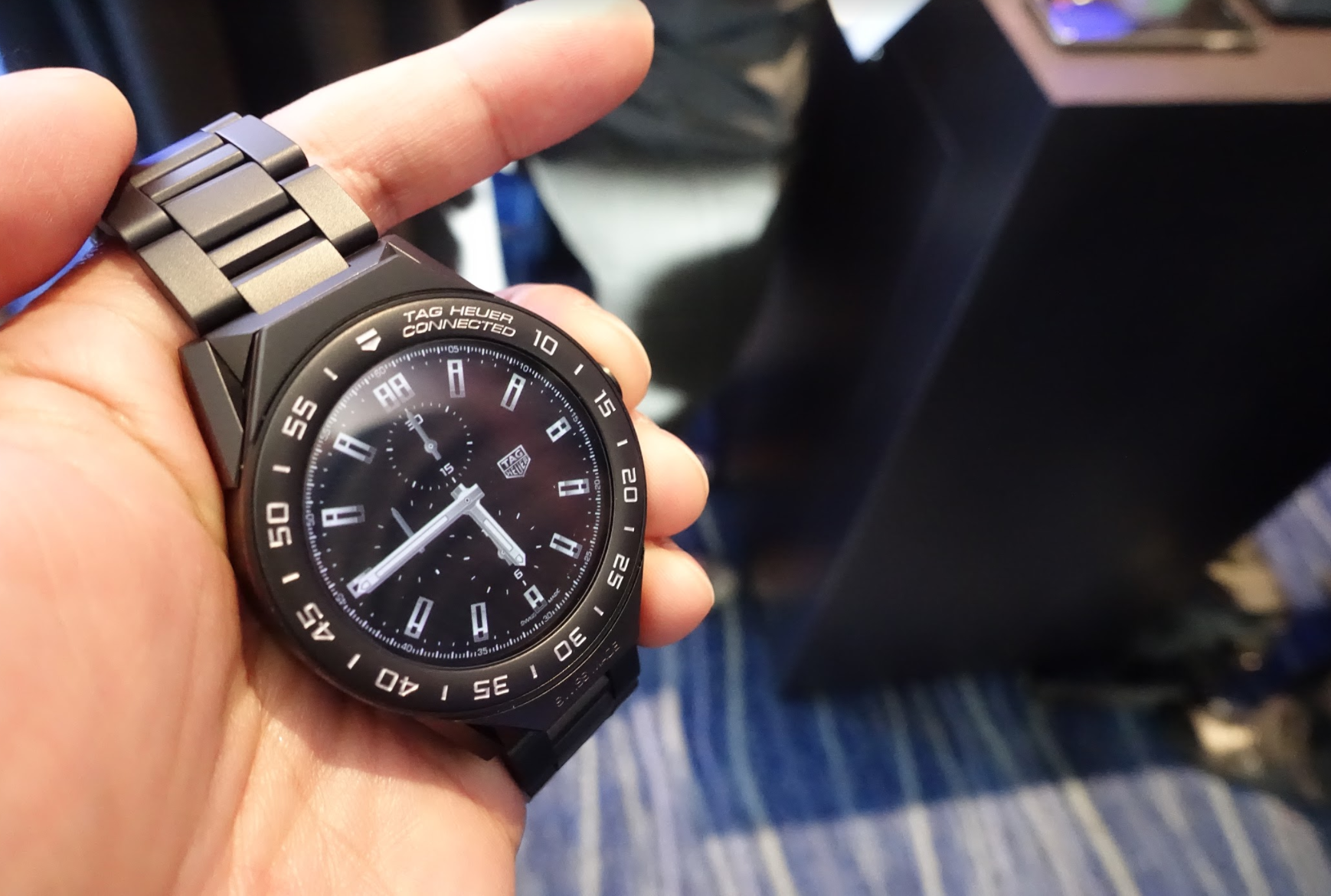 Compared to Tag's first generation smartwatch, the Modular 45's design takes on an evolutionary approach. That's not necessarily a bad thing, as it's based on Tag's Calibre design, a pretty timeless face in the Swiss watchmaker's lineup.
This year, however, the face is just a hair smaller, measuring 45mm rather than its predecessor's 46mm. Even though it doesn't look or sound much smaller, it feels a bit more comfortable on my smaller wrist. Still, there's no hiding the fact that this is a larger watch, and like the Gear S3, I feel like the Modular 45 is more geared towards male users. Female users who don't mind a larger face can opt for options like a diamond-emblazoned bezel surrounding the face and rose gold lug accents, for example.
On the face itself, the second generation Connected swaps out its TFT LCD screen from the first model for a bright circular OLED panel, which Tag claims offers more contrast and is brighter. I found that this is largely true, and the AMOLED screen is still visible even outdoors under the bright California sun. The move also allows Tag to extend battery life on the Connected. A Tag spokesperson confirmed that the watch can now last up to 30 hours on a single charge, up from 24 hours on the first model.
The switch to an OLED screen means that the display is a lot more vibrant this year, and the resolution has been increased to 400×400 pixels on the 1.5-inch circular panel. One of the big complaints with the first version is that the screen appears pixelated up close, and fortunately, I can attest that this isn't the case with the second generation model.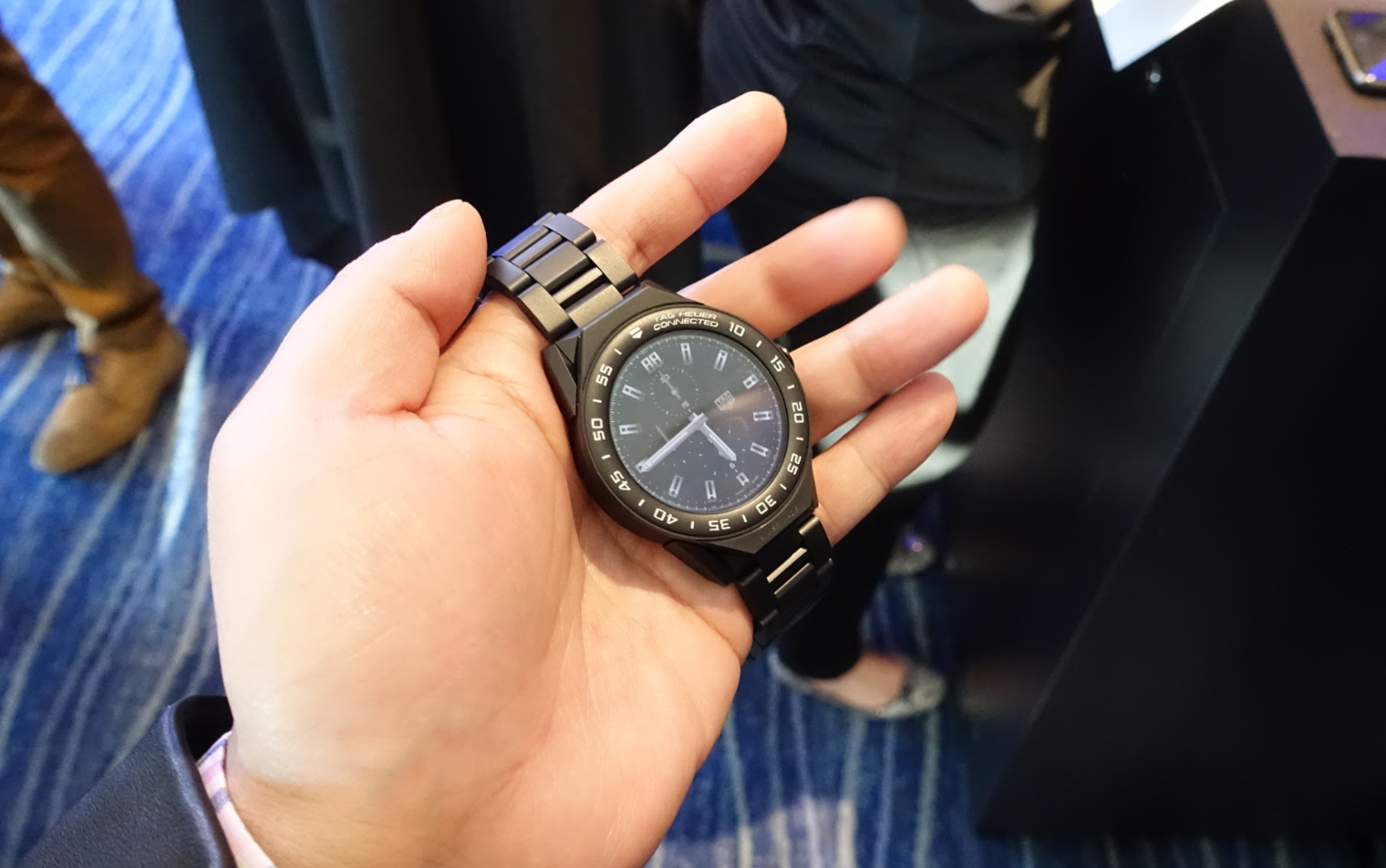 Tag executives were also quick to point out that it had worked closely with partners like Intel and Google to design an all-metal watch case that can still transmit radio waves. The Connected Module 45 comes with WiFi support, which allows the watch to be used independent of a smartphone, and also has an NFC radio for wireless Android Pay on the watch.
The all metal case feels sturdy and is a nice refinement that's lacking on some notable smartwatches available for Android phones. For example, both the Android Wear-powered LG Watch Urbane LTE 2nd Edition and the Tizen-powered Samsung Gear S3 comes in a stainless steel case, but the back of the case is plastic. Even Tag's first generation Connected comes with a plastic back. This isn't the case with the second generation Connected.
I didn't have a chance to test WiFi reception or reliability from the watch during my hands-on time to evaluate Tag's claims, but the upgrade to an all-metal design makes the watch feels a lot more elegant, with a feel that rivals mechanical watches.
The return of titanium as the metal of choice on Tag's second generation wearable is a smart choice. Even though the metal is sturdy, it is lightweight. Even at a larger 45mm dial size, the watch didn't feel awkwardly heavy on my wrist. And while it is a lighter weight material, Tag still created a balanced watch that feels as substantial as it is light when worn, a testament to the company's heritage in mechanical watchmaking.
On the rear of the metal case, you'll find metal charging prongs, allowing the watch to interface with a charging cradle on top, along with Intel and Tag Heuer logos. On the bottom of the case is a discrete proximity sensor, which works as a security layer for Android Pay. If the watch detects that you have taken it off, it will prompt you for a PIN to safeguard against unauthorized Android Pay purchases at tap-to-pay NFC terminals.
Android Wear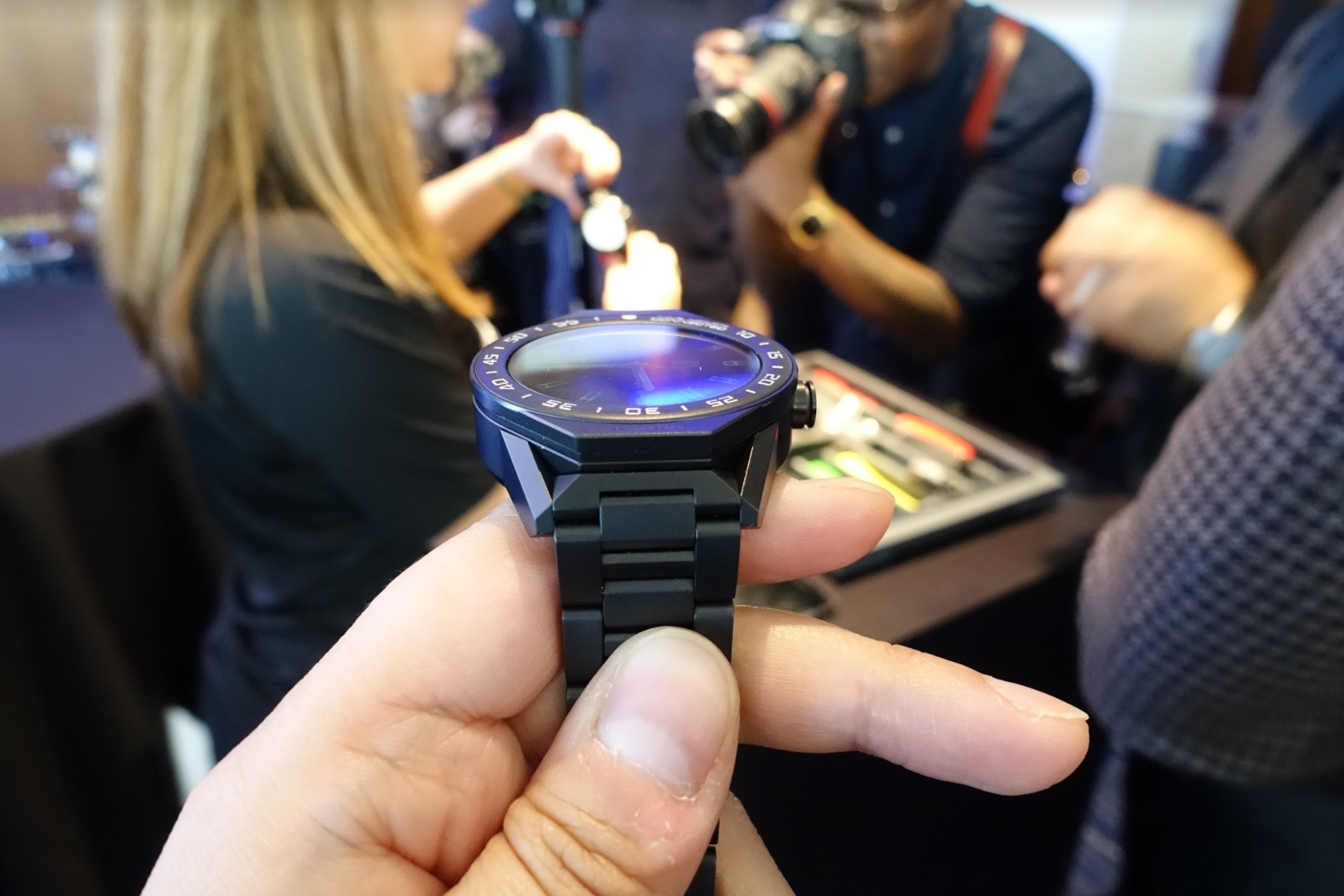 At the San Francisco pre-launch event, Intel Senior VP and General Manager of the New Technology Group Josh Walden was quick to promote some of the features of Google's Android Wear 2.0 that will feel right at home on Tag's watch design. Specifically, with Android Wear supporting expanded fitness tracking options, Intel said that the Connected Modular 45's water resistance of up to 50 meters—roughly half the 100m rating on the mechanical model—means you can swim with your watch. The built-in GPS can also help track your runs.
This compares favorably well to Samsung's Gear S3, which is rated for just 5m of water resistance! Intel says that Tag's water resistance claims is with the microphone fully open.
Yet, despite the improvements made to Android Wear as a fitness-centric platform and hardware innovations made by Tag Heuer on the watch side, there is still one big missed opportunity. Contrary to Tag's hype, the second generation Connected is still missing a heart rate sensor, which could be a useful tool to make it a serious competitor to fitness-geared trackers from Fitbit, Garmin and others. The sensor is found on most of Tag's popular competitors from Apple, LG, Motorola and Samsung.
Tag Heuer Studio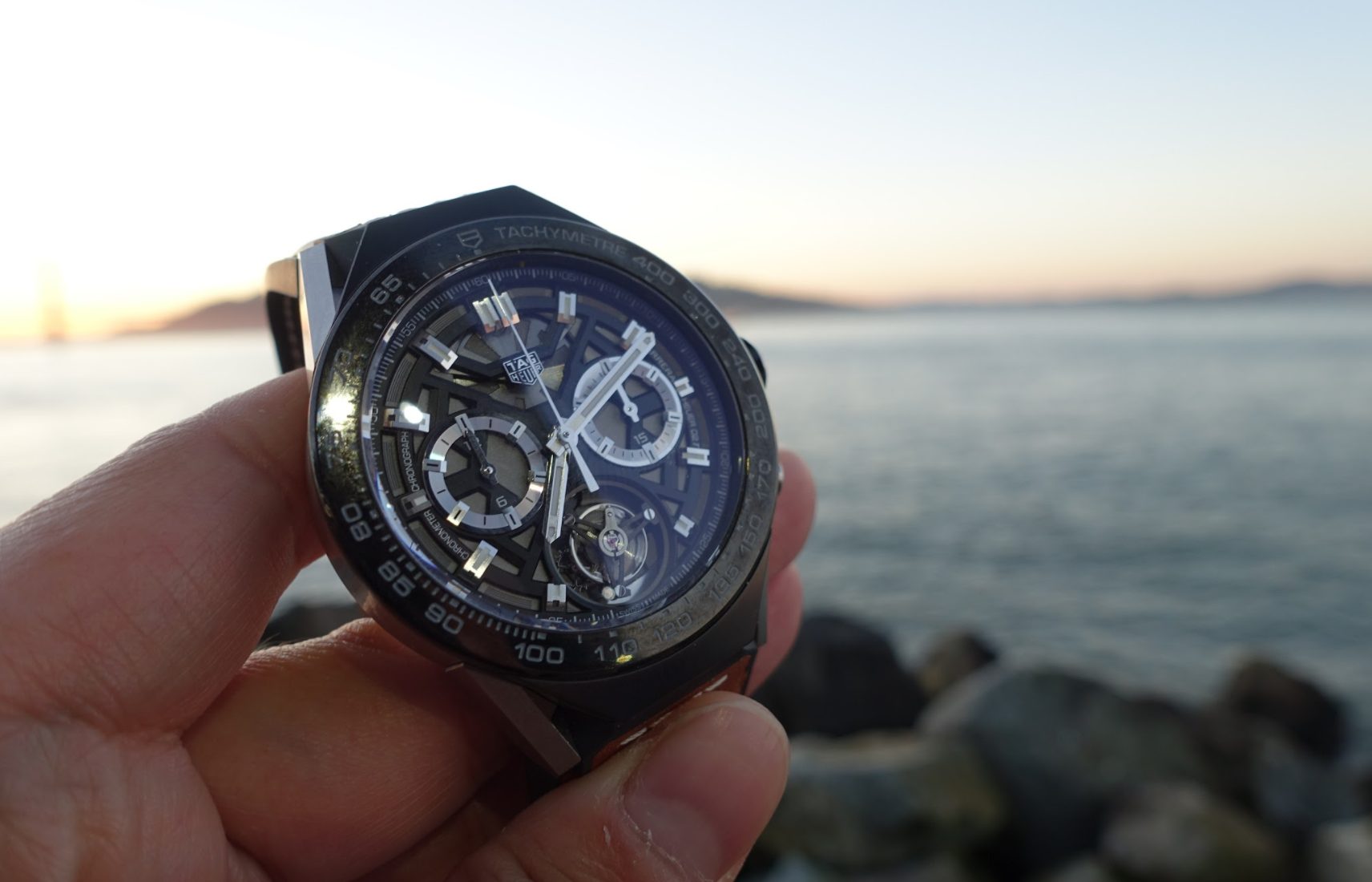 Hardware isn't the only thing that you can customize with the Modular 45. If you opt for the Connected experience, Tag's second generation smartwatch ships with a number of standard dials that allow you to replicate the analog experience of the company's Calibre Carrera line.
"Colored white, black, light grey, anthracite grey, chocolate brown, navy blue or gold, with sunray finish, skeleton dial, 3 hands, GMT, a chronograph with 1, 2 or 3 counters, plus a date and day window" are among the many digital customizations you can make to the Connected, Tag said in a prepared statement.
However, if you want even more refinements, you can head to the Tag Heuer Studio app, which is available natively on the watch or as a companion app on your phone. Tag Heuer Studio adds even further customization options to your watch face, allowing you to choose the dial color and markings, the color and luminance of the watch hands and additional windows in the watch for complications.
For example, with Tag Heuer Studio, you can have a dial with a three-window face, like a traditional chronograph. However, you can customize the windows to show different complications, like the number of steps you have taken, the weather and any other important notifications.
An Assistant for Your Wrist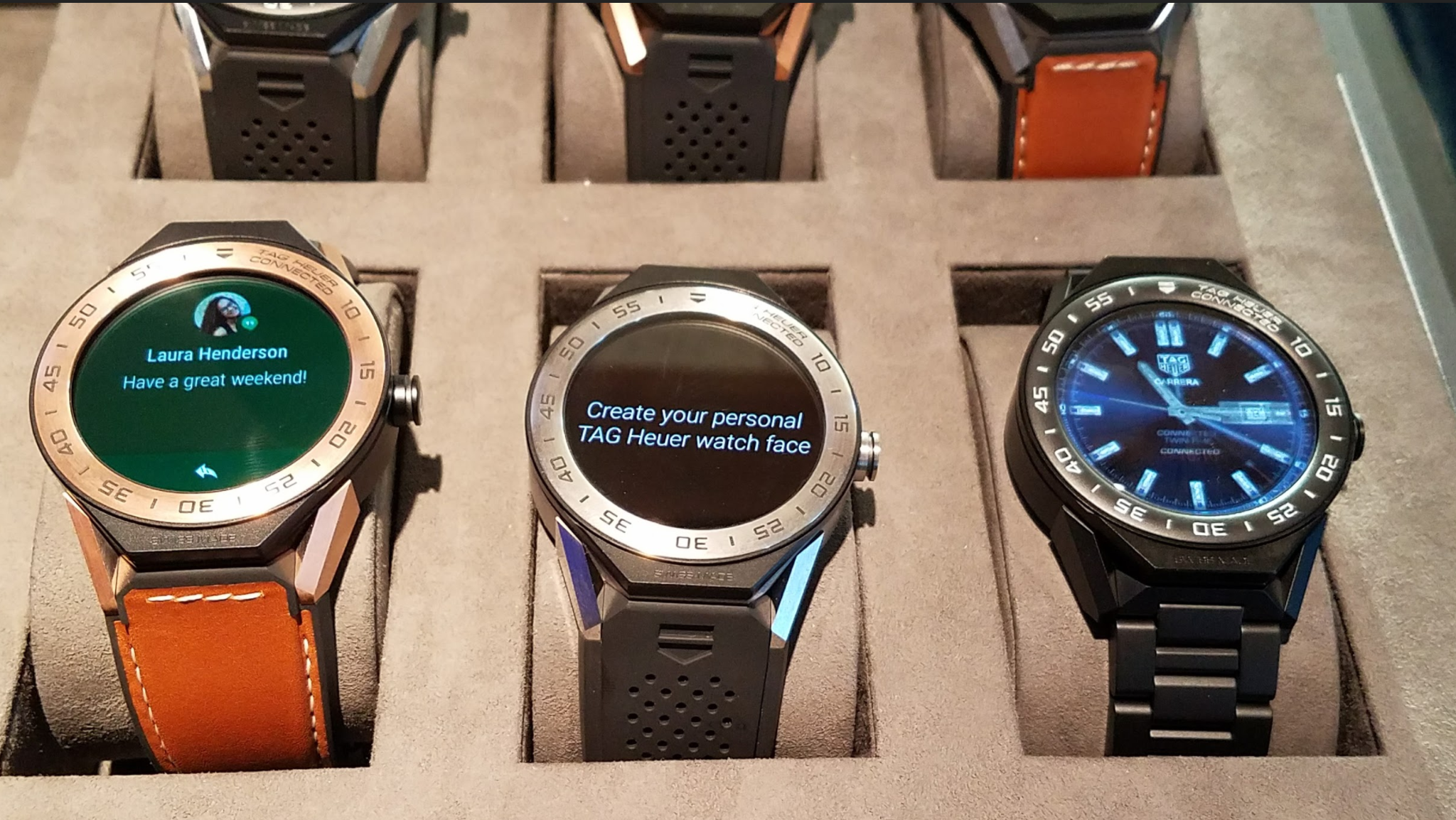 Walden said that Google Assistant will be available for your wrist, but Intel is also creating a new experience for the Connected, which will debut in a few months. While the Intel executive stopped short of calling this experience Intel's own virtual smart assistant, it sounds like the chip-maker is ready to take on Google Assistant, Siri and Amazon Alexa in the AI space.
Walden describes the Intel effort as bringing contextual awareness to your reminders, allowing you to have a smarter wrist-worn experience. In an example, Walden said that the Intel-created experience will be able to remind you to not only buy eggs, but the reminder can be set to occur when you leave work, adding location as a context.
Intel didn't offer any more insight on the experience, but it said that this will launch "in the coming months."
Availability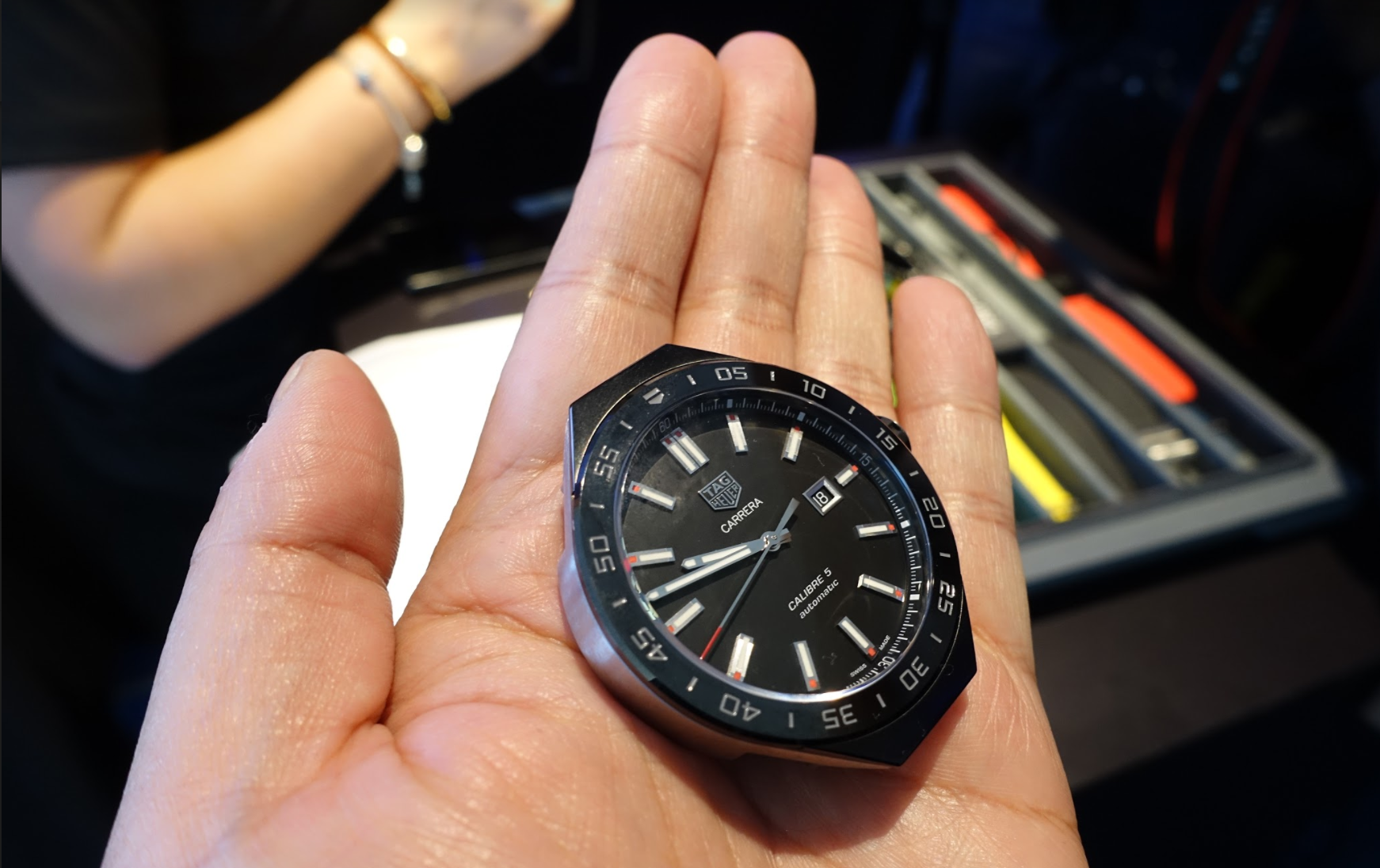 According to Tag executives, the second generation Connected will have more expanded retail availability at launch than the first model. There will be 11 standard configurations that will be available to Tag Heuer authorized retailers, like Macy's and Bloomingdale's department stores along with Tourneau, among others, and Tag Heuer offers an additional 45 built-to-order configurations for the ultimate in personalization for a connected wrist watch.
Representatives for the Swiss horologist were quick to point that the first generation of the watch "exceeded Tag Heuer's expectations" and that they're fully invested in the future of the wristwatch, which is the Connected smartwatch, according to CEO Jean-Claude Biver.
However, with rising prices and the affordable trade-in option towards a mechanical piece gone, Tag's strategy means that you're buying into the company's legacy and experience. Unlike smartwatches from technology companies, Tag's unapologetically "Swiss-made" branding on the watch is really what you're paying for—the privilege of buying art. There is no denying that there is an emotional connection to Tag's pride heritage when you don something so well made on your wrist.