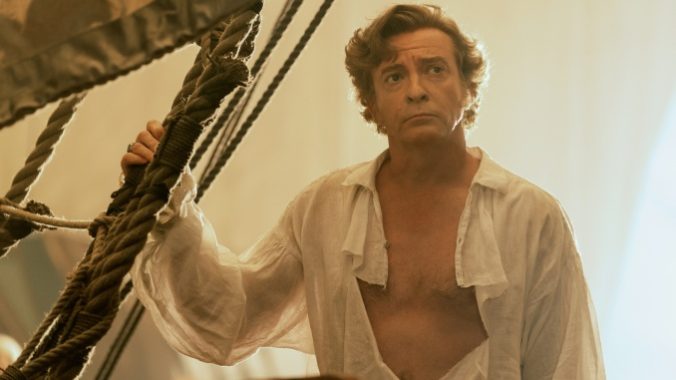 Our Flag Means Death burst onto the scene earlier this year and quickly became a new cornerstone of queer media. By showcasing three explicit queer relationships (including one featuring a non-binary character played by a non-binary actor), it was direct where so many instances of potential queer representation stop short.
As a result, it's been no surprise to see queer fans flock to the new arrival despite a distinct lack of effort by HBO Max in actually marketing their massively in-demand exclusive hit unless it's Pride Month. Fans haven't just enjoyed the series, it's activated fan creators in a condensed timespan at a rate which few (if any) shows have ever managed before.
Fanfiction and fanart of Our Flag Means Death has been growing exponentially since the show debuted a mere seven months ago. Just on AO3 alone (which is far from the only place you'll find fanfiction) there are 15,009 individual works for Our Flag Means Death, but it's the rise of another type of fan fiction that has truly gripped the OFMD fandom.
SMAU, or Social Media Alternate Universe, is a type of fan fiction that often blends fictionalized social media posts, text exchanges, and other types of digital media to tell the story rather than purely using prose. The most common SMAU format is usually created as a thread on Twitter with early posts establishing the premise and offering content warnings before frequent updates unravel the story one piece at a time.
SMAU authors, like traditional fanfiction creators, all have their own unique style. Some lean more heavily on prose while others will sometimes exclusively use social media posts or DMs to tell the story without including a single bit of pure prose. While those styles vary widely, one extra special spin on it for Our Flag Means Death is that these works have become so beloved even the show's cast and crew have taken notice.
Piña Coladas, created by Lottie (@faeeebaeee), has taken the hallmarks of SMAUs and pulled them backwards in time to create an AMAU, or Analog Media Alternate Universe. Piña Coladas is initially set in the late 1980s and is filled with all the hallmarks of the era you might expect, such as beeper or pager codes being used to communicate as well as hand-drawn fax machine messages.
When Paste spoke to Lottie about the creation of Piña Coladas as an AMAU experience, they highlighted A Heart Full of Love by Leeroy (@GENTLEPIRATE), Any% Glitchless by Rin (@stedecore), and East Pier Craft Fair by Boo (@doctor_moth) as other SMAUs that inspired her to dive into that realm. After writing Edelweiss and Red Rose as more traditional SMAUs, he took the dive of asking what an SMAU set in the 1980s would look like.
"Seeing queerness so unabashedly displayed, in so many different and diverse ways, was a breath of fresh air," Lottie said of OFMD inspiring their dive into fanfiction. "I fell in love, and consequently fell in love the idea of exploring that queerness in different settings. It's funny! It's loveable! It's genuine! It's compelling! It's inclusive! It's full of heart—with queer romance at its centre and like so many others I wanted to ask how many ways could these people find each other, in how many universes?"
Piña Coladas took those same desires to explore the queer romance that we see between Stede Bonnett and Edward Teach in Our Flag Means Death, and it was uplifted by a compelling mixed media concept blending graphic design, hand-drawn concepts, carefully curated Spotify Playlists, and powerful prose. Starting with the initial post on June 19, 2022, just under three months after the show's season finale, Piña Coladas is now on post 549, and the response from the fandom has been massive.
"When I started Piña Coladas there was nothing else like it (as far as I'm aware)," Lottie explained. "It was the first AMAU, and it felt like something that different could flop at any moment. And it kinda did? It did less numbers than my previous works, it was hard to tell if readers resonated with faxes and beepers and 'desk spreads,'" she said. "I was going out on a limb, and I was prepared for it to be niche. So it was for a while, but then the fanart started, and the readership grew, and it…kept growing. It seemingly exploded out of nowhere, which is something I never could have anticipated."
That explosion isn't understated, as the updating of Piña Coladas has for several months now become a massive collective event in the OFMD fandom. Every time a new post arrives for Piña Coladas, fans flock to Discord channels and Twitter group chats or direct DMs to ensure all their friends know that the story's next installment has arrived. Other creators falling in love with Piña Coladas have created fanart for new scenes just hours after they're posted.
Perhaps the most surprising moment wasn't just that fans had collectively flocked to Piña Coladas to enjoy it, but that the cast and crew of Our Flag Means Death seemed increasingly aware of its existence. Tiny potential nods like Instagram posts with Rhys Darby at an arcade (a pivotal location in Piña Coladas) or Vico Ortiz with an actual Piña Colada drink could've been coincidental, but writer Alex Sherman went a step further by liking two tweets featuring fanart specifically of Piña Coladas.
Em, the artist who created the pieces Sherman liked, tweeted about the fact that Sherman located and liked both pieces despite neither having tags specific to the show or Piña Coladas. Sherman responded by telling Em to "tag them next time so they're easier to find." Even in such a small interaction, it was still one of the show's key writers saying at the very least that they see and support this voracious fan response.
"Crazy!" was the understandable reaction from Lottie when she finally learned of Sherman's tweet. "I'm such a baby writer and knowing that professionals have engaged, even loosely, with my work still astounds me. The pipeline from 'I could never write, I'll never be good enough, I won't have a single reader' followed by 'Jumping into the SMAU writing format because it appeals to the artist side of my creativity, expecting nothing' to 'OFMD writer Alex Sherman has liked popular fanart of my written fan work' is wild."
A few weeks later, Our Flag Means Death fan Christine Tartaglia tweeted a simple question at show creator David Jenkins: "do you like piña coladas?" While he could've simply ignored the tweet or given a "getting caught in the rain" tongue-in-cheek response, David Jenkins instead stated he's "waiting to read when the series is done." Even if the cast and crew are all holding off on starting Piña Coladas, they want a fandom brimming with creatives to feel seen.
The future is uncertain, but bright, for Our Flag Means Death as well as Lottie and Piña Coladas. The series is currently filming for season two, which is expected to premiere on HBO Max in the first half of 2023. In an interview with Polygon back in May, Jenkins confirmed his intent to tell the full story across three seasons, but that third and potentially final season has yet to be confirmed.
As for Piña Coladas, fan fiction being adapted into a separate publishable work has happened before, and Lottie stated they would "love to" do the same with this creation. "It would be a task—all the images would have to be redone by an artist, and I'd have to get creative with the multimedia aspects (such as playlists), but I love the challenge and would adore seeing it as a full, reworked, published piece that I (and others) could physically hold in their hands."