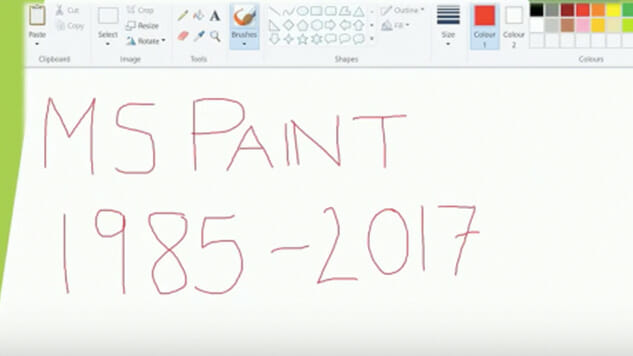 The classic tool for the early days of elementary IT lessons is finally being retired. It feels as if you've come home to find your childhood toys all donated by your parents, a la Toy Story 3. Microsoft's next Windows 10 update, called the Autumn Creators Update, will bring a variety of new features but do away with one major facet of nostalgia: Microsoft Paint. (Nevermind that we haven't used Paint in seven years.)
Paint was first released in 1985 with the initial version of Windows 1.0. The app was one of the first widely used graphic editors, and became a core part of Windows' identity, if a seldom-used one. In its place Windows 10 Creators Update, released last April, introduced the new Paint 3D, installed with the traditional Microsoft Paint and featuring 3D image-making tools.
Paint was never one of the most capable apps and wasn't even able to save in JPEG until 1998, yet it was perfect for scribbles and quick cut-and-paste jobs. The child version of Photoshop allowed us to churn out hundreds of low-rate cubism masterpieces. The app was also a staple on work computers, something Jim Halpert definitely wasted time on.
An exact date for Windows 10 Autumn Creators Update has yet to be confirmed, thus we don't even know how much longer we have with Paint before it joins the likes of Clippy in the Microsoft graveyard. However, there is still hope yet, as the app is only being deprecated, meaning it will not be actively deployed in new updates. So either Microsoft is keeping the app around only to drop it completely later, or it could hang in the archives for another decade as an artifact of a bygone era.
Children of the future will never know the joy of spending hours doing this on Microsoft Paint #MSpaintpic.twitter.com/IY6kDxPdc4

— Fiona (@McDoFi) July 24, 2017
RIP MS Paint. RIP our childhoods pic.twitter.com/UpNYEDe4cA

— Ramsha (@Economistaken) July 24, 2017
Brother Graw Mad is inconsolable over the loss of MS Paint. Let's all pour a little libation outta our Paint Bucket Tools today. pic.twitter.com/8B2yYB8DwM

— Strong Bad (@StrongBadActual) July 24, 2017