Chamberlain, the makers of the MyQ app, which has partnered with Nest to monitor live video feeds of your garage door at home, has revealed the ten most connected cities in America based on the use of connected devices in the home.
It found that Houston, TX has the highest number of connected devices in the home with Las Vegas and San Jose coming in second. Most surprisingly, San Francisco doesn't feature in the top 10 while, according to Chamberlain, Wyoming is the least connected state in the country.
The data is only pulled from the company's and its partners' analytics so it doesn't consider the use of other smart home products and services, which skews the results a bit to where its app is used the most.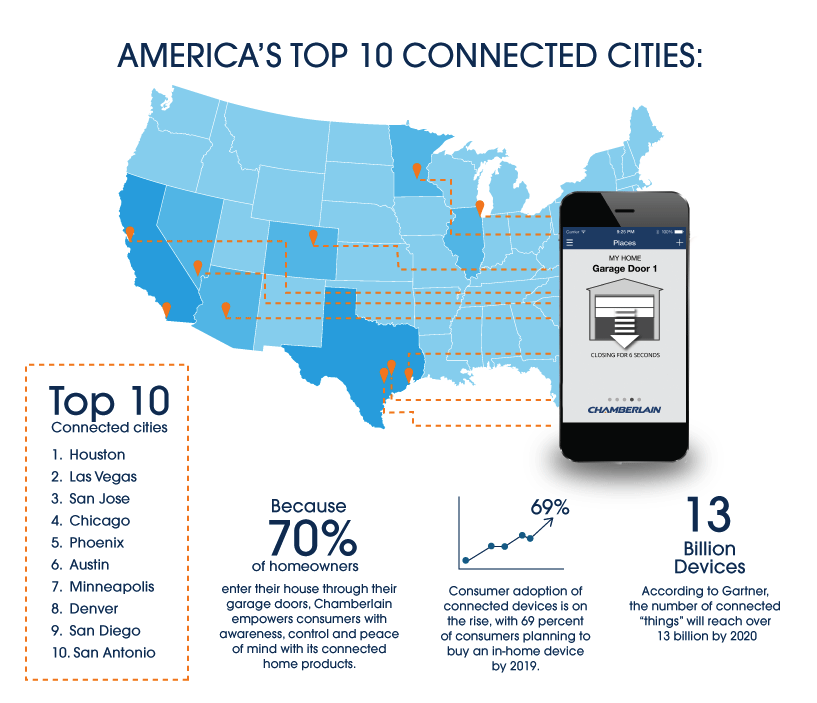 "Chamberlain calculated a unique engagement score based on consumer interaction with the brand's connected home products, features and partners like Nest, Xfinity Home and others," said a spokesperson for Chamberlain.
The number of connected gadgets in the home and Internet of Things devices is rapidly growing. There are often various figures floating around about just how many devices will be in our lives in the coming years. Gartner tips that there will be 6.4 billion "things" in use 2016, a rise of 30 percent.
With CES this week we're also getting a glimpse into the future of smart home technologies with more and more devices flooding the market than ever before. Is your home ready?