Jony Ive, Designer Behind iPhone and MacBook, Leaves Apple
Images via Apple/YouTube, Apple
Tech
News
Apple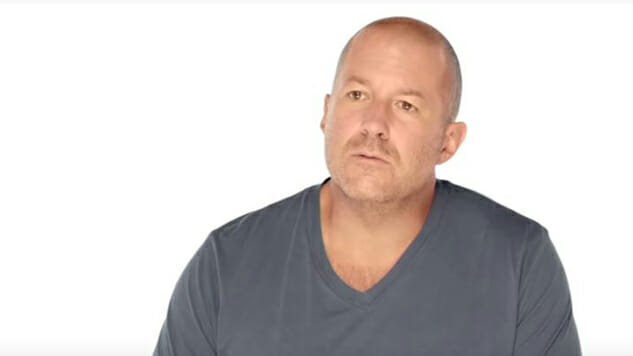 Johnathan "Jony" Ive, Apple's head hardware designer since 1997, announced Thursday that he would be stepping away from the company to found his own independent design firm, LoveFrom. The news, unsurprisingly, made Apple's stock tumble a few dollars—after all, Ive was Apple's "design genius" who worked closely with Steve Jobs to change the way the world thinks about cellphones, portable music players and laptops.
Ive first began working for Apple during its infamous Jobs-less dark ages in the early 1990s. When Jobs returned to the company later that decade, Ive, on the edge of quitting the stagnant company, was quickly promoted to a leadership role as a hardware designer. After that came a string of paradigm-shifting successes that led Apple products to be displayed in fine art museums and had the press whispering in reverent tones: iMac G3, the iPod and, of course, the iPhone.
Ive currently oversees all design for Apple—he took over software design, too, after his colleague Scott Forstall (head priest of skeuomorphism) was unceremoniously fired for the bungling of Apple Maps. Under Ive's tenure, Apple's OSes have (controversially) embraced flatness, bright color and abstraction.
"Bauhaus," "minimalist" and "geometric" are all buzzwords that have attached themselves to Ive's signature style. And he does have few pronounced fixations. One is his allegiance to svelte thinness, as represented by the original MacBook Air, which could comfortably fit in a manila folder. Another is his obsession with roundness, whether it be the iPod wheel, the "dustbin" 2013 Mac Pro or the curved edges of the iPhone. And there's the iconic Apple white, gracing packaging, earbuds and aluminum alike.
Sometimes, though, his obsessions can lead him astray: Ive's career at Apple is littered with as many failures as successes. His designs for computer mouses, particularly 1998's USB "Hockey Puck" and 2017's Magic Mouse 2, were impractical and substandard. His pursuit of thinness at all costs led to the awkward camera bump ensuring that iPhones shall never lay flat on a surface again, and the infamous MacBook butterfly keyboards that are so dainty and fragile that stray motes of dust can break them in seconds. His most high-profile misstep might be the iPhone X, which underperformed because of its eye-popping price point, and fell flat with the critics over its strange widow's peak.
So on that note, maybe it's not such bad news after all for the most valuable tech company in the world. Though Ive is not entirely giving up working with Apple, it's appropriate for fresh blood to take up Apple's Iron Throne. The Tim Cook era has seen Apple stagnate, making endless new iPhones and iPads with little innovation or boundary-pushing. It's time for something new again.