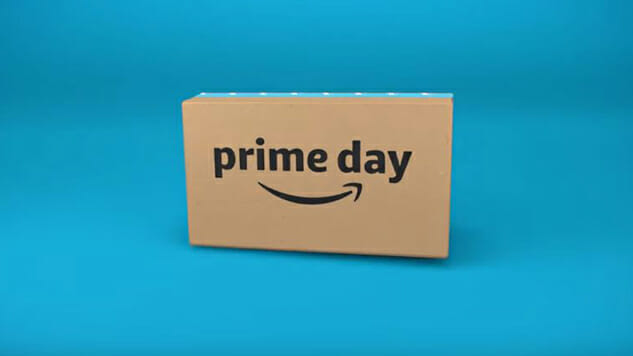 Amazon's annual summer sale has rolled around, Prime Day, which offers deep discounts on everything from clothing to suitcases to Spectrum Diversified Euro Paper Towel Holders in Chrome. This year, the usually 36-hour-long Prime Day festivities have been extended to 48 hours in a potential bid to create the buzziest online shopping ruckus this side of Cyber Monday. But there's a catch: As the name hints, all these sweet, sweet deals are only available to Amazon Prime members.
This sale is particularly great for tech fans, as you rarely get cut-rate big-ticket electronic items. Here are some standout steals that can't be missed.
Amazon's Fire TV Stick ($49.99 $24.99)
Amazon's TV plug-in for streaming is convenient, easy to use and top of its class. You can watch Netflix, YouTube and Prime Video in 4K on your TV, with dozens of other channels to choose from, big and small. In a special Prime Day deal, you get a digital $45 Sling TV gift card as well, which can get you access to all of these channels.
LG's G8 ($849.99 $499.99)
The G8 is LG's iPhone X; in other words, its flagship, state-of-the-art phone. And in an eye-popping discount, the phone is a little more than 40% off. If you want a premium phone on a (relatively) affordable budget, this might be your only chance.
Microsoft's Surface Headphones ($248.48 $189.99)
These comfy, voice-activated, noise-canceling headphones from Microsoft are a solid investment for those who want a bit of quiet time. These babies originally retailed for $349.99, so this price is an absolute steal.
Apple's Apple Watch Series 3 (GPS + LTE) ($248.48 $189.99)
Apple's luxe series of smart watches never go on sale, so even the modest discount available here is better than nothing for a wearable iPhone that makes being on the go a whole lot more convenient.
Amazon's Echo (2nd Generation) ($69.99 $49.99)
Amazon's cylindrical speaker/personal assistant reaches its lowest price point yet for those who are interested in the "smart home" concept, but have gotten cold feet at the price tag. Alexa, what's a no-brainer?