Wayne Rooney's Position At Manchester United Got Very Tenuous Very Quickly
Photo by Laurence Griffiths/Getty
Soccer
News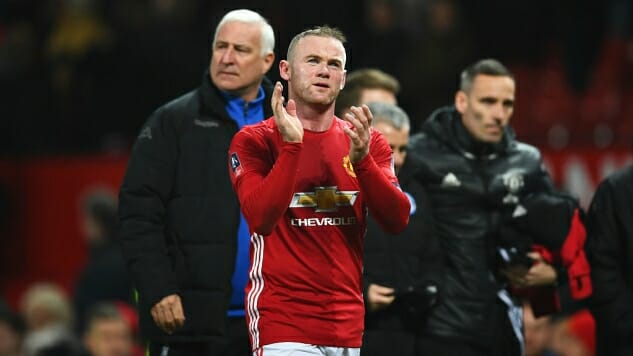 Manchester United beat Saint-Étienne 1-0 in their Europa League second leg tie today, bolting down a 4-0 aggregate win and a pass to the next round of the tournament. Wayne Rooney, club captain and recent goalscoring record-breaker, was at likely at home watching the game on TV.
Rooney's absence on the teamsheet is the latest development in a quick-moving story that has left the England captain in a very precarious position.
During his pre-match press conference yesterday, José Mourinho said that Rooney could potentially leave the club as soon as next week. The transfer window for the Chinese Super League closes at the end of February and, as has been a regular occurrence in recent seasons, Rooney was linked to a move east. But rather than downplay the rumors or refuse to entertain them when asked— as managers usually do— Mou seemed to take more of a "if you want to leave so badly just go already" tone.
"You have to ask him. Of course I can't guarantee he will still be here next season. I cannot guarantee that I'm here next week, how can I guarantee that a player is here next season? What I can guarantee is that, if one day Wayne leaves the club, it is not because I want him to leave the club."
These comments reportedly caught Rooney, and his agent, totally off-guard. While there were apparently speculative talks between Rooney's people and CSL club Tianjin Quanjian, nothing really progressed to a point where a transfer was feasible.
For his part, Rooney wants to stay at United until the end of the season. It's looking more and more likely he'll leave in the summer, but he does want to see it through to the end of 2016-17. But it's possible that the club is pressuring him behind the scenes to leave sooner. Much sooner.