Throwback Thursday: Mexico vs United States (November 9th, 1980)
Photo via SBNation.com
Soccer
Features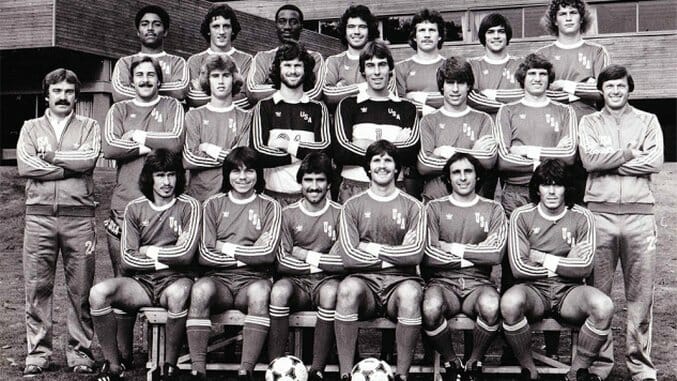 The USMNT has had a bad week. After a meek surrender to Mexico in Columbus last week— and the unceremonious end of the Dos a Cero myth— the nats traveled to Costa Rica and were summarily dunked on to the tune of 4-0. The squad has been thoroughly embarrassed, Jürgen Klinsmann might lose his job, and there's a not-insignificant possibility that the USMNT will be watching the 2018 World Cup at home.
In short, this is something of a low point for American soccer. Things haven't been this bad in a long time.
This week, we look back at the last time things were that bad— November 1980 and a dismal outing at the Azteca.
Reliving this particular game after the USMNT's recent results feels a bit like watching the news after the election. It's bad, and you know it's bad, but it's hard to look away.
Heading into this game they had posted a 0-0 draw and then a 2-1 loss against Canada. If the Americans had any hope of getting points and qualifying for the CONCACAF Championship finals (and, from there, a place at the 1982 World Cup in Spain) they had to dig deep and get something out of this game at the Azteca.
So, uh, let's start with the positives. Ricky Davis, the best player in the squad and the face of American soccer for most of the 1980s, managed to put the United States on the board with a beautifully-converted penalty. It wasn't much, but it was something. Ricky Davis rocked that spot-kick like a goddamn hero.
It might have been a bigger deal if the United States hadn't given up five goals by that point. Five goals by four different goalscorers, and the best the USA could manage was denying Mexico a clean sheet. It's hard to even describe. The video spells it all out in its VHS-artifact doom.
The result, and the score, effectively eliminated the United States from the CONCACAF Championship and the World Cup (continuing a lengthy WC drought). They would meet Mexico again for the reverse fixture in Fort Lauderdale, Florida, a few weeks later for a meaningless rematch; the USA would win that game 2-1 in what has come to be seen as a turning point in American soccer. You can read more about that game here.
The USMNT won't be back in action until March, and with most of the squad going into hibernation following the conclusion of the MLS Cup Playoffs the program is heading into a difficult but necessary period of reflection. Things can always get worse, of course. But if the events of November 1982 illustrate, things are rarely as hopeless as they immediately seem.