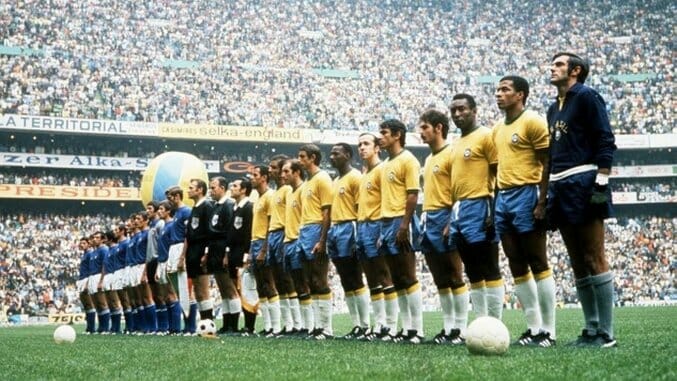 Carlos Alberto Torres passed away earlier this week at the age of 72. The legendary fullback had a long and celebrated club career in Brazil and the United States, but his legacy was built on the international stage. As captain of the Seleção at the 1970 World Cup, Carlos Alberto led a side hailed by many as the best World Cup team ever assembled.
For obvious reasons, however, Pelé is a big part of the reason why. But Carlos Alberto is rightly held up as the one who pulled everything together. And of course, his goal in the final was the stuff of legend. But this highlights one of the central conflicts in football— where does individual greatness end and team greatness begin?
This week we look back at the 1970 World Cup Final, and the individual legacy in a team sport.
Mexico 1970 made history as the first World Cup held in North America. Israel, Morocco, and El Salvador made their first appearances at the World Cup (which back then only featured 16 teams). England were defending champions but were far from the favorites— especially after they lost to Brazil in the group stages. England fell in the quarterfinals to West Germany (because of course they did), while Brazil won every single game en route to the final. Italy had a somewhat bumpier road— requiring extra time to send West Germany home in the semifinals— but their place in the championship match was fully deserved.
And in any other year, that Italy side may well have gone all the way. Brazil though was too much for them, and everyone else. The Azurri availed themselves well in the first half, canceling out Pelé's 18th minute header with Roberto Boninsegna pouncing on a defensive mistake to keep the score even at halftime. But they couldn't get their attack going, and they couldn't hold the Brazilians back. Gérson retook the lead in the 66th minute and Jairzinho added a third goal just five minutes later to all but seal it.
It was Carlos Alberto who ultimately settled the matter. The build-up to the fourth goal involved all but two outfield players. Tostão. Brito. Clodoaldo. Pelé. Gérson. Clodoaldo. Rivelino. Jairzinho. Pelé. Wait for it. Wait for it. Finally, Pelé sent the ball behind Italy's back line and Carlos Alberto pounced on it, smashing it at the far post to win the game, lift the Jules Rimet trophy, and cement his place in footballing history.
The greatest footballers will play 20, maybe even 30 years before they finally hang it up. They'll move around, they'll lift silverware (if they're lucky), and they leave a lot of tracks behind. You can't reduce someone's entire career to one goal, one moment. Except sometimes…you can. Diego Maradona had a long and distinguished career, but when you think of him, you see him being lifted up by the Hand of God. Geoff Hurst would've been well-respected in English football were it not for that fateful day in 1966, but I guarantee you we wouldn't talk about him as much as we do had that not happened.
Carlos Alberto Torres had plenty to be proud of during his time as a footballer. But as legacies go, one could do worse than being remembered mostly for smashing the hell out of a football on that one bright day against Italy at the Azteca.