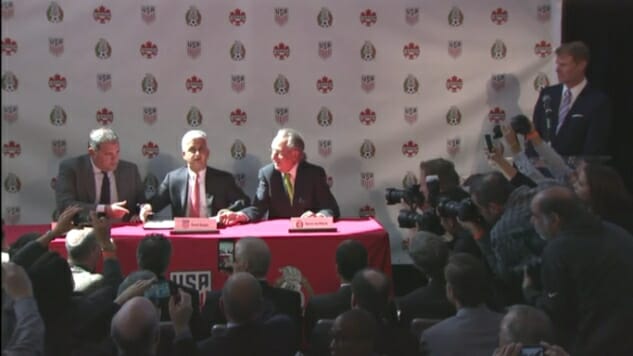 The press conference at the top of One World Trade Center started a few minutes late and opened in somewhat awkward fashion— US Soccer president Sunil Gulati, Mexican Football Federation president Decio de María, CONCACAF and Canadian Soccer Association chief Victor Montagliani, and host Alexi Lalas milling about uncomfortably while the opening refrains from "Can't Hold Us" played over the PA. After a few moments, Lalas took control of things and started talking about growing up in Michigan and playing soccer when the US won the hosting rights for the 1994 World Cup and how much it meant to him.
Finally, Lalas yielded the floor to Gulati, who made things official; the US, Canada, and Mexico are bidding to host the 2026 World Cup.
Gulati said conversations about a joint bid began years ago. While he did not specify exactly when, it's not that far of a leap to suggest that they were spurred in part from US Soccer's experience bidding for the 2022 World Cup— ultimately awarded to Qatar— and the realization of a strong anti-American voting bloc in FIFA. (It's also not that far of a leap to suggest that the joint bid is being made to get around that.)
Montagliani noted that all three men on the dais are children of immigrants and that they are keenly aware of the World Cup's promise of global unity. De María praised the bid as "a very important day for Mexican football."
After giving some short speeches and fielding questions from the press, all three federation heads signed the Memorandum Of Understanding, officially launching the bid process.
Some highlights from the announcement:
– The MOU includes a provision saying that 60 of the 80 games scheduled to take place during the 2026 World Cup will be held in the US. This includes every match from the Quarterfinals onward— including the Final.
– Gulati has been in contact with Donald Trump and said the latter is openly supportive of the project and pleased that Mexico is part of it.
– No firm details on number of venues and no discussions on the issue of turf, although Montagliani "assumes" all games will be played on grass.
– Gulati says this bid won't be as costly as some other recent bids, in part, because stadiums and critical infrastructure are already in place. He also noted that the bid would not require much (if any) taxpayer funding, which is a huge advantage.
– Gulati, Montagliani, and De María seem to be operating on the assumption that all three host countries will receive automatic berths in the tournament. It would make sense, but there's never been a successful three-country bid before, so who knows.
– Gulati downplayed potential logistical issues regarding travel among three countries, saying that grouping games together will be crucial and that it won't be an issue. He also said they have the ability to host the entire tournament in one timezone— say, on the West Coast. Gulati did not address the political side of the equation (including the soon-to-be-built border wall between the US and Mexico) or the staffing and bureaucratic nightmare that would no doubt entail.
There were plenty of unanswered questions at the end of the press conference and plenty of reasonable concerns. Even if costs are kept under control— which is not exactly guaranteed, even with the infrastructure baked in— the logistics and politics involved make this bid very precarious. But the three countries seem eager to make this work. And, at least tentatively, FIFA seem willing to listen.
Looks like we're doing this thing.