The Former British Spy Behind The Trump Memos Was Involved With England's 2018 World Cup Bid
Photo by Christopher Lee/Getty
Soccer
News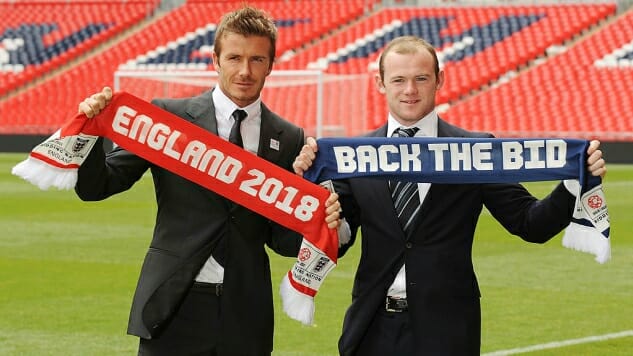 One of the really nice things about covering English football is that I don't have to write about Donald Trump. While I maintain that it's important to not look away and disengage from what's happening in the world, I confess that one of the simple pleasures of this job of late is that the Marigold Manchild is simply not part of my regular beat. It means that I can dive into work to shut everything else out for a while, even if I am part of the Dishonest Liberal Media (™). It's been nice having that escape.
This week, apparently, is an exception.
By now you've probably read about the memo sent to President Obama and Trump by intelligence officials, featuring as-yet unverified claims that the Russian government has compromising personal and financial information on Donald Trump as well as links between his campaign and Russia. We won't re-litigate the claims here— if for no other reason than the pee jokes are getting old— but if you want to get caught up you can start here. The lynchpin in this memo is information sourced and compiled by a "former British spy" whose work was then picked up by the American intelligence community, which was then published by CNN and, later and in more graphic detail, Buzzfeed.
That former spy has now been identified as former MI6 officer Christopher Steele. And yes— there's a connection to football.
Steele runs a private intelligence firm in London and counts some high-level state and corporate actors as clients. In 2009 and 2010, the team behind England's bid to host the 2018 World Cup retained Steele's services in order to gather intel on their bidding competitors— primarily Russia— as well as uncover any improprieties at FIFA with regards to the selection process. The committee, per a report compiled by the Sunday Times in 2014 [PDF], "wanted to better understand what they were up against."
Some of what Steele and his firm uncovered was later forwarded to the FBI and helped get the ball rolling on their probe into corruption at FIFA, which came to a head in 2015 and turned the organization upside-down.
England ultimately finished dead last in the voting for the 2018 hosting rights. Russia won the vote and will host the quadrennial tournament next summer.
The thoroughness of Steele's work, coupled with his MI6 bona fides, earned him credibility among UK and US officials. He was described as a "very competent, professional operator" by Sir Andrew Wood, a former UK ambassador to Russia. "I do not think he would make things up. I do not think he would necessarily always draw correct judgments— but that is not the same thing at all," Wood said.
Since being publicly outed as the author of the memo, Trump himself took to Twitter to address Steele's reports with his trademark restraint and aplomb.
It now turns out that the phony allegations against me were put together by my political opponents and a failed spy afraid of being sued….

— Donald J. Trump (@realDonaldTrump) January 13, 2017
Steele, a father of four, has taken his family and gone into hiding for fear of their safety.