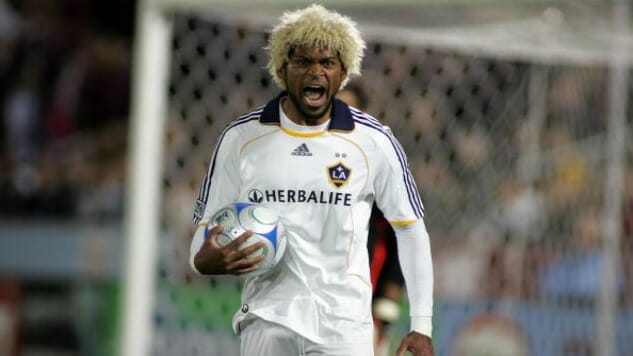 Short back and sides, the shaggy mop-top, the odd embarrassing combover. Soccer haircuts used to be relatively simple in the days when a small tub of Brylcreem was the only hair product you'd find in a kitbag. But as the game has continued to become more fashionable, various players appear to be spending just as much time in the barber's chair than on the training field. From mohawks to mullets, here's a look at 20 nightmare hairdos that deserved an instant red card.
19. Chris Waddle's Mullet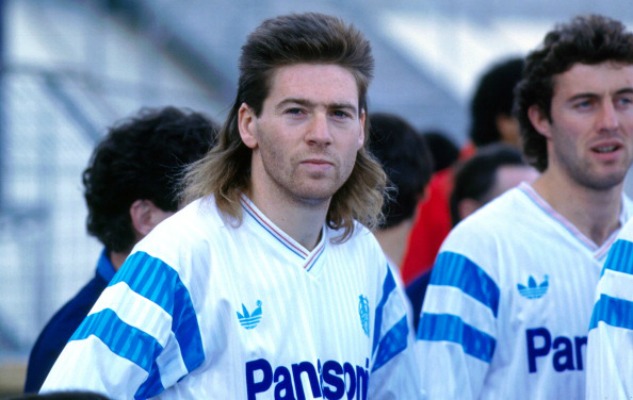 It's perhaps unfair to single out Chris Waddle for his crime against fashion. He certainly wasn't the only soccer player to sport the kind of mullet that would make Billy Ray Cyrus green with envy, but he was perhaps the most famous. That stylistic decision, combined with his brutal recording career with Glenn Hoddle, made him the epitome of late '80s bad taste.
18. The Romanian Squad's Dye Job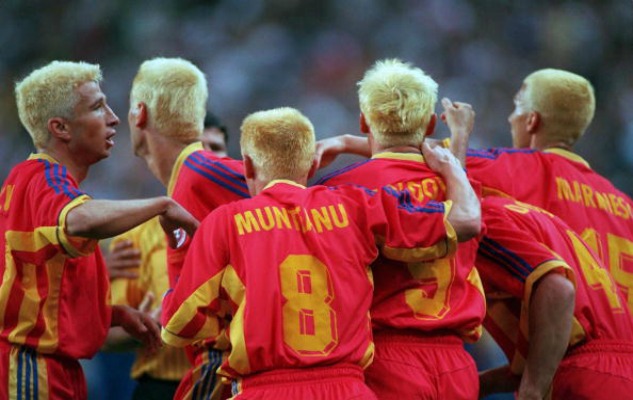 You have to admire the Romanian side that went to the World Cup at France '98 for their act of solidarity. But with each and every player dying his hair blonde for the final group match against Tunisia, the likes of Gheorghe Hagi, Dan Petrescu and Gabriel Popescu looked more like an army of dodgy Eminem impersonators than a fearsome world-class soccer team.
17. Ronaldo's Fringe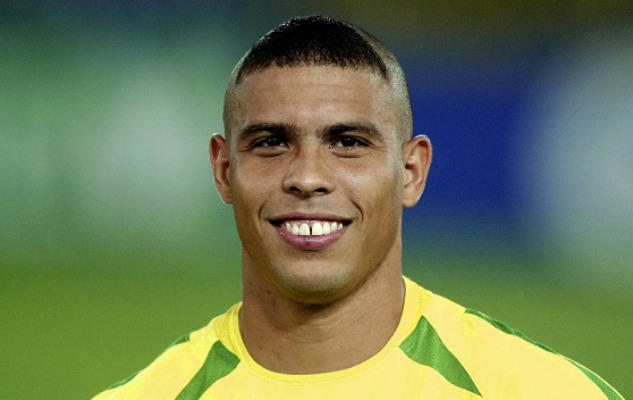 The original (and only slightly less stylish) Ronaldo only recently revealed the reason behind his extreme look at the 2002 World Cup. Apparently, the striker wanted to divert press attention away from his groin injury and chose the bizarre shaven headed/triangular fringe look to do so. This unorthodox tactic undoubtedly worked a little too well; some remember his hairdo more than the eight goals he scored to help Brazil lift the trophy.
16. Manuel Cange's Worms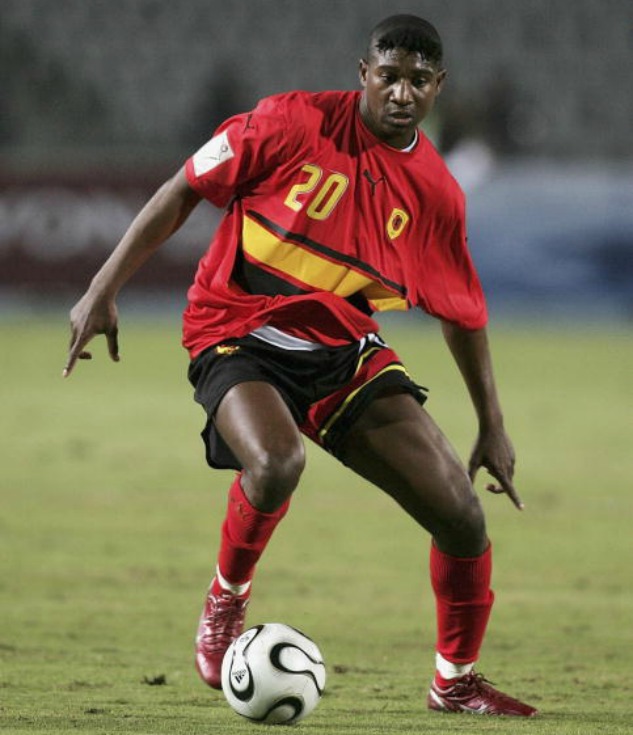 Debuted at the 2006 World Cup, Manuel Cange's baffling hairdo was apparently inspired by the above look. But the Angola defender went even further by substituting Ronaldo's fringe for what looked like a sea of wriggling black worms.
15. Zlatan Ibrahimovi?'s Samurai Hair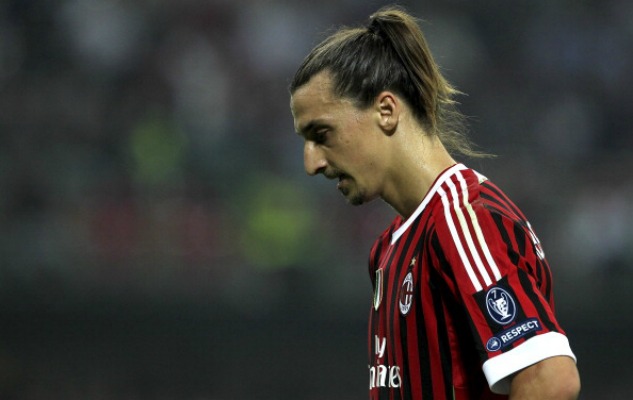 It's not often you get to agree with Silvio Berlusconi. But the disgraced former Prime Minister and AC Milan owner actually talked sense for a change when he told Zlatan Ibrahimovi? that he needed to get rid of his Samurai-styled ponytail and goatee. Of course, the Swede didn't listen and is still wearing a slight variation of the cut for his current club, Manchester United.
14. David Beckham's Cornrows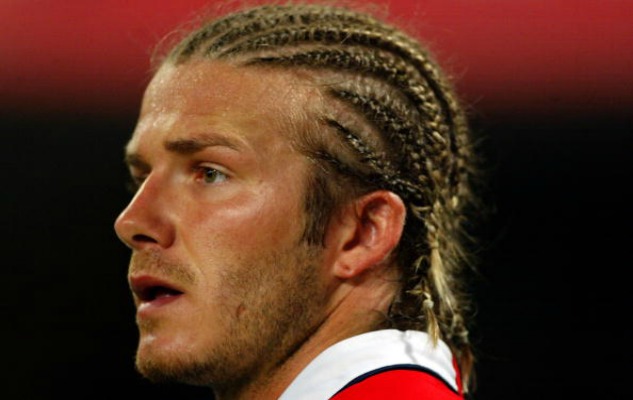 David Beckham is supposed to be a style icon, a man who singlehandedly changed the image of the soccer player from no-frills caveman into toiletry-obsessed metrosexual. So unlike many of the other follicular faux-pas here, there's no excusing the cornrows which looked less gangsta rapper and more Bo Derek.
13. Marek Hamsik's Mohawk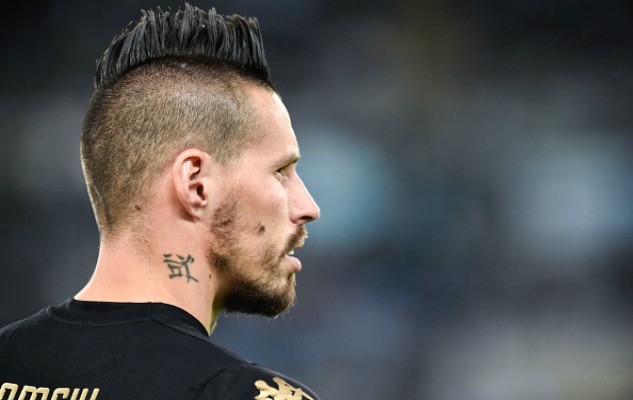 The mohawk wouldn't appear to be particularly conducive to heading the ball, but it's a surprisingly popular choice among players… none more so than Marek Hamšik. The striker shaved his "La Cresta" cut in honor of Slovakia qualifying for the World Cup and again when club side Napoli won the Coppa Italia, but both times grew it back even wilder.
12. Jason Lee's Pineapple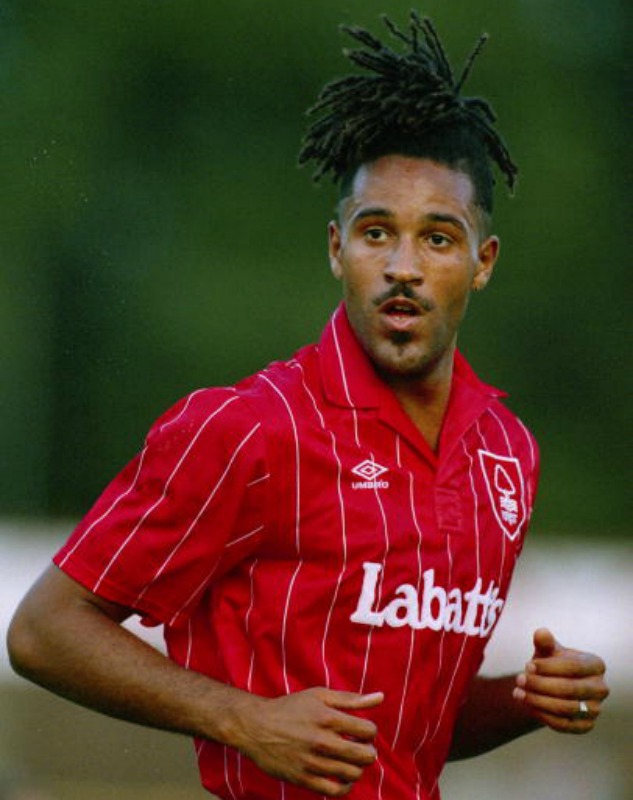 Ruthlessly mocked on a weekly basis by comedians and Fantasy Football League hosts David Baddiel and Frank Skinner, Jason Lee's pineapple hairdo is one of the most notorious in Premier League history. The former Nottingham Forest striker once admitted that the ridicule affected his game, but he still persevered with the cut for several years before finally getting rid.
11. Alexi Lalas' Goatee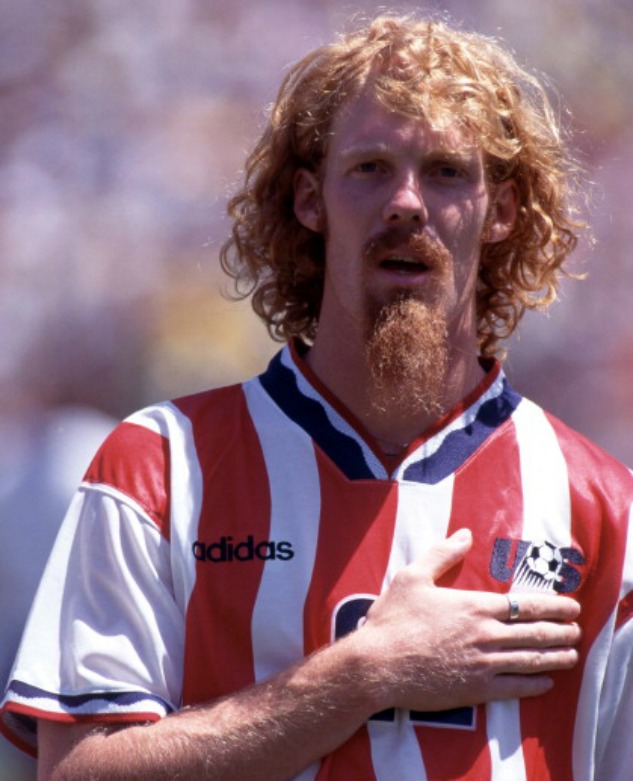 Alexi Lalas was the defining figure of hosts USA's World Cup campaign in 1994. Not particularly for his defensive skills, as integral as they were to his nation's progress to the second round. But more for the long-flowing ginger hair and bushy goatee that made him resemble a long-lost member of Nickelback.
10. David Seaman's Ponytail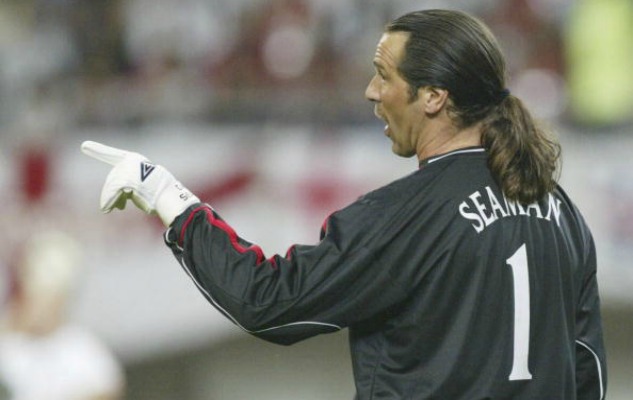 While many players here can blame their nightmare cuts on the follies of youth, David Seaman was in his mid-30s when he suddenly decided to grow a rather tragic ponytail. The Arsenal keeper wisely cut it off for charity in 2005, but admits that he held onto it and for reasons unknown now keeps it in a drawer at home.
9. Ratinho's Shaved Soccer Ball
Brazilian midfielder Ratinho also appeared to have been suffering from a mid-life crisis judging by the distinctive cut he debuted in a Copa Do Brasil encounter in 2015. Indeed, the Remo player was 35 years old when he shaved a series of polygons onto his head in the style of an old-school soccer ball.
8. Roberto Baggio's "Il Divin Codino"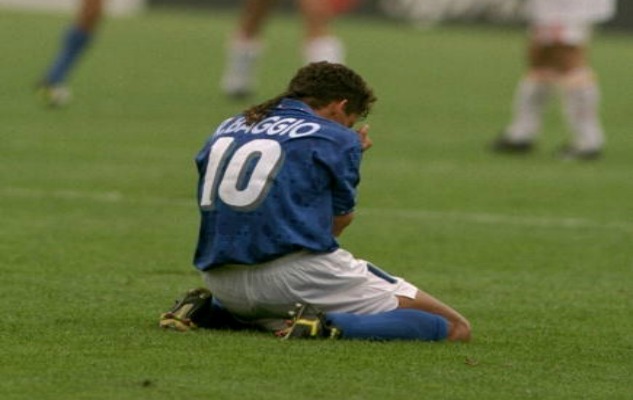 Although Roberto Baggio's ponytail was dubbed "Il Divin Codino" by the Italian press, there was nothing divine about the midfielder's infamous locks. In fact, it's hard to determine what was more embarrassing at USA '94 – the sky high penalty which cost Italy the World Cup or the disastrous haircut which looked like a giant rodent had crawled up his back.
7. Carlos Valderrama's Mane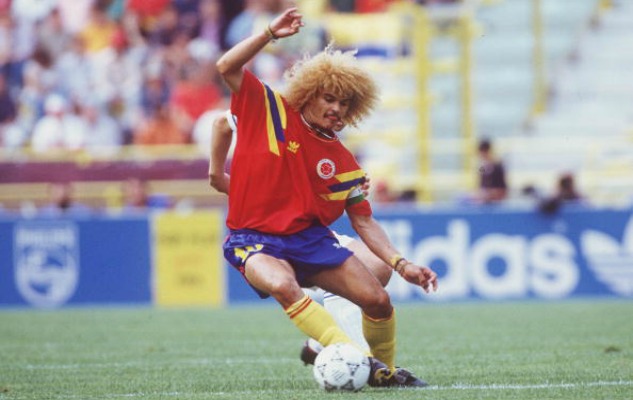 Colombia's Carlos Valderrama was one of the greatest playmakers of the 1990 World Cup, scoring against UAE and setting up the vital last-minute equalizer against Germany. He may well have helped to guide his country much further had it not been for the cartoonish antics of keeper René Higuita. But his talents at the tournament will forever be overshadowed by the frizzy haircut which made him look like an electrocuted lion.
6. Rodrigo Palacio's Rattail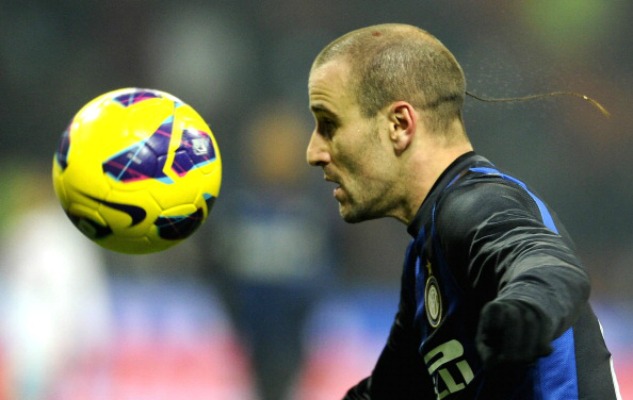 But few have committed to a horrendous haircut more than Rodrigo Palacio. The Argentinian forward won runners-up medals in both the World Cup and Copa America, and lifted three league titles with club side Boca Juniors, all the while sporting an off-centre paper-thin rat-tail even dodgier than Baggio's.
5. Raheem Sterling's Bouffant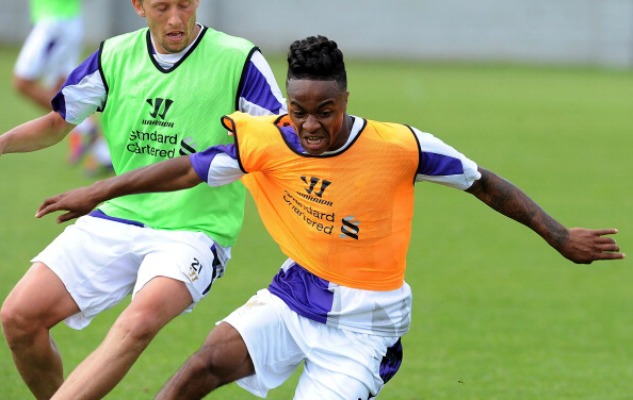 Raheem Sterling reportedly had his very own salon built in his previous house to maintain his extravagant haircut-a-day habit. But that hasn't stopped him from experiencing the odd bad hair day or two. First there was the time he restyled his dreadlocks halfway through a match, and then there was this bizarre bouffant which could only be described as Motown diva.
4. Dijbril Cissé's Landing Strip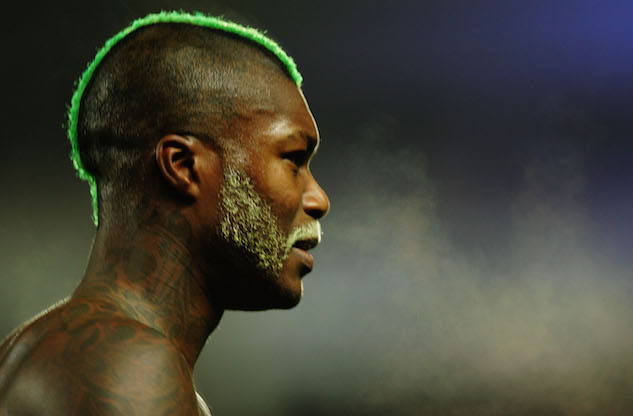 We could probably fill this entire list with the flamboyant Dijbril Cissé's various hair horror shows. Who can forget the time he shaved a geometric wall chart onto his head or the time he looked like a Sisqo tribute act? But perhaps the most atrocious was this 2008 cut, which combined an illuminous green landing strip with a bleached blonde mustache and sideburns.
3. Taribo West's Braids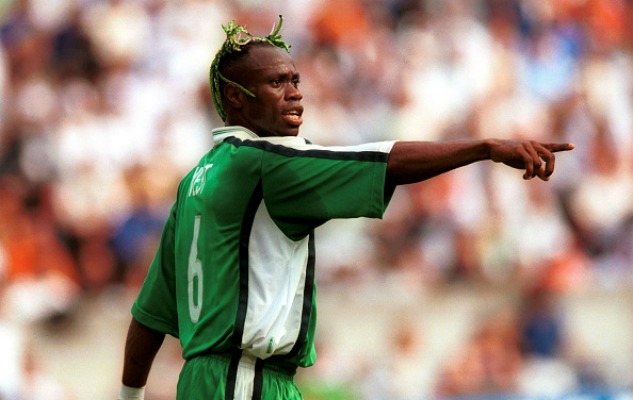 However, Cissé's green locks looks like the height of subtlety compared to Taribo West's. The defender famously sported green braids of various length and shape every time he stepped out onto the field for Nigeria. He also changed them to match the colors of his club sides throughout his career, each time looking like he could double up as a worn-out kitchen mop.
2. Bastian Héry's Half-Afro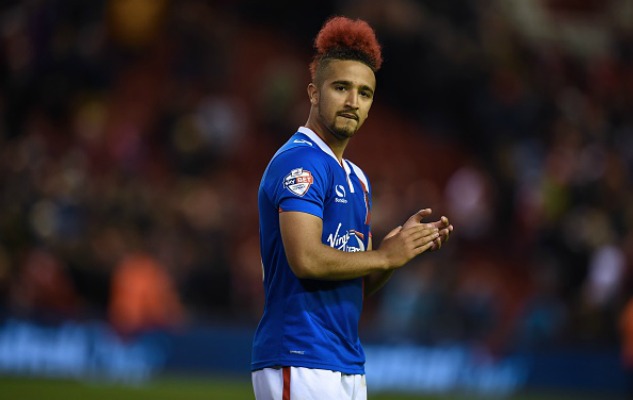 Of course, ridiculous haircuts aren't just confined to the top-flight. Frenchman Bastian Héry was plying his trade for British League Two side Carlisle United in 2015 when he rocked this bizarre red half-Afro—which had Twitter comparing him with everything from the Nando's chicken logo to Krusty the Clown.
1. Abel Xavier's Blonde Beehive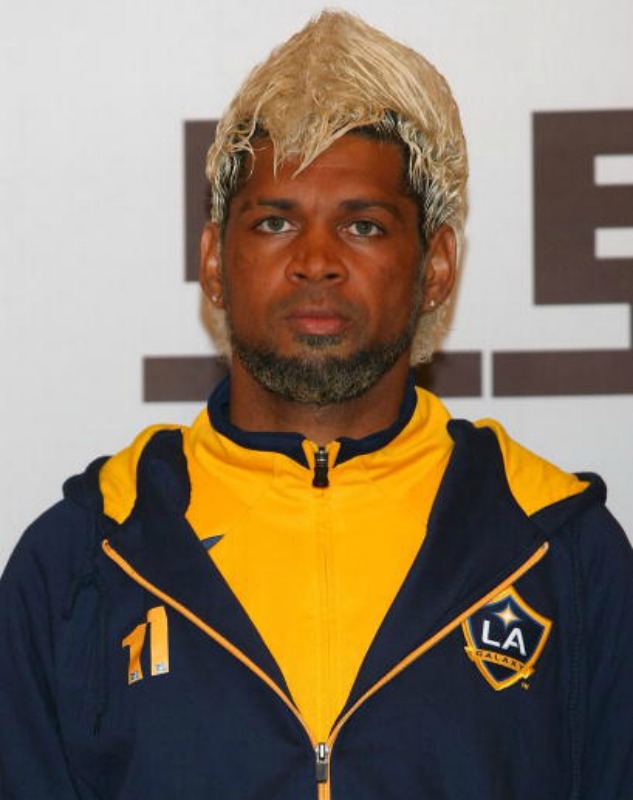 David Beckham's one-time LA Galaxy teammate Abel Xavier was also no stranger to changing his locks more than most players change their socks. But the wildest look the Portuguese full-back sported was during a 2008 press conference which looked part A Flock of Seagulls/part corny '80s fantasy movie warlord.