How the John Terry-Gary Cahill Mandwich and an Out-Swinging Corner Allowed PSG to Score
Soccer
Features
Though Chelsea's round of 16 exit from the Champions League against Paris Saint-Germain is being touted as evidence of England's decline as a European football power, the truth is that the match came down to one single play—a corner taken by a 10-man PSG team in the final six minutes of extra time in which the Blues had a 2-1 lead.
Not all corners are equal of course, and often they are a lottery: Ball gets kicked from the corner flag, ball drops onto row of jumping humans, ball is headed one way or another. Sometimes it goes in the net, but usually it doesn't.
Thiago Motta's corner to Thiago Silva was no different perhaps, but it was the second outswinger which led to a PSG goal on the night (the first came from David Luiz in the 86th minute). It's also worth noting that moments before Silva's looping header past Thibaut Courtois, the Chelsea keeper was forced into a diving save from a header by the same player. Thiago Silva is a skilled footballer, and it's clear he timed his jump perfectly with Motta's corner.
Below is a breakdown of exactly what happened: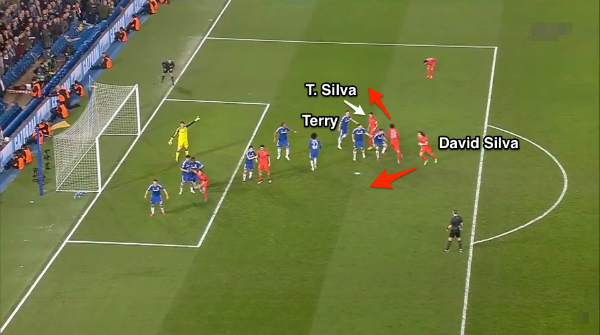 Above we see a typical corner-kick set up. Chelsea are a professional outfit, so they haven't done anything weird like put men on the posts. Nevertheless, David Luiz and Adrien Rabiot do a little switcheroo running routine to wreak havoc in the 18 yard box.

This leads immediately to what I like to call the John Terry/Gary Cahill Mandwich. The two essentially run into each other and it really does appear, if only for a few seconds, that they've mistaken each other for opposing players. Corners! Still, they're doing the right thing in tracking the arc of the ball. Thiago Silva essentially stays still through this entire millisecond-long running routine.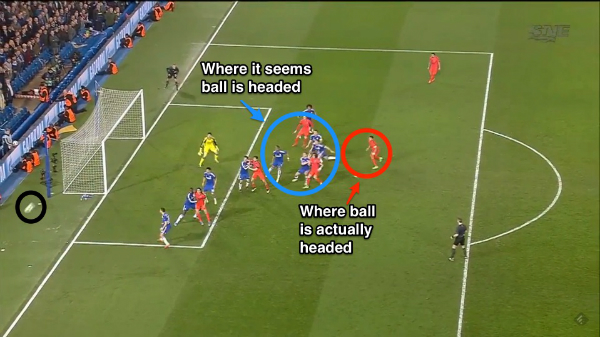 This is the final split second before Motta's cross becomes an outswinger. Silva here has simply gambled and is staking his space. Even if the ball is headed out by Chelsea's defense … he's still in a good position to track back.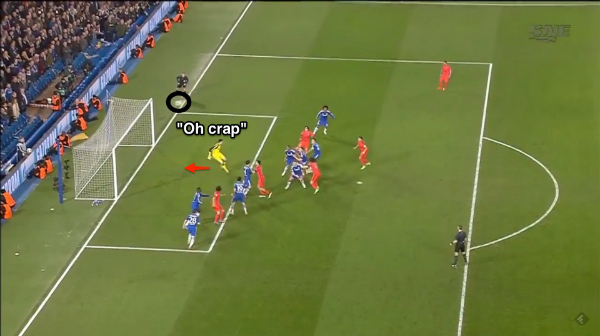 That ball is now swinging farther out than expected, and Courtois (and possibly Silva) is the first to notice.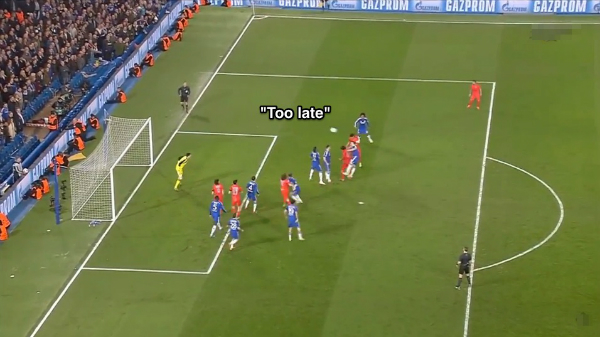 Though John Terry really is quick to get back in time to block or head it or just interfere, Silva—as in the preceding play—jumps early and jumps accurately. Goal!
I mean, maybe this all could have been prevented somehow, though it's not always clear how teams should mitigate the awfulness of the corner kick situation—not man marking and leaving yourself open to running around like an idiot helps. But unless Terry is psychic, I can't see him sizing up the physics of the ball in time to know that Silva is in the perfect position to score. You take your chances, and you take them well.
—An earlier version of this story incorrectly referred to David Luiz as David Silva. We have apologize to David Silva's left foot for the error.
Like this story? Get a tactical breakdown of Chelsea vs PSG from Pate Soccer's Liviu Bird