Watch: Norwegian Comedy Channel's Satirical FIFA 2022 Ad Featuring "Dying Construction Workers"
Soccer
Video
FIFA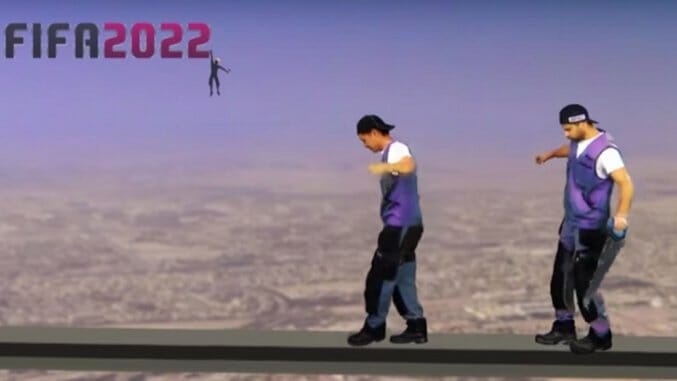 NRK, the state-owned broadcast media network in Norway, has a Humor channel on YouTube. A few days ago they released a satirical ad and news report on a future iteration of the FIFA video game franchise.
The behind-the-scenes look at "FIFA 2022" takes aim at the 2022 World Cup and the extensive human rights abuses against migrant workers. In the video, players are able to take the role of laborers as they try to complete construction work on a new stadium, racking up points while overcoming obstacles like unsafe working conditions and supervisors armed with whips. Other game modes include playing as construction managers trying to bury dead bodies so that journalists won't find them and a minigame involving a football desperately trying to rehydrate in the oppressive Qatari heat.
The video is funny at some points, cringey in others, and stops only just short of trivializing the plight of migrant workers under Qatar's kafala system. Yet the video does some measure of good in redirecting attention to the problem. Earlier this year, reporters from the BBC were arrested and detained in Qatar for attempting to report on World Cup laborers, indicating that the Qatari government would strongly prefer everyone look the other way. Whatever your thoughts are on the comedic value of the video, they're at least refusing to look the other way.