There is a tendency in the soccer analytics world to regard goals as lucky and shots as skillful. In a single game, for example, a good team may take a lot of shots from dangerous areas of the pitch which are either saved, miss or blocked, and still lose 1-0 to an otherwise poor team that lashed in a 30-yard stunner. Yet if that good team can take lots of shots from dangerous areas of the pitch consistently over the 38 game league season, more often than not those shots will go in and the team will finish relatively high up the table—think Chelsea.
Meanwhile, though a poor team like Stoke may get lucky on occasion as Charlie Adam did when he hit a 65-yard shot which landed in the back of Thibaut Courtois' net last Saturday, unless they can pile up more dangerous chances than their opponents on a consistent basis they're not going to amount to much come May.
We saw this view expressed after Charlie Adam's outrageous long-distance strike near the end of the first half in Stoke City's 2-1 loss to Chelsea FC on Saturday. Michael Caley cheekily summed it up in his Expected Goal's visualization. The idea here is that nine times out of 10, Adam will miss that shot … it was a marvelous fluke but a fluke nonetheless.
Yet while the statisticians are certainly correct in their view about consistency and luck, I don't think Adam's shot is a good example of a flukey goal. I would argue in fact it is in an altogether different category than, say, the 40-yard screamer that weaves and bends its way through heavy traffic and just past the fingertips of the fully-outstretched keeper.
For one, though I don't have access to the data, I would suspect that as a rule there are likely very few intentional shots—and here I mean shots, not clearances or long passes—from the area Adam took his chance. That's because few players are willing to take it, yes, but also because few players are willing to observe whether the circumstances would allow it. To illustrate, let's look at the goal.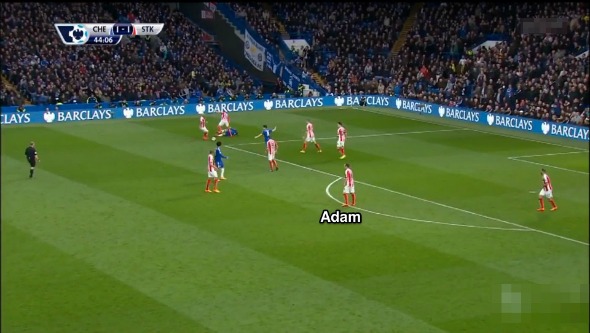 There is a minute left in the half, Chelsea are a goal up, and Stoke have just won possession back in their own defensive third. Chelsea, perhaps confused as to why it is not a free kick, saunter their way back up the pitch and aren't content to press for the ball back, particularly as Eden Hazard looks down injured. Adam is on the edge of his 18 with acres of space in front of him.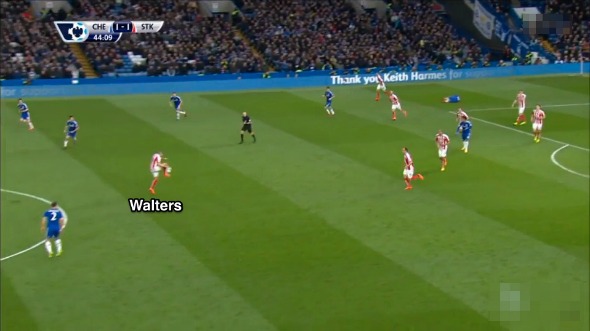 Jonathan Walters picks up the pass, and is facing Adam who is clearly sizing up the situation. The latter knows he will have time and space on the ball, and that most of the Chelsea defense is already moving into their own half. A slow, purposeful passing movement by Stoke initiated by Adam won't amount to much as the Chelsea backline will already be comfortably in position.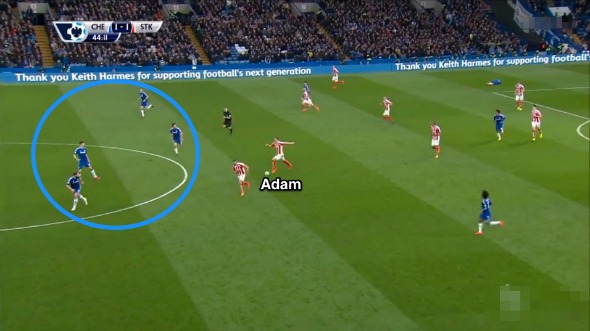 And so with the Chelsea back line half running back, half-checking Adam, the Stoke player clearly changes his body shape to shoot. He spots Courtois, and knows that now is the time. Many professional footballers, given time and space, can make long shots into the opposite net, though Adam's hit is hard and on a slight turn, which isn't easy. What ultimately matters however is if there are any obstacles in the way.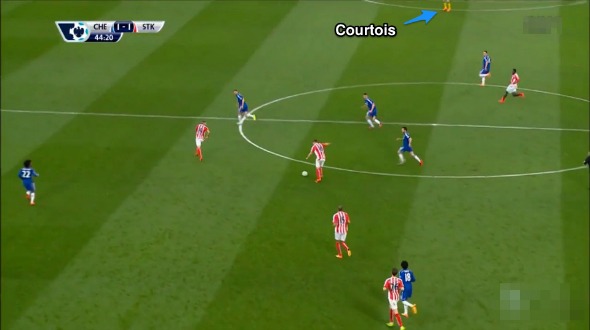 Another angle taken immediately before the shot gives us Adam's sightline. Here we can see that Courtois is not only "off his line," he's standing in front of the penalty arc! That should be more than enough time for a shot to beat him back to the net.
Though the speed and power shot itself requires a bit of luck in the taking, this wasn't hit and hope at all; this was an attempt to take advantage of a rare but dangerous situation as the other team was in transition. Positional awareness is a skill. As Adam told reporters after the match, "So I've seen an opening. I've seen the goalie off his line. And I thought: why not do it at a place like Chelsea?" Why not indeed?