Canada, The US, And Mexico Are Planning A Joint Bid For The 2026 World Cup
Photo by Ben Radford/Getty
Soccer
News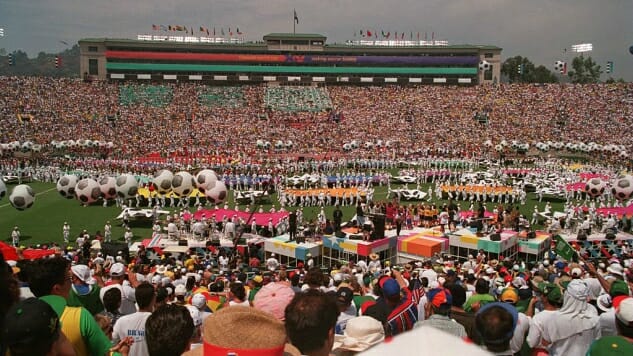 A report in The Guardian today revealed that CONCACAF are planning a three-country joint bid for the 2026 World Cup. If successful, the tournament will be hosted by Canada, the United States, and Mexico.
The 2026 edition of what is arguably the world's largest sporting event will be the first to feature the new 48-team format approved earlier this year. Canada, the US, and Mexico all individually have the facilities and civic infrastructure (and money) to host the World Cup by themselves, but a joint bid is thought to be a key deal-sweetener for all parties. The details of a bid are still being sorted out but a final decision is expected later this year, with December 2018 being the deadline to submit plans to FIFA.
CONCACAF president Victor Montagliani talked up the proposal as an expression of the unifying power of football.
"Canada, the US and Mexico are aiming for a joint bid, the idea has been around for a while, discussions are continuing and it is a very exciting proposition if it comes to fruition. We have had nothing but positive remarks about it and it is a very strong sign of what football can do to bring countries together."
CONCACAF hasn't held a World Cup since the United States hosted in 1994. The US submitted a bid for the 2022 tournament— one which apparently had the backing of then-president Sepp Blatter— but the committee ultimately voted to give it to Qatar. A decision which absolutely nobody regrets. CONCACAF appears to have learned some critical lessons in their decision to forward a joint bid.
There is potentially one giant, orange dealbreaker at work here.
The Guardian asked Montagliani how this joint bid would work when the 45th President of the United States is inciting political instability at home and abroad and, pointedly, is planning to build a massive and unnecessary wall along the border it shares with one of the countries it's bidding with. Montagliani wasn't especially eager to address the elephant in the room but his reply is extremely telling as far as sussing out the realpolitik of international football goes. The CONCACAF chief, a former insurance exec in Canada, said that FIFA has gotten in bed with plenty of brutal regimes in the past and that the worldwide football community should just suck it up with Trump. "It behoves football and leaders of football to deal with it and rise above it," Montagliani said.
That's… a heck of a thing to say.
The final vote on the 2026 World Cup will take place during FIFA's annual congress in May 2020. This means it's entirely possible that the next US Presidential election— and I'm being optimistic here and assuming we'll actually have one— could be a determining factor in whether the joint bid is successful.