There are literally thousands of leagues spread across the face of the globe, and each country has its own understanding of and terminology for the beautiful game. With so many factors at play, there are always big questions to answer. However, it's the smaller ones that tend to slip through the cracks. These are the types of conundrums we at Paste seek to answer in our weekly Soccer Primer.
Why are Bundesliga ticket prices so low compared to many other leagues, particularly the English Premier League?
If you happened to tune in early to Tuesday's Champions League match between Arsenal and Bayern Munich, you may have noticed a curious site at the Emirates Stadium: a large section of open seats. In a space usually occupied by rabid supporters, there were instead 15 fans holding four banners that combined to read "£64 A TICKET, BUT WITHOUT FANS FOOTBALL IS NOT WORTH A PENNY!"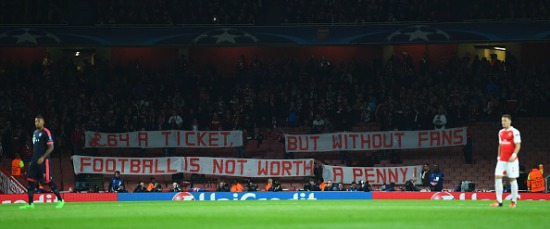 The banners were part of a larger protest by the travelling Munich supporters, who intentionally missed the opening five minutes of the match in order to show their opposition to the high ticket prices demanded by many European clubs. It's worth noting that you can certainly purchase some pricy seats at Munich's Allianz Arena, but you can also grab a ticket in the cheap seats (actually standing areas) for the low, low price of roughly $17. Contrast that with the cheapest seats on offer for Bayern fans at the Emirates Stadium (nearly $100), and you get an idea of why those fans weren't pleased.
However, to understand why it is that German clubs are willing to offer such inexpensive tickets, it's first necessary to get a basic idea of how the league operates.
Since its beginning in the late 19th century, German soccer has had a fractured history. In an interview with Supporters Direct, Dr. John Beech explained this trend, noting, "German football began in much the same way as English football, with clubs operating as member-owned-and-operated organizations. Unlike English clubs, there was no swift move to operating professionally, that is, with waged players. There was also no rush to establish a unified national league system."
This resistance to the "normal" practices of other leagues extended to ownership of individual clubs as well. In England, for example, private ownership slowly evolved into the rule rather than the exception. In Germany, where member-owned-and-operated remained the norm, the opposite was true.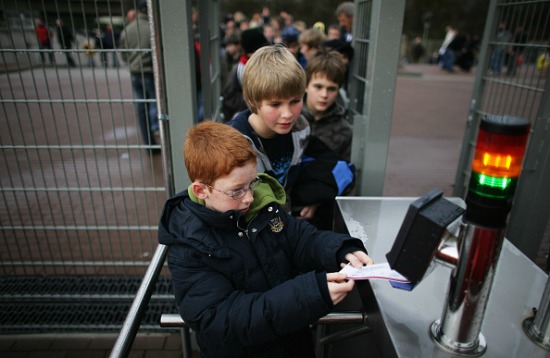 With reunification in 1990 came an effort in Germany to codify these tendencies into a stated operational methodology. Included in the regulations that would follow was one highly important clause, commonly referred to as the "50+1 Rule". Put simply, the clause requires that, in order to obtain a license to compete in the Bundesliga, a club must own a majority of its voting rights (at least 50% plus one share). Despite some alterations to the rule of the years, the basic point remains: the members of a club retain overall control, thereby drastically limiting the ability for external ownership. The only exceptions to this clause were Bayer Leverkeusen and Wolfsburg, each of which had long been owned and operated by large corporations (Bayer pharmaceutical company and Volkswagen, respectively).
Ownership of Bundesliga clubs therefore remains local, and members a play key role in operational policy (such as electing the club president). This in turn means that there is greater emphasis on the individual fans than in other leagues, where ownership models vary significantly. In an interview with The Guardian, current Bundesliga Chief Executive Christian Seifert explained this concept further: "It is not in the clubs' culture so much [to raise prices]. They are very fan orientated… Borussia Dortmund has the biggest stand in the world. The Yellow Wall holds 26,000, and the average ticket price is €15 ($17) because they know how valuable such a fan culture and supporter base is. We have a very interesting situation. First, tickets are cheap. Second, many clubs limit the percentage of season tickets." Put simply, it is in the best interests of each Bundesliga club to make tickets cheap and widely available.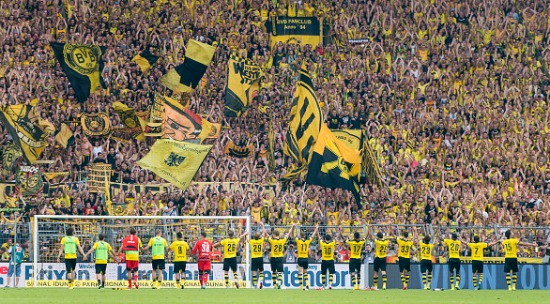 This model, of course, has its disadvantages (though, in some cases, these limitations have actually proven to be positive). For starters, lower ticket prices mean significantly lower match day revenue. Indeed, in the same Guardian article, Seifert confirmed that in 2010, match day revenue for the Bundesliga was approximately €350 million (almost $400 million) less than the Premier League. $400 million isn't exactly an inconsequential figure.
To counteract that disparity, Bundesliga clubs have been faster to embrace measures that would ensure financial stability. For example, big money transfers remain less frequent in the Bundesliga, and player wages have remained more reasonable as a result. According to one BBC report, in the Bundesliga "wages were 38% of the clubs' revenue while the in Premier League it was 67% (and as high as 93% in one English case)." In addition, a nationwide emphasis on youth development was instituted following Germany's poor showing at the 2002 World Cup. This initiative has helped usher in a wave of talented youngsters, all of whom were developed locally rather than imported from foreign leagues. As a result, there has been less of a need for summer war chests, and the corresponding savings have been passed on to the fans.
With all this in mind, it makes sense that when those protesting Bayern fans finally did take their seats, they did so to a standing ovation from the Arsenal supporters. With ticket prices continuing to rise in England, there are no doubt more than a few fans jealously casting their collective gaze to the packed terraces of Germany.