Throwback Thursday: Arsenal v Barcelona (February 16th, 2011)
Photo by Shaun Botterill/Getty
Soccer
Features
Arsenal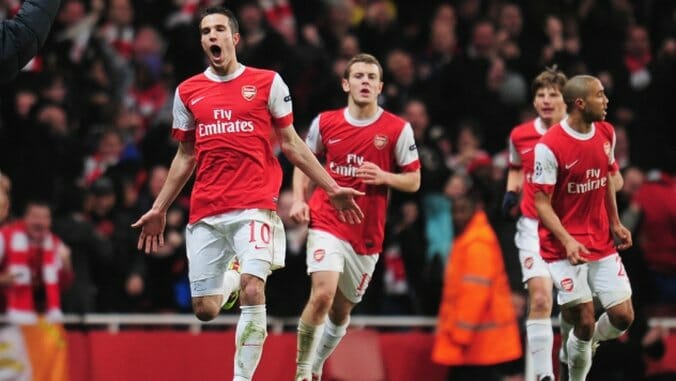 The Champions League returned this week after emerging from its winter migration. The last few years have seemed to offer a couple match-ups on replay, like this season's encore performance of PSG vs Chelsea. This season's Round of 16 also features Arsenal v Barcelona, whose somewhat one-sided Champions League rivalry has managed to produce some of the most memorable clashes of the past two decades. This is their first competitive meeting in Europe since their R16 tie in the 2010-11 campaign. If you're an Arsenal fan, there's a good chance you either have some reference to the first leg of this tie tattooed somewhere on your body or you strongly considered it.
This week we look back at one of the biggest nights in recent Champions League history: Arsenal v Barcelona, February 16th, 2011.
Barcelona still had their legendary midfield trio of Xavi-Iniesta-Busquets, while their forward line consisted of Pedro, David Villa, and, of course, Messi. Yet for all that muscle, Barcelona had a hard time taking command of the game. They kept the ball early on, because of course they did, and created some promising chances, but there was little in the way of payoff. David Villa put the visitors ahead in the 26th minute after being played through by Messi and squeezing the ball between Wojciech Szcz?sny's legs. But that was all Barça could manage on the night. By the time the second half got rolling it looked like Barcelona were resigned to this being one of those games and tried to hunker down for the tough 1-0 away win.
You know where this is going.
In the 77th minute, Gael Clichy ran onto a throughball in the box and chipped it back across goal. Víctor Valdés didn't quite get his positioning right and the ball flew past him and into the path of a charging Robin van Persie. 1-1, 13 minutes left in regulation, and a switch flipped in the team and in the stands.
And then, five minutes later, this.
What's remarkable about the play, other than Arsenal's ability to turn on a dime from patient midfield build-up to lightning-quick counterattack, is how powerless Barcelona's defense was. The backline was slow to get into the box and utterly feckless one they got there. There was almost a sense of exasperation when Samir Nasri sent his cross onto Andrey Arshavin. Like they knew what was coming, and there was just nothing for it.
Arsenal of course held on for the remaining 10 minutes or so and secured a 2-1 advantage heading into the away leg. It was their first, and to date only, win against the Blaugrana. It was one of those games that threatens to sweep you up in the tide regardless of your football loyalties. And if you're an Arsenal fan, it's one of those games where you remember when you were when you watched it or heard the scoreline. Arsenal ended up losing the away leg 3-1, which was no doubt a heartbreaker. But, as writer Aaron Gordon put it in his write-up of this very game, football fans don't live for the victories but rather "… the moments where victory is possible but uncertain."
Arsenal host Barcelona again next Tuesday for the first time since that night five years ago. Kickoff is at 2:45pm EST on Fox Sports 1.