Ali Krieger's Move To Orlando Exposes Underlying Tension In Women's Soccer
Photo by Scott Halleran/Getty
Soccer
News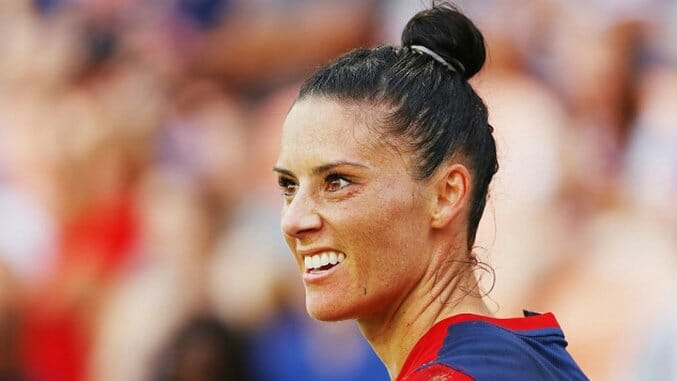 It's been a little under a month since the NWSL season came to a close, but the offseason is already proving to be explosive.
Late yesterday the NWSL Championship finalists Washington Spirit announced they were trading arguably their star player, USWNT defender Ali Krieger, to the Orlando Pride. In return, the Spirit were moved up in the distribution ranking order for USWNT squad members and other elite players. If that deal sounds a little lopsided to you, well, it is.
Spirit owner Bill Lynch, who made some dubious headlines of his own toward the end of the season, offered typical boilerplate comments on the trade. "I would like to thank Ali for her extreme commitment and leadership over these four years," said Lynch. "She has played a major role in our efforts to build a strong foundation for the future."
Krieger has yet to comment on the trade.
It's not clear how the move came about; whether the Spirit are blowing up their squad in order to rebuild and (theoretically) come back stronger, or if the Pride had some undisclosed leverage to make it happen, or if Krieger herself demanded the trade. The Washington Post reports that Krieger heard the deal was finalized from Orlando, not Washington.
The Post also reports that there is some broad discontent among the squad, with Washington players being unhappy with the organization in general and the owner in particular. After the national anthem debacle in September, Krieger organized a team response to Lynch's actions with a public statement of disapproval.
But there's another layer to the Krieger deal that exposes a difficult systemic issue in women's domestic soccer.
The Guardian published an article earlier this week that spells out some of the ongoing problems in the NWSL, some of which we've covered here at Paste. As the NWSL's issues have become more difficult to conceal, European clubs are starting to steal back some of the world's top talent.
The NWSL's top stars— particularly its US internationals— have had a lot of leverage over the league when it comes to pay and free movement. And if a player decides for whatever reason that they don't want to play out a full season— as Abby Wambach did last year and Hope Solo did this year— there's not a lot that the league can do about it. US Soccer, who operates the league and pays the salaries of USWNT players in the NWSL out of its own payroll budget, have demonstrated that they will not make US internationals play for their clubs if they don't want to.
Now, as European clubs are returning to relevance simultaneously with the NWSL's problems, USWNT players have even more leverage to get their way in negotiating with their clubs. It's not completely out of left field to imagine a scenario where Krieger forced a trade by using a potential move to Europe as leverage. As SBN Soccer editor Kevin McCauley noted yesterday, Washington could well have found themselves having to choose between trading Krieger to a rival for beer money or watching her move to the Frauen-Bundesliga and get absolutely nothing in return.
Krieger isn't the only example of NWSL stars mulling over a transatlantic move. 2014 NWSL MVP Kim Little left the Seattle Reign last month to rejoin Arsenal Ladies. The Post is reporting that Washington's other USWNT player, Crystal Dunn, is considering a move to Europe. Olympique Lyonnais owner Jean-Michel Aulas has been openly (and somewhat creepily) courting Alex Morgan.
In other words, while the Krieger trade may have raised some eyebrows, it could be just the latest example of a growing trend in women's soccer— one which casts the future of the domestic club game in the US in doubt.