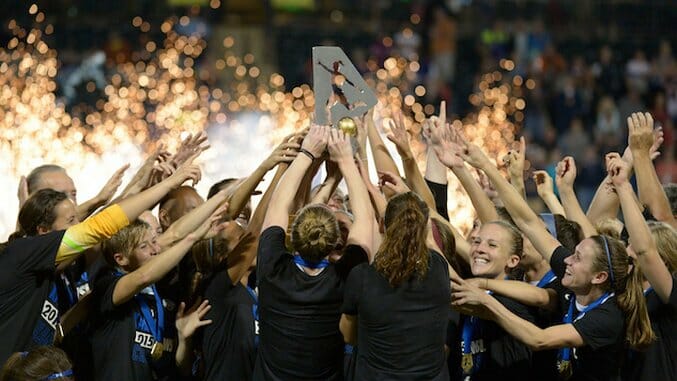 The National Women's Soccer League kicked off their forth season on Saturday with all 10 teams in action over the weekend. Having reached a forth season, early indicators of attendance, YouTube live streams and media coverage are promising for continued growth.
This year, even ESPN stats site FiveThirtyEight is getting in on the fun predicting teams' chances of winning the championship, which was just announced will be played in Houston, Texas, on October 9th. But that's a long way away—here's a recap from the first week.
1. Season Kicks Off in Style
Joanna Lohman scored a memorable goal – not only the first goal of the season, but it was an acrobatic bicycle kick. Now, it's not the prettiest or flashiest bicycle kick you'll ever see, but how many of you have scored on a bicycle kick? And, it was enough to give the Washington Spirit the win over her former club, the Boston Breakers.
2. All Carli Lloyd Does is Score Goals
Carli Lloyd has a knack for being in the right spot to score. She gave Houston the go-ahead goal off her header in their opener as the Dash thrashed the Chicago Red Stars 3-1.
3. Portland Thorns Fans Best in the League?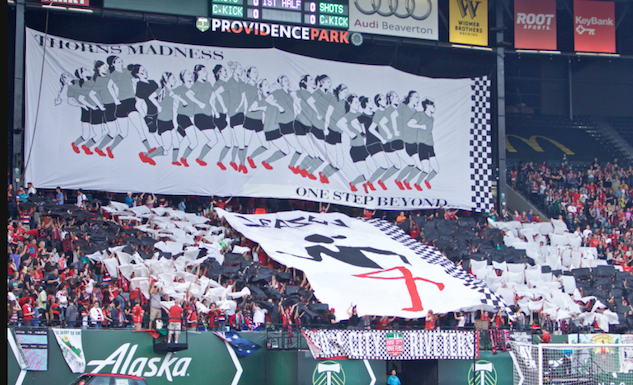 The Thorns opened the season in front of 16,073 of their faithful fans rivaling MLS club attendances. Portland was one of the busiest teams in the offseason which included trading Alex Morgan to expansion club Orlando Pride making this match-up easily the most anticipated of the weekend and it did not disappoint. Orlando got off to a quick start thanks to a goal from Steph Catley but the Thorns battled back with goals from Iceland's Dagny Brynjarsdottir and Lindsey Horan to win 2-1.
Check out more photos of crowd banners here.
4. How the Mighty Have Fallen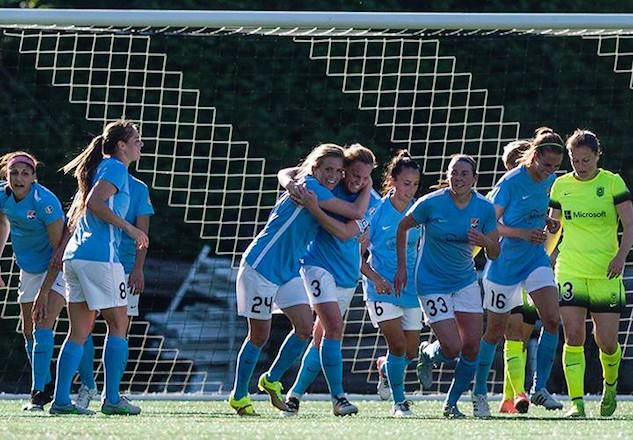 The two best teams in the league for the past two seasons both lost their home openers. First, on Saturday, two-time defending champions FC Kansas City hosted the WNY Flash in a game of PKs. Sam Mewis would convert hers in the 72nd minute off a handball by US national teammate Becky Sauerbrunn. KC would have their chance to equalize in stoppage time but Heather O'Reilly's shot would hit the post ending their chances.
Then, on Sunday, the usually dominant Seattle Reign lost their first-ever home game at Memorial Stadium to Sky Blue FC. Sky Blue took a lead in the 15th minute with a header from Tasha Kai, and then the teams traded goals in the second half to end 2-1 in favor of the visiting Sky Blue. After having attended open tryouts just over a month ago, Sky Blue's Kelly Conheeney made her NWSL debut and earned her first goal in the 67th minute giving Sky Blue the win.
5. The Importance of Spell-checking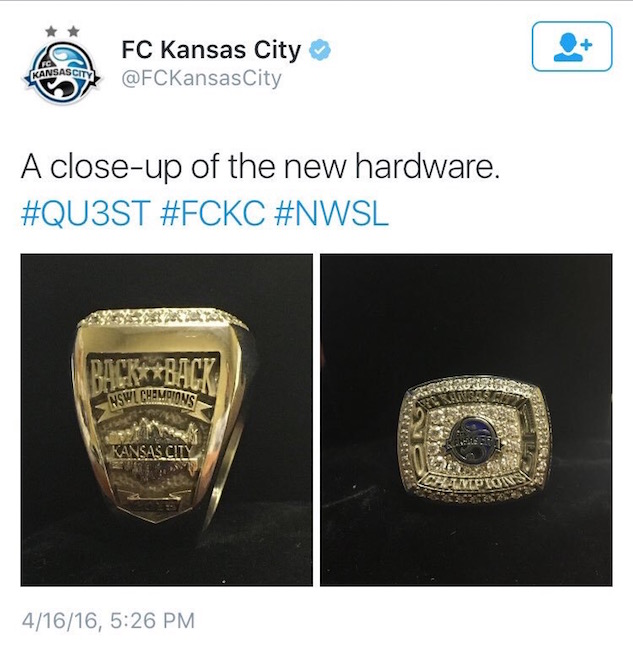 Not only did FC Kansas City lose their home opener, someone forgot to spell-check. Good news, you got your 2015 championship rings! Bad news, you're not, apparently, the NWSL (National Women's Soccer League) Champions, you're champions of something called the 'NSWL'. To make matters worse, no one had noticed the error until Twitter was kind enough to point it out. Epic fail.