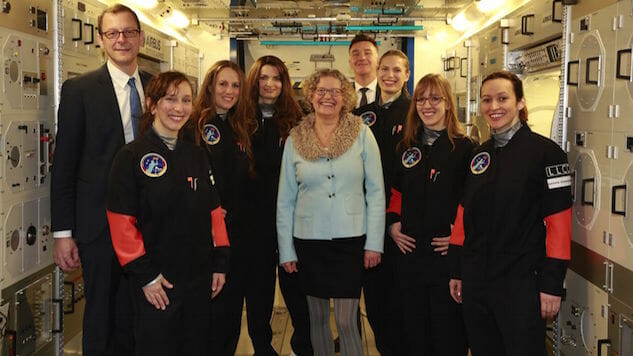 Apart from the United States and Russia, Germany has sent the most humans into space. The country's 11 astronauts are generally a source of pride among Germans, save for one unavoidable detail: Every single one of those space travelers has been male.
Claudia Kessler, an aerospace engineer and the CEO of the recruiting agency HE Space, had been keeping tabs on European space selections for years, waiting for a German woman to make it onto a mission. Germany belongs to the European Space Agency (ESA), a 22-member organization that only recruits astronauts every 10 to 15 years. When Kessler began asking why ESA had never chosen a German woman, she repeatedly heard that it was because there weren't enough qualified applicants.
"I had come across fantastic women who have done so much in their careers—scientists, PhDs—and I thought, 'It's not possible. I can't accept that there are not enough women,'" Kessler said.
So, Kessler launched her own mission. In March 2016, she started Die Astronautin, a public awareness project and crowd-funding campaign that aims to rocket the first German woman into space. Through corporate and public support, Kessler is hoping to raise more than $30 million to train a woman for a 10-day private mission to the International Space Station in 2020.
Throughout Kessler's 25-year career, she has championed female professional development in the aerospace sector. After coming up with the idea for a female space race, she reached out to her contacts in the field and signed a partnership with the German Aerospace Center (DLR), which agreed to help screen potential candidates and administer aptitude and medical tests. Die Astronautin was ready for take off.
Kessler posted a call for applicants on HE Space's website, seeking German-born women between the ages of 27 and 37 with degrees in science and engineering or military equivalents. She found that her instincts had been right all along—there were plenty of qualified female professionals all over Germany. More than 400 of them answered the listing, a 32 percent increase from the number of German women who had applied to the last ESA mission in 2009.
Suzanna Randall, an astrophysicist working in the city of Garching, came across Die Astronautin's ad on a German news website. As a researcher at the European Southern Observatory, Randall's interests are stellar evolution and pulsations. She also works as support staff at the ALMA observatory, the world's most largest telescope at millimeter and submillimeter wavelengths. She had always dreamed of not just observing space through a lens, but exploring it herself—she had even made it to the second round of ESA's 2009 selection process. Randall saw Die Astronautin as another opportunity to get closer to the stars.
"I was always fascinated by the idea that we, and robots we had made, could leave our planet and go somewhere else to see all these strange and exotic objects," she said. "Applying for this wasn't even a question."
Kessler waded through hundreds of CVs, and then the DLR took over and invited about 90 candidates to a full day of tests that examined basic math, physics and cognitive skills. From there, the pool dwindled down to 30 women, who moved on to group and individual interviews assessing teamwork.
The contestants have been covered extensively in German media, in no small part because of their impressive resumes and interests: Randall is not only an astrophysicist, but also a musician, paraglider and scuba diver. Her fellow candidates include a fighter jet pilot with the German Air Force and an aerospace engineer with expertise in taekwondo.
Despite the publicity, Die Astronautin still has a long way to go. The crowd-funding portion has collected about €27,000 of a €50,000 goal, and Kessler is still pursuing corporate sponsorships that will secure the winner's private mission.
Photo courtesy of Die Astronautin
But Kessler's main goal—and the part she seems to have achieved so far—is to turn the spotlight on female professionals who can inspire a new generation of astronauts. A gender gap exists in the aerospace field worldwide: Of the 550 people who have made it into space, only 58 have been women, according to NASA. And although most women in space have been American, the U.S. struggles with the broader problem of bringing women into STEM fields. A recent Commerce Department report explained that "lack of female role models, gender stereotyping and less family-friendly flexibility" often keep women out of the sciences.
Randall thinks the barriers are similar in Germany, particularly when it comes to the issue of role models. She's half English and says that when she was a child, her own space heroines were American women that she read about in English-language publications. She especially loved Sally Ride, the first American woman to make it into space in 1983, and the third woman after Soviet astronauts Valentina Tereshkova and Svetlana Savitskaya. Die Astronautin could give German girls an example of their very own.
"I think for me, that's' what makes this project so attractive," Randall said. "It shows women and girls who are thinking about potentially going into STEM fields that there are options, that they are represented in this field and that they have a mentor to look up to."
The latest round of finalists, Nicola Baumann and Insa Thiele-Eich, were announced on April 19.Now, Baumann and Thiele-Eich will start training, and from there, Kessler will continue working on funding until the 2020 mission is green-lighted. It's a hefty task, but the vision of standing on the launchpad as a German woman boards a spaceship has kept her going.
"When you work on these things, it's kind of sad because you prepare for so long and then it's gone," Kessler said. "But this will be so exciting. I'll feel like I'm weightless myself."
---
Julyssa Lopez is a writer based in D.C. and Berlin. Her work has appeared in the Washington Post, USA Today, Washingtonian Magazine and NPR.