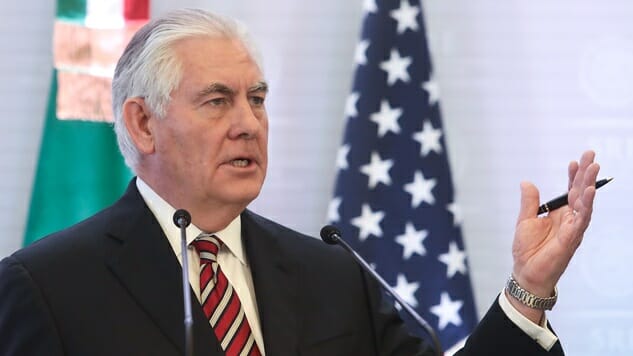 Trump's "chaos-free" White House has been thrown even further into disarray Tuesday morning with the announcement that President Trump has fired Secretary of State Rex Tillerson.
According to the Washington Post, Trump asked Tillerson to step aside last Friday. The now-former Cabinet member cut his trip to Africa short and returned to D.C. on Monday. The decision comes shortly after the president agreed to sit down with North Korean leader Kim Jong-Un, a decision the president made without consulting with top officials in the Pentagon and State Department.
North Korea was a major point of contention between Trump and Tillerson during the latter's time in the White House. As the president consistently poked the dictatorial bear through vague threats of military response and elementary school-level nicknames, Tillerson continued to float the importance of nuanced diplomatic efforts in order to avoid any escalation between the two nations as each flexed its nuclear muscles. Tillerson famously called the president a "fucking moron" after Trump requested a major increase in the number of nuclear missiles last summer.
Despite their clashes over the past 14 months, news of Tillerson's ouster comes as a surprise. He has been rather effective in his role as the Trump administration's chief diplomat and political fire extinguisher, especially considering that key positions in the State Department still remain unfilled. The move came as a shock to Tillerson, as well. One of Tillerson's aides told the Associated Press that Trump never explained to Tillerson why he was fired, or even spoke to him, and that Tillerson had wanted to stay in his position.
Much like his quick choice to take the meeting with Kim Jong-Un, Trump decided to remove Tillerson from his Cabinet post by himself, according to the AP. The president said that Tillerson will be "much happier now."
Trump stated that he will nominate CIA Director Mike Pompeo to replace Tillerson as the head of the State Department, and will nominate CIA Deputy Director Gina Haspel to head the intelligence agency. If confirmed, Haspel will be the first woman to head the CIA.
In a statement, the president offered praise for Tillerson as he becomes yet another top official to exit the White House: "I want to thank Rex Tillerson for his service. A great deal has been accomplished over the last fourteen months, and I wish him and his family well."