The White House Moved Records of Trump's Ukraine Call to a Separate Computer System
Photos by Pool/Getty
Politics
News
Ukraine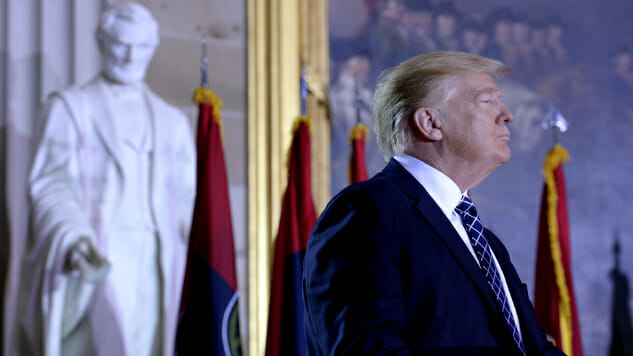 The whistleblower complaint against Trump was released Thursday (you can read the full report here), and the situation keeps tangling into an increasingly incriminating web.
The whistleblower alleges that officials in the White House have moved the records of some of Trump's communications with foreign officials to a separate computer network from where they are normally stored (per the Independent). It's reported that this is what happened to the conversation that started it all: Trump's July 25 call to Volodymyr Zelensky, the Ukrainian president. This move certainly doesn't support Trump's many claims of innocence:
THE GREATEST SCAM IN THE HISTORY OF AMERICAN POLITICS!

— Donald J. Trump (@realDonaldTrump) September 26, 2019
Yes, he's talking about the impeachment inquiry, not himself in that tweet.
The White House was asked by the intelligence community's inspector general to retain records of the call with Zelensky, but the memo is not an exact dictation of the conversation. A note on the document explains that the memo reflects notes taken by and the memories of officials in the Situation Room, and that accents and translations "can affect the accuracy of the record."
The typical White House practice is to record conversations in this cursory style, but in a document that (finally) has Congress making an impeachment inquiry, the divergence between exact and summary is alarming. The news that the records were kept on a separate computer only escalates suspicion of Trump in an already-shady situation. "The transcript of the call reads like a classic mob shakedown," California democratic representative Adam Schiff tweeted.
The transcript of the call reads like a classic mob shakedown:

We do a lot for Ukraine
There's not much reciprocity
I have a favor to ask
Investigate my opponent
– My people will be in touch

Nice country you got there.

It would be a shame if something happened to her.

— Adam Schiff (@RepAdamSchiff) September 25, 2019
It's ironic that breaking news and new movie trailers fall into the same deplorable genre today, but Trump should leave the mob scene to Scorsese. Not only is he better at it, he's also not responsible for the security of the United States.