Trump's $1.5 Million Tax Cut Fails to Significantly Improve Business Spending
Photos by Pool/Getty, Alex Wong/Getty
Politics
News
Tax Cuts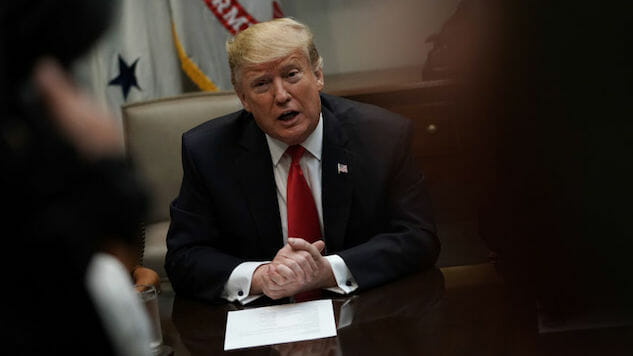 The Trump administration's Tax Cuts and Jobs Act of 2017 has largely failed to have an effect on businesses' capital investments and hiring plans, according to a poll by The National Association of Business Economics (NABE) (per NBC News).
The cuts—referred to by President Trump as "rocket fuel for the American economy"—saw a reduction of corporate tax rates by 14 percent, with hopes of delivering money to business that could be used for new hires as well as new equipment. But since coming into effect last January, the cuts have been widely disapproved of by the American people. Now, as NABE's new survey shows, they have been deemed ineffectual by businesses, as well.
"A large majority of respondents, 84 percent, indicate that one year after its passage, the corporate tax reform has not caused their firms to change hiring or investment plans," NABE President Kevin Swift told Reuters. This reported lack of change in investment and hiring strategies is evident that the GOP tax plan has failed to be economic rocket fuel, as only six percent of businesses in the service sector—the largest and most important part of the U.S. economy—have reported making such changes as a result of the tax cuts.
The tax cuts have not been controversial solely because of their failure to deliver a widespread increase in hirings. The Tax Cuts and Jobs Act delivered many land-owning Republican congressmen huge breaks in real-estate businesses, saw private jet management firms exempted from excise taxes, and most notably opened up 1.5 million acres of the Arctic National Wildlife Refuge for oil and gas drilling. Experts also noted that the bill was set to deliver unprecedented personal gain for President Trump and his family, setting him up to save millions on eventual estate taxes.