Supreme Court Approves Execution of Muslim Death Row Inmate While Denying His Request for an Imam
Photo by Pool/Getty
Politics
News
Supreme Court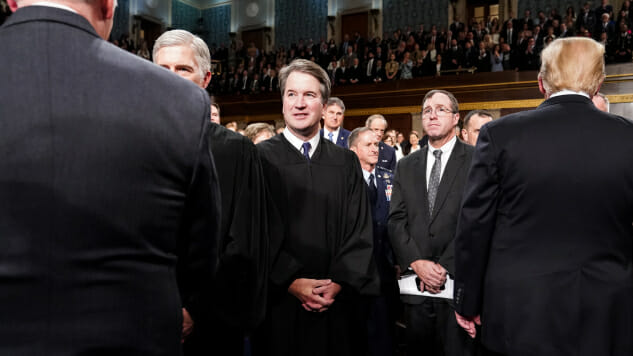 On Thursday, the Supreme Court approved a request from Alabama to execute a Muslim death row inmate without the presence of his imam in the room. Under Alabama policy, Christian prisoners may have a minister of their own faith accompany them to the execution chamber.
The case, known as Dunn V. Ray, undoubtedly calls into question the extent of religious freedom protections here in the United States.
Court Justices voted five to four, with the more liberal members voting in favor of allowing the presence of an Imam. The majority provided little reasoning to back their decision, but said that the inmate, Domineque Ray, had waited too long to object.
"One religious denomination cannot be officially preferred over another," wrote Justice Kagan, citing the First Amendment's Establishment Clause in her statement of dissent. "But the State's policy does just that. Under that policy, a Christian prisoner may have minister of his own faith accompany him into the execution chamber to say his last rites. But if an inmate practices a different religion—whether Islam, Judaism, or any other—he may not die with a minister of his own faith by his side. That treatment goes against the Establishment Clause's core principle of denominational neutrality."