Steve King's Donors Are Backing Away as GOP Support Evaporates
Photo by Alex Wong/Getty
Politics
News
Steve King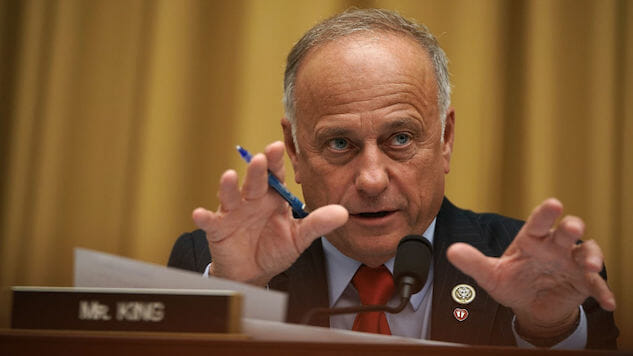 Rep. Steve King (R-Iowa) is hitting rock bottom. King recently outed himself as a supporter of white nationalism, giving an interview to a far-right Austrian group, in which he said, "Liberty is suppressed by tyrants and Leftists," and revealed that he subscribes to conspiracy theories surrounding George Soros.
Discussing his ideas on immigration, King equated the value of immigrants to their food, saying, "Mexican food, Chinese food, those things—well, that's fine. But what does it bring that we don't have that is worth the price? We have a lot of diversity within the U.S. already."
Earlier this week, he even retweeted a tweet from a man who openly declared his love for Adolf Hitler. King said it was a mistake, though he refused to delete it, per CNN.
He also recently endorsed a white nationalist running for mayor of Toronto. Shockingly, that support didn't do much for the candidate, who garnered 3.4 percent of the vote.
It's this series of events that's led to several of King's funders and the GOP pulling their support. Per Fortune, the National Republican Congressional Committee has said that it will no longer be funding his campaign, and corporate donors including Purina, Land O' Lakes and Intel have all abandoned King.
That's critical for the incumbent candidate. At this point, King is only ahead in the polls by a single point. Even his party members are cutting ties.
Congressman Steve King's recent comments, actions, and retweets are completely inappropriate. We must stand up against white supremacy and hate in all forms, and I strongly condemn this behavior.

— Steve Stivers (@RepSteveStivers) October 30, 2018
Finally, watch him blow up when asked by one his constituents about his ideology:
Steve King blows up at questioner who pressed him on the Pittsburgh massacre #IA04pic.twitter.com/7sFQyY9fOW

— Iowa Starting Line (@IAStartingLine) November 1, 2018