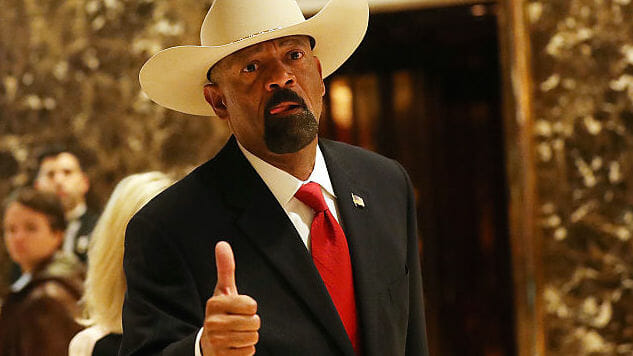 In a letter to the Milwaukee County Clerk, David Clarke has given notice of his resignation as Milwaukee County Sheriff.
The former sheriff, an avid Trump supporter and noted ignorer of civil rights, does not specify any causes that lead to his decision in the letter obtained by CNN, nor did he respond to the their requests for comment.
Nobody seems to know what career opportunities Clarke will pursue after his resignation—hopefully there are none—and the ex-sheriff himself is keeping us all in suspense.
After nearly 40 years serving my community I'm retiring. What a ride! I will announce my future plans next week after the Labor Day holiday. pic.twitter.com/pYbv7txCEZ

— David A. Clarke, Jr. (@SheriffClarke) September 1, 2017
Revisit our in-depth exploration of whether Clarke is a real person right here.