Alabama State Auditor: Even If Roy Moore Sexually Abused 14-Year-Old Girl, It's "Much Ado about Very Little"
Photo by Mark Wilson/Getty
Politics
News
Sexual Abuse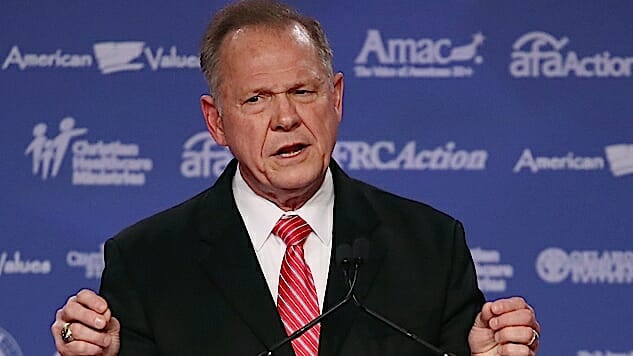 Earlier today, reports emerged that Senate nominee and Trump-brand populist Roy Moore has been accused of initiating sexual contact with a 14-year-old girl in 1979, which is sexual abuse under Alabama state law. Republicans in the Senate have been steadily disavowing themselves, but at least one lawmaker in Alabama has a very different take:
Alabama State Auditor Jim Zeigler, a Moore backer: "Even if you accept the Washington Post's report as being completely true, it's much ado about very little. " #ALSEN#alpolitics

— Brian Lyman (@lyman_brian) November 9, 2017
That's an almost unbelievable statement—we expect Moore and his supporters to deny, and to obfuscate, but to actually say that sexual abuse is no big deal? It takes very little to shock us when it comes to Republicans, but this does the trick. All in all, between the Moore allegations, this tweet, and the NYTimes story on Louis CK, today is apparently a day for unmasking gross men.
Update: More extremely dubious rationale from Zeigler:
Wow. This defense of Roy Moore from AL state Auditor Jim Ziegler:

"Take Joseph and Mary. Mary was a teenager and Joseph was an adult carpenter. They became parents of Jesus."https://t.co/IhaWiCEFmq

— Aaron Blake (@AaronBlake) November 9, 2017