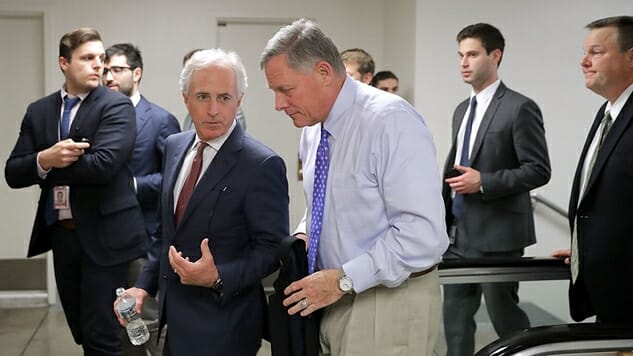 Earlier this year, Fox News got a hold of Democratic Senator Mark Warner's text messages in yet another "scoop" in their never-ending quest to undermine Robert Mueller's investigation.
This raised plenty of eyebrows in the media world thanks to what happened a couple weeks before this story. Sean Hannity (who just told targets of the special counsel's investigation to destroy evidence) had his Twitter account temporarily suspended, and a bunch of fakes popped up while he was locked out. Julian Assange, the founder of Wikileaks—an agency which acts as something of a laundromat for Kremlin intelligence—reached out to one of the fake accounts. Dell Gilliam—the woman behind the parody—provided screenshots of her conversation with Assange to The Daily Beast.
Assange told the person he thought was Hannity that "You can send me messages on other channels. Have some news about Warner." When Fox News' story broke, Assange tweeted "When the sun shines it gets warner," which took the conspiracy theory to a fever pitch. Turns out, it wasn't Wikileaks who sent Fox News Mark Warner's texts—the phone call was coming from inside the House.
Yesterday, the Senate Intelligence Committee—chaired by Republican Richard Burr of North Carolina—announced that the House Intelligence Committee leaked Mark Warner's texts. Per the New York Times:
Senator Richard M. Burr of North Carolina, the committee's Republican chairman, and Senator Mark Warner of Virginia, the top Democrat, were so perturbed by the leak that they demanded a rare meeting with Speaker Paul D. Ryan last month to inform him of their findings. They used the meeting with Mr. Ryan to raise broader concerns about the direction of the House Intelligence Committee under its chairman, Representative Devin Nunes of California, the officials said.
To the senators, who are overseeing what is effectively the last bipartisan investigation on Capitol Hill into Russia's interference in the 2016 election, the leak was a serious breach of protocol and a partisan attack by one intelligence committee against the other.
But that's not all. Trump's disastrous trade war that will become official once Canada, Mexico and the EU's tariffs take effect next month (ours are already in place), will certainly hurt the economy—especially Trump voters. Senate Republicans have introduced a bill designed to curb the president's powers on this front, and if passed, it would require congressional approval on all changes to imports.
Making claims regarding national security to justify what is inherently an economic question not only harms the very people we all want to help and impairs relations with our allies but also could invite our competitors to retaliate.

— Senator Bob Corker (@SenBobCorker) June 6, 2018
If the president truly believes invoking Section 232 is necessary to protect the United States from a genuine threat, he should make the case to Congress and to the American people and do the hard work necessary to secure congressional approval.

— Senator Bob Corker (@SenBobCorker) June 6, 2018
Broad support for our bipartisan legislation we introduced today: @USChamber, @NRFnews, @Koch_Industries, @AmChemistry, @AFPhq, @FreedomPartners, @LIBREinitiative, @MEMADC.

See what they are saying: https://t.co/JJ0MIyszI4.

— Senator Bob Corker (@SenBobCorker) June 6, 2018
Now, even though this is encouraging, don't get your hopes up. After all, we're talking about an inherently anti-democratic party who would rather liquidate a State Supreme Court than abide by its ruling. There is very little hidden in the GOP's actions that gives me hope that they will Do the Right Thing—but luckily, because the Republican Party is solely comprised of cowardly, self-interested hacks, Doing the Right Thing in this instance may line up with their political survival instincts. The trade war is our best hope for reason to prevail, as it's so incredibly stupid and self-destructive that everyone from Bernie Sanders to the Koch Brothers agrees that this cannot happen.
Lastly, we're not sure what this pertains to and it could be unrelated to the special counsel, but given that the Senate Intel Committee took this action on the same day they rebuked their counterparts in the House over a portion of the Mueller investigation, the possibility remains that this is connected to it.
The Senate quietly approved a resolution tonight allowing Senate Intel to assist DOJ on a "pending investigation. The Committee is cooperating with the Department on this matter," per Burr and Warner, referring questions to DOJ

— Manu Raju (@mkraju) June 6, 2018
Jacob Weindling is a staff writer for Paste politics. Follow him on Twitter at @Jakeweindling.