Here's a Terrible Idea: Pro-Trump Political Group Sends 12-Year-Old Girl to Interview Roy Moore
Screencap via YouTube
Politics
News
Roy Moore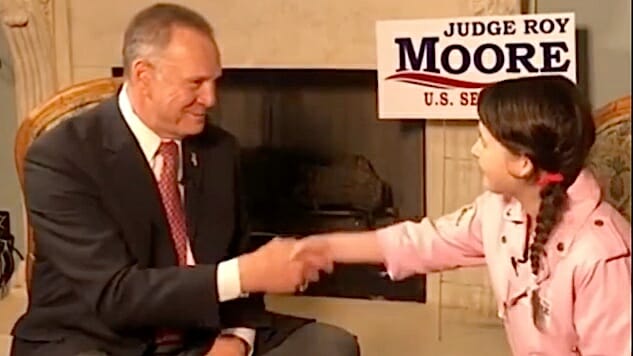 Terrific optics here from The America First Project, a Trump-supporting group started by a former Breitbart staffer. After wracking their brains for the best way to promote the Senate candidate just days ahead of the Alabama election, they opted to send 12-year-old Millie March—a girl who became semi-famous last year because she publicly supported Trump during the election—to interview the judge.
Moore, of course, has been accused of sexually assaulting girls as young as 14, and was reportedly banned from at least one shopping mall because he couldn't be trusted around young girls.
Moore talked about how much he wants to get rid of illegal immigrants and end income tax, or whatever, but the larger point here is that someone sent a 12-year-old girl to talk to this guy. It's a weird stunt, and if it was designed to rehabilitate Moore's image around young women, it looks to me like a giant failure—all it does is draw attention to the scandal in a really uncomfortable way.
Watch here: