Doug Jones Takes the Lead Over Roy Moore in Alabama Senate Race, Poll Says
Photos by Brian Schoenhals/Getty, Wes Frazer/Getty
Politics
News
Roy Moore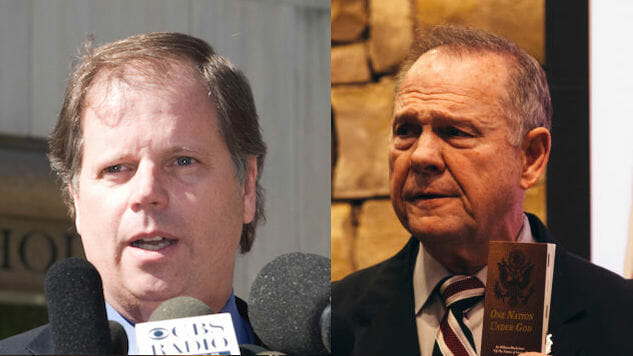 The race for Alabama's Senate seat is going to be a close one.
Doug Jones, considered by many not to have a chance at winning the race against the homophobic and racist Republican candidate Roy Moore, is now leading in some polls, after The Washington Post discovered that Moore sexually abused a 14-year-old girl in 1979.
AL.com reports that the poll in question shows Jones leading Moore 46 percent to 42 percent. Nine percent of respondents said they were undecided. Other polls have the two candidates in a tie, and still more have Moore leading by a slight margin. Thus, we should essentially view this race as a statistical tie. All polls, however, acknowledge that Moore's support is waning, and he only maintains whatever lead he may have thanks to the GOP's dominance in Alabama.
Jones, a former U.S. Attorney for Northern Alabama known for prosecuting cases of domestic terrorism against the Ku Klux Klan, supports civil rights, expanding Medicaid, and the Paris Climate Agreement. Roy Moore is an avowed homophobe with a long history of support from white supremacists and Steve Bannon, which admittedly is a redundant phrase.
And while nearly a third of Alabama voters say they're actually more likely to vote for Moore after hearing he sexually abused a 14-year-old, a higher percentage say they're less likely, and that sensibility has spread to (some) Republican lawmakers. Republicans have begun withdrawing their support for Moore, as perhaps best evidenced by Senate majority leader Mitch McConnell saying the below just today.
BREAKING: Senate leader Mitch McConnell says he believes women who have accused Roy Moore of inappropriate sexual contact, says Moore "should step aside."

— The Associated Press (@AP) November 13, 2017