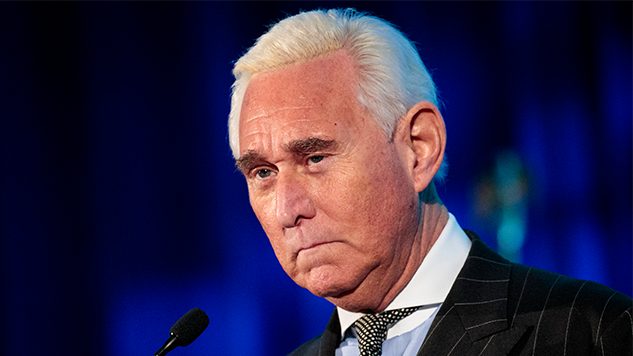 Roger Stone was taken in by the FBI on Friday morning after charges brought by special counsel Robert Mueller alleged that the confidant "sought stolen emails from WikiLeaks that could damage Trump's opponents while in coordination with senior Trump campaign officials," as per CNN. The emails, of course, were those stolen from the Democratic National Committee.
CNN published the indictment, which was unsealed today and contains seven counts against the political consultant. These include one count of attempting to interfere with a witness' testimony, this for his intimidating messages to radio host Randy Credico in order to manipulate Credico's story in the lead-up to his appearance before Congress. Stone claimed in the past that the radio host served as an intermediary between him and WikiLeaks during the 2016 presidential campaign, which Credico denies. It'll come as no surprise that Stone invoked Richard Nixon in one of the threatening text messages ("'Stonewall it. Plead the fifth. Anything to save the plan' … Richard Nixon," the indictment quotes him as writing to Credico), considering the infamous Republican president is tattooed on the Trump associate's back.
The other charges brought against Stone include five counts of false statements and one count of obstruction of an official proceeding. Stone has claimed that he didn't know beforehand what WikiLeaks was going to release, a lie that he repeated in front of Congress. The aide also allegedly lied to Congress about his conversations with the Trump campaign regarding WikiLeaks.
This indictment marks the first time prosecutors are saying others close to Trump were in cahoots with Stone to reach out to WikiLeaks (referred to as "Organization 1") founder Julian Assange over the stolen emails. Read an excerpt below:
After the July 22, 2016, release of stolen (Democratic National Committee) emails by Organization 1, a senior Trump Campaign official was directed to contact STONE about any additional releases and what other damaging information Organization 1 had regarding the Clinton Campaign. STONE thereafter told the Trump Campaign about potential future releases of damaging material by Organization 1.
These other individuals, referred to as a "high-ranking Trump campaign official" and their "associate," are not named in the indictment. However, one email exchange mentioned in the indictment ("I'd tell [the high-ranking Trump campaign official] but he doesn't call me back") matches the wording of an email published by the New York Times in November, with Steve Bannon's name filling in the blank.
White House Press Secretary Sarah Huckabee Sanders quickly set to work distancing the Trump administration from Stone's actions, telling CNN's John Berman, "This has nothing to do with the President and certainly nothing to do with the White House. This is something that has to do solely with that individual, and not something that affects us here in (the White House)."