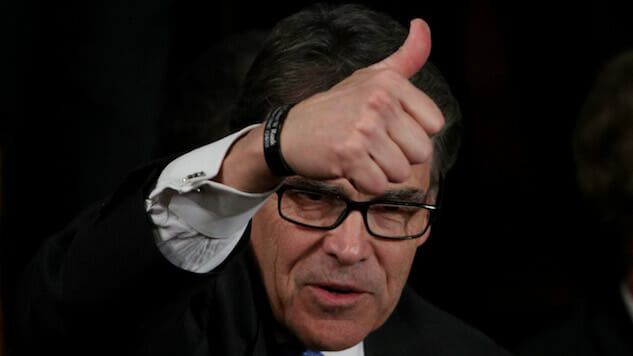 Climate change denier and (inexplicably) U.S. Secretary of Energy Rick Perry visited a coal plant today. Despite the fact that the coal industry is dirtier, less efficient, and provides significantly fewer jobs than, say, Arby's, Perry has remained committed to the dying industry. And while all traditional logic suggests we should move on from coal and invest more heavily in other energy sources like solar, Rick Perry knows something we don't. While at the West Virginia coal plant today, Perry decided to give us all a little economics lesson.
DOE Rick Perry at coal plant:"Here's a little economics lesson: supply and demand. You put the supply out there and the demand will follow."

— Taylor Kuykendall (@taykuy) July 6, 2017
Brilliant. You know how people are still cranking out VCRs just waiting for the demand to catch up with the overwhelming supply? Same thing with coal, baby. The reason we don't buy Furbies anymore is because there just aren't enough Furbies in the world. Apparently coal purchasers work just like dead baseball players: If you build it, they will come.
Typically the laws of supply and demand simply are used to determine the price of a particular product. In essence, the higher a good's price is, the harder it'll be to find people that "demand" or want the product. Similarly, supply basically refers to how the higher a product is priced—while still in demand, obviously—the more producers will want to make. The higher a product's demand, the more you can charge, and the more you charge, the more you'll want to make. Basically, all things that don't apply to coal.
Thank God those decisions are made by Rick Perry and not us.