Here Are Two Tweets From Mitt Romney, and One From Donald Trump
Photo by Drew Angerer/Getty
Politics
News
Republicans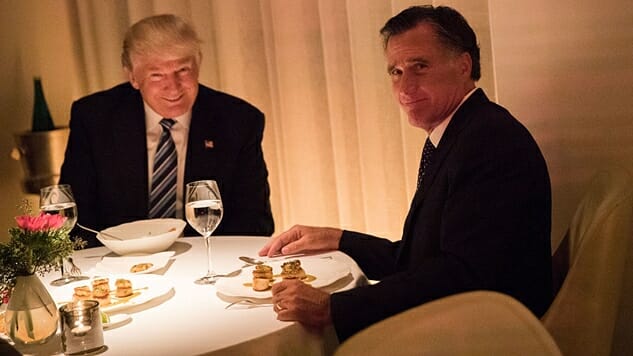 Mitt Romney tweet, March 2016, during the Republican primary:
If Trump had said 4 years ago the things he says today about the KKK, Muslims, Mexicans, disabled, I would NOT have accepted his endorsement

— Mitt Romney (@MittRomney) March 3, 2016
Donald Trump tweet, Monday, after Romney announced he was running for the Senate in Utah:
.@MittRomney has announced he is running for the Senate from the wonderful State of Utah. He will make a great Senator and worthy successor to @OrrinHatch, and has my full support and endorsement!

— Donald J. Trump (@realDonaldTrump) February 20, 2018
Mitt Romney tweet, that same day:
Thank you Mr. President for the support. I hope that over the course of the campaign I also earn the support and endorsement of the people of Utah.

— Mitt Romney (@MittRomney) February 20, 2018
What do you call your act?
The Republicans!