Reddit "Quarantines" Its Most Prominent Pro-Trump Subreddit
Photo by Noam Galai/Getty
Politics
News
reddit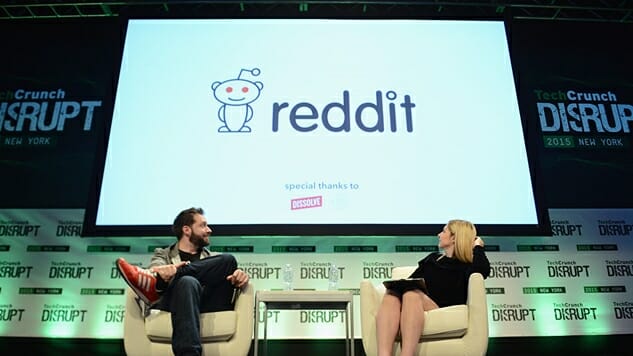 Reddit's r/The_Donald, the social network's popular Trump-supporting channel, was "quarantined" Wednesday for "encouragement of violence towards police officers and public officials in Oregon," according to a statement by the site's administrators.
The quarantine means that posts on r/The_Donald won't appear to users who haven't explicitly opted in to viewing its content. It won't show up in Reddit search results or recommendations, and users attempting to access the page get a warning about the channel's content. In addition, Reddit will not profit from advertising or Reddit coin sales on the channel.
The subreddit boasts over 700,000 subscribers, and it has been accused of promoting white supremacism and right-wing extremism. It was a prominent booster of 2017's neo-Nazi Unite the Right rally in Charlottesville that ended in the death of counter-protester Heather Heyer. Last week, it hosted calls for violence against police and Democratic lawmakers in Oregon, who offended users because they attempted to force Republicans back to Salem after they fled the state to prevent a vote on anti-climate change legislation.
It's this most recent behavior that Reddit accuses of violating its guidelines, which state that subreddits are quarantined if they contain "highly offensive or upsetting" content. Reddit administrators, however, have made it clear that the quarantine is not permanent, and that r/The_Donald members can have their full status back if community moderators "reduce the amount of rule-violating content." r/The_Donald's moderators, for their part, have been cooperative, claiming that "the acts of a few do not define us as a group" and calling on users to report violent content because "many on the left would like to see us gone."
Reddit has also banned the far-right fake news subreddit /r/unpopularnews and the neo-Nazi r/frenworld in the past week. The website taking the next step and banning r/The_Donald is unlikely, according to an analysis by Vox, because the "entire premise of the community" is not in violation of Reddit's standards, and because the channel's moderators are cooperative with administrators.
Meanwhile, r/The_Donald is in an uproar over the quarantine. A pair of recent posts are titled, "I just joined – blatant censorship!" and "I Joined r/The_Donald Because it was Quarentined," while another reads, "Reddit's attempt to censor us backfired tremendously."