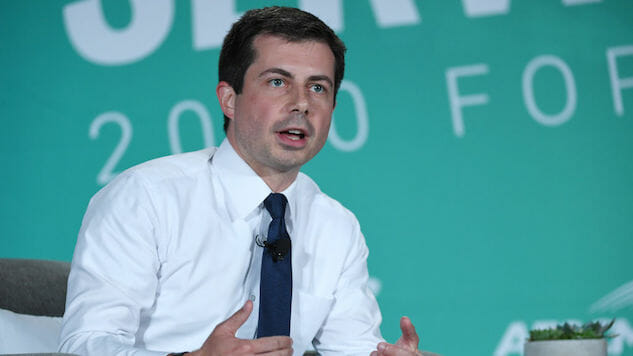 "It's too late for him not to be a white nationalist, and to not bear some responsibility for what's happened here," presidential hopeful Pete Buttigieg told CNN's New Day following Trump's response to the shootings in Ohio and Texas that occurred over the weekend. 31 people were killed as a result of both of the attacks.
Buttigieg criticized Trump's unwillingness to consider reformative gun legislation, saying, "How about some action? I remember his inaugural speech where he said American carnage stops right now. I remember back when he actually said he was going to do something about guns before the NRA put him in his place and reminded him that he's not allowed to say that."
Trump, along with the rest of the conservative political base, are best-known for offering up "thoughts and prayers" in the wake of mass shootings, but nothing more.
The gunman who carried out the El Paso shooting was confirmed to have posted a white nationalist manifesto online before he took a loaded assault rifle into a Walmart and shot innocents. While Trump stated that he condemned bigotry and racism following the attack, the rest of the country pointed out that the rhetoric he espouses mirrors that of the shooter.
"There are policy actions, political actions, civic actions that we can be taking right now," Buttigieg concluded. And he's right.
Watch Buttigieg's New Day appearance below.
"Ordinarily… [a mayor] would automatically welcome a visit from a President of either party," Mayor Pete Buttigieg says about lawmakers asking the President to cancel his planned visit to El Paso. "We've got a President right now who is incapable of bringing people together." pic.twitter.com/STIBSTYwDH

— New Day (@NewDay) August 6, 2019