Florida Rep. Matt Gaetz Tries to Kick Parkland Parent out of Gun Violence Hearing
Photo by Chip Somodevilla/Getty
Politics
News
Parkland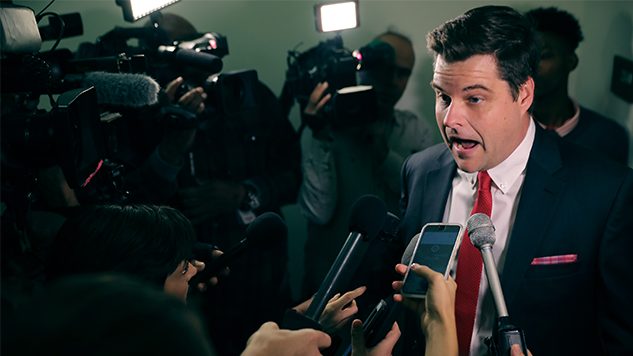 Nothing says "villain" quite like targeting the parents of victims of gun violence. On Wednesday, Rep. Matt Gaetz (R—Fla.) attempted to have Manuel Oliver thrown out of a House Judiciary Committee addressing gun violence, as per The Miami New Times. Oliver's son Joaquin "Guac" Oliver was murdered in the Parkland shooting last year.
Kara Voght from Mother Jones recounted on Twitter how the incident began when Gaetz claimed that Trump's proposed border wall would curb gun violence, rather than background checks. Let that sink in for a moment. Needless to say, this outrageous assertion incensed the Parkland parents in attendance. In response, Oliver and Fred Guttenberg, father of Parkland victim Jaime Guttenberg, reportedly "screamed" while Gaetz was talking.
As @mattgaetz says walls to keep out immigrants, not background checks, will address gun violence, the Parkland parents are NOT having it. @fred_guttenberg and @manueloliver00, who lost their children in Parkland, screamed as Gaetz spoke. Capitol police almost booted them.

— Kara Voght (@karavoght) February 6, 2019
The Miami New Times reported on Gaetz's reaction:
"Is there a process in the committee whereby if the very same people are repeatedly interrupting the time of the members, that those people will be asked to depart the committee?" Gaetz said while aggressively pointing his finger at Oliver and the other parents in the crowd.
"I'd observe three interruptions of my time by the same individual and that the chair is not utilizing its discretion to remove that individual," he added.
The committee's chair, Rep. Jerry Nadler (D—N.Y.), gave the parents a warning, but they were allowed to stay.
If Gaetz's heinous implication that immigration is to blame for gun violence and his opposition to Parkland parents seem over-the-top evil to you, well, welcome to the U.S. in 2019. Gaetz himself is a gun lobby stooge; he even received an endorsement from the National Rifle Association back in July 2018 ahead of his re-election, as per NWF Daily News. One week after the massacre at Marjory Stoneman Douglas High School, he tweeted this:
The @NRA is an organization that takes 100% of the blame for the conduct of 0% of its members. BTW – nobody reads about violence that is stopped by RESPONSIBLE gun ownership. I'm as proud of my NRA A+ as I am of bipartisan legislation I've passed to keep crazy ppl away from guns https://t.co/DAmDJmUKnE

— Matt Gaetz (@mattgaetz) February 21, 2018
Get us out of here, please.