Oprah Joins Stacey Abrams' Georgia Gubernatorial Campaign
Photo by John Phillips/Getty
Politics
News
Oprah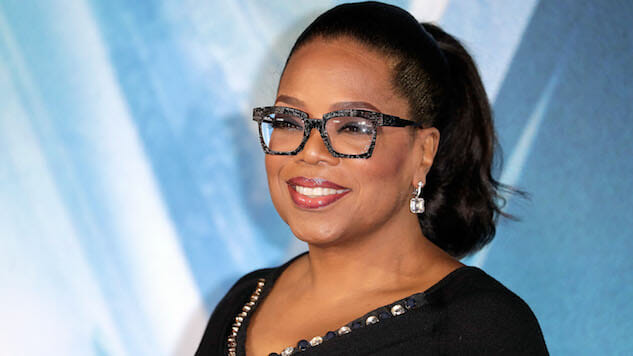 Media executive, philanthropist and all-around legend Oprah Winfrey is joining Stacey Abrams in her campaign for governor of Georgia.
The race between Democrat Abrams and Republican Brian Kemp has gained national attention for the tight battle between the two candidates, as well as for issues of voter disenfranchisement. Oprah isn't the first celebrity to join the Abrams campaign, as earlier this month, Will Ferrell marybethgibbs/status/1055862729448284160″>canvassed for Abrams in college towns in the state.
"On Thursday, trailblazing talk show host and global media pioneer Oprah Winfrey will join Stacey Abrams for two town hall conversations to discuss the critical issues at stake in this year's election," announced the campaign in a statement (per Variety). "Oprah will share why she believes Stacey Abrams is the best candidate to represent all of Georgia."
BIG NEWS: @Oprah is on #TeamAbrams—and she's coming to Georgia on Thursday, 11/1, to help us Get Out The Vote!

We will host two town halls in Marietta & Decatur TOMORROW. Tickets are free but will go fast. Don't miss out! ? https://t.co/0FR0PHEI8L#GAGov#gapol

— Stacey Abrams (@staceyabrams) October 31, 2018
Oprah's contributions will be in the form of two Atlanta-area events on Nov. 1, one in Marietta and one in Decatur. Both events will consist of a "conversation on the critical value of women in leadership and what is at stake" for communities in the state, according to the events' website. Though ticket reservations weren't scheduled to close until Wednesday evening at 5 p.m., both events have already reached capacity as of this writing.
In the past, Oprah's endorsement has been a powerful force when campaigning. Back in 2008, she participated in rallies for Obama's first bid for president, boosting crowds and strengthening the campaign's organizing efforts. (Obama will also be joining Abrams' campaign, appearing at a rally in Atlanta later in the week.)
Though Oprah continues to deny that she will run for office in 2020, her involvement will be an interesting addition to an already intense, entirely unpredictable race.