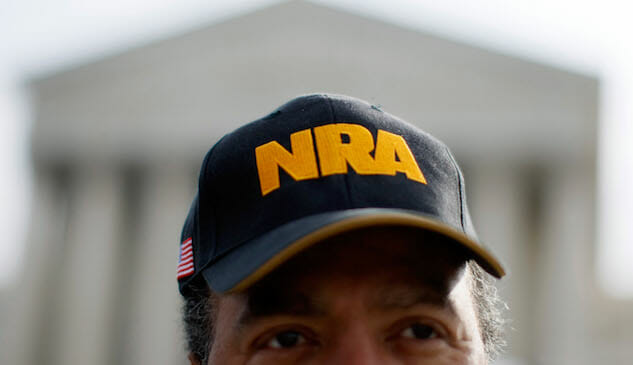 The National Rifle Association reported a loss of $55 million in income last year, per The Daily Beast. After bringing in $125 million in contributions in 2016, the pro-gun lobbying group garnered only $98 million in 2017. Notably, a fifth of last year's contributions came from one person, who anonymously donated around $19 million. The NRA is looking at declines in numbers across the board.
Although the pro-gun lobbying group reports an uptick in magazine subscriptions, its contributions in membership dues are down—it saw a $35-million drop in contributions from dues between 2016 and 2017. That's especially significant. As the stream of funding declines, so does the NRA's ability to influence politicians. Moreover, if those membership dues are indicative of support for gun lobbying, then the nation could be on a slow trend towards more progressive gun laws.
With a staunch supporter (Trump) in the White House, the NRA has gotten bolder in its spending. 2017 saw the advent of NRA TV, the strange, Second Amendment-loving TV network, along with bolstered political contributions to the Republican Attorneys General Association, the latter just weeks after the Las Vegas shooting. It's not the first time the NRA gave money to RAGA, but the contribution multiplied from $110,000 in 2016 to $775,000 in 2017. Though both parties deny a correlation, a majority of those attorneys general proceeded to advocate for concealed-carry legislation. That spike in contributions contradicts the NRA's lessened income for 2017.
In fact, the NRA actually spent $18 million more than it had the year before in 2017. That number was at $46 million when the organization desperately lobbied for Trump's election in 2016. Gun violence is an epidemic the NRA shoulders much of the blame for; it's nice to see their waning support hitting them where it hurts.