Kim Jong Un Is Expanding Nuclear Capabilities, but Trump Is Cool with It Because He Got a Nice Letter
Photo by Chris McGrath/Getty
Politics
News
North Korea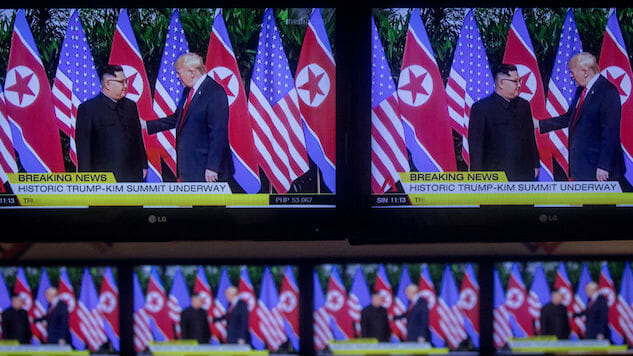 The White House has confirmed that Trump received a letter from North Korean leader Kim Jong Un on Wednesday. Trump proceeded to thank Kim for the "nice letter" and pointed out his "kind actions" after Kim returned the remains of 55 alleged U.S. soldiers. Yet, while Trump is busy thanking him, Kim is building nuclear missiles that can reach the U.S.
Thank you to Chairman Kim Jong Un for keeping your word & starting the process of sending home the remains of our great and beloved missing fallen! I am not at all surprised that you took this kind action. Also, thank you for your nice letter – l look forward to seeing you soon!

— Donald J. Trump (@realDonaldTrump) August 2, 2018
While the White House hasn't disclosed the contents of the letter, Sarah Sanders said in a statement, "The ongoing correspondence between the two leaders is aimed at following up on their meeting in Singapore and advancing the commitments made in the US-DPRK joint statement." The White House did not comment on whether or not another meeting between the leaders will be scheduled, despite Trump's tweet to Kim that said, "l look forward to seeing you soon!" 
While we all know that Trump and Kim are pen pals, Trump seems to be ignoring the fact that Kim is going against the agreement they made at the June summit in Singapore. At the summit, Kim vowed to work toward denuclearization in an agreement that was criticized for being extremely vague. Less than a month after the summit, satellite images revealed that North Korea was continuing to expand a key nuclear missile manufacturing facility. On Monday, U.S. spy agencies revealed they found signs that North Korea is building the country's first intercontinental ballistic missile that could be capable of reaching the U.S. However, Trump doesn't seem concerned about it in his tweet thanking Kim for the letter.
A few hours before Trump sent out the tweet, Kim possibly came through on a different promise he made at the June summit – returning the remains of U.S. soldiers that died in North Korea during the Korean War. Vice President Mike Pence was in Hawaii to receive the alleged remains of 55 U.S. soldiers from North Korea.
We don't know this yet. Remains returns from North Korea to the US and Japan have been problematic in the past. But by the time the forensics are done, the news cycle will have moved on. God forbid Trump restrain himself on something this emotional and wait till we actually know. https://t.co/vAq2ClwpWG

— Robert E Kelly (@Robert_E_Kelly) August 2, 2018
Political scientist at the London School of Economics Brian Klass said, "President Trump's presidency is yet again showing a smoke and mirrors foreign policy, aimed at securing the illusion of a win for his self-interest, while American national interest is dealt a major loss." He went on to say:
It's not hyperbole to note that Trump's bizarre adoration of dictators who falsely flatter him is a national security risk. He continues to praise Kim Jong-un even as North Korea is reportedly accelerating its nuclear program, making new missiles, and continuing to pose an existential threat to several major American cities.
Kim Jong-un is a brutal dictator who is now building new missiles, operating secret nuclear sites, and accelerating his nuclear program after threatening to murder millions of Americans by incinerating several US cities. But at least he wrote Trump a nice letter. https://t.co/D53TGBbeB6

— Brian Klaas (@brianklaas) August 2, 2018