NFL Players Didn't Stand For the Anthem Before 2009. Then Things Got All Patriotic ™.
Photo courtesy of Getty
Politics
News
NFL Protests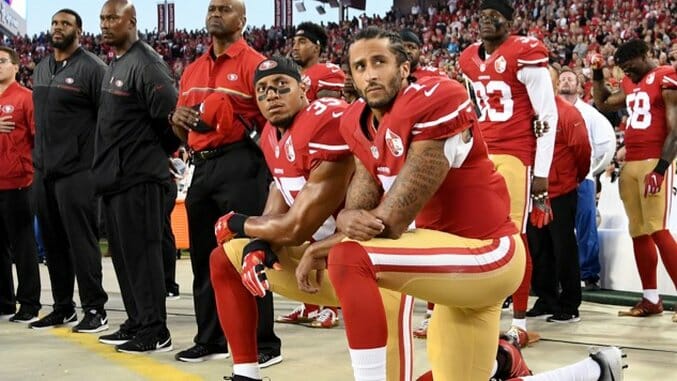 It was ESPN's Stephen A. Smith, of all people, who brought it the world's attention that despite all the recent conservative anger at NFL players kneeling in protest for the national them—anger fomented, of course, by Donald Trump—the so-called "tradition" of the players standing for the anthem only began in 2009. Per Vice:
Responding to a tip from one of his "boys," Smith brought up the fact that until 2009—eight years and a new Presidential administration after 9/11—players weren't on the field for the national anthem and instead generally remained in the locker room. According to Smith's boy (and the researcher at ESPN who checked it), the switch happened "because it was seen as a marketing strategy to make the athletes look more patriotic."
That's right—the whole idea of reverence for the anthem was a PR move. Turns out this had been reported in late August, by Tom Curran of Comcast Sportsnet New England, who got the following response from NFL spokesperson Brian McCarthy:
NFL spokesman Brian McCarthy confirmed this morning the practice began in 2009, adding, 'As you know, the NFL has a long tradition of patriotism. Players are encouraged but not required to stand for the anthem.'
Well, it took a few years, but that sure backfired!
There's another wrinkle here that's even more interesting, and which Vice also reported on in 2015. The Department of Defense used almost $7 million in taxpayer money, and more than $10 million overall in a four-year period, in a scheme that Senators John McCain and Jeff Flake called "paid patriotism." Essentially, the DoD paid money to various professional sports leagues (and a few colleges) to honor the troops in pro-military ceremonies and JumboTron advertisements. Here's what McCain and Flake wrote in their report:
"Even if we accept the DOD's assurances that the young men and women watching these games may be sufficiently inspired to military service by a half-time reenlistment ceremony, some of the displays funded in these contracts defy explanation as a legitimate recruiting purpose and may be little more than a taxpayer-funded boondoggle," the report states…
Given the immense sacrifices made by our service members, it seems more appropriate that any organization with a genuine interest in honoring them, and deriving public credit as a result, should do so at its own expense and not at that of the American taxpayer."
There's no explicit connection between the DoD's funding and the NFL's decision to have players on the field and "encouraged" to stand during the anthem—ie, the DoD doesn't seem to have requested or paid for this change directly—but it would be naive to think the huge, taxpayer-funded marketing push wasn't part of the inspiration for the anthem push.
So the next time you see a conservative become angry at the latest NFL player protest, remember that this was a mess of the league's own making, and that you helped pay for all the pro-military propaganda you see during any given game, which has become embedded in the conservative psyche with such celerity as to be a huge aid in Trump's continued attempts to divide the country using any means at his disposal.