Citing Russia, U.S. Sends Tanks and Troops to Germany to Bolster NATO Defenses
Photo by Alexander Koerner/Getty
Politics
News
NATO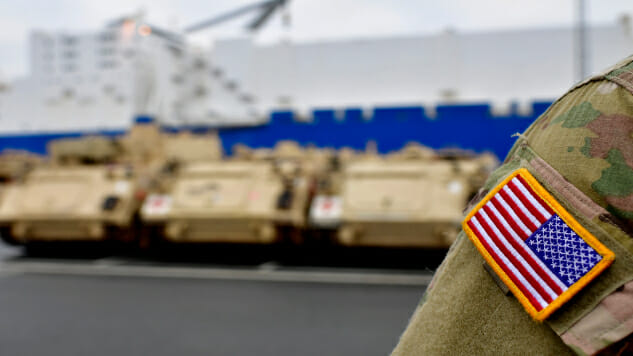 Over the weekend, the United States sent 87 tanks, 144 military vehicles and 3,500 troops to the northern port city of Bremerhaven, Germany, to "allay worries of potential Russian aggression in eastern Europe," according to BBC.
The 3,500 troops, arriving from Fort Carson, Colo., are a part of fresh phase of the U.S.'s Operation Atlantic Resolve, which aims to maintain a constant presence in Europe on a rotating nine-month basis.
Per NPR, the move comes as NATO is increasing an armored presence in Eastern Europe to "alleviate anxiety in the Baltic States and Poland following Moscow's annexation of Crimea and its intervention in eastern Ukraine." Britain, for instance, is sending fighter jets to the Black Sea while a battalion of tanks and troops, backed by Danish and French troops, will head to Estonia in the spring. Germany itself has plans to send troops and tanks to Lithuania.
Some German government officials, such as foreign minister Frank-Walter Steinmeier, see the move as little more than "saber-rattling" and believe that the way forward is through dialogue with Moscow, rather than any sort of brinksmanship.
But Lt. General Timothy Ray, deputy commander of the U.S.'s European command, tells CBS News that the move is one intended to bolster peace. "We intend to reassure all those here in Europe that we are committed to peace and security, and to send a signal to anybody else who would differ with that, that that's not gonna work."