Nancy Pelosi Is Becoming Increasingly Isolated Over Her Opposition to Impeaching Trump
Photo by Alex Edelman/Getty
Politics
Features
Nancy Pelosi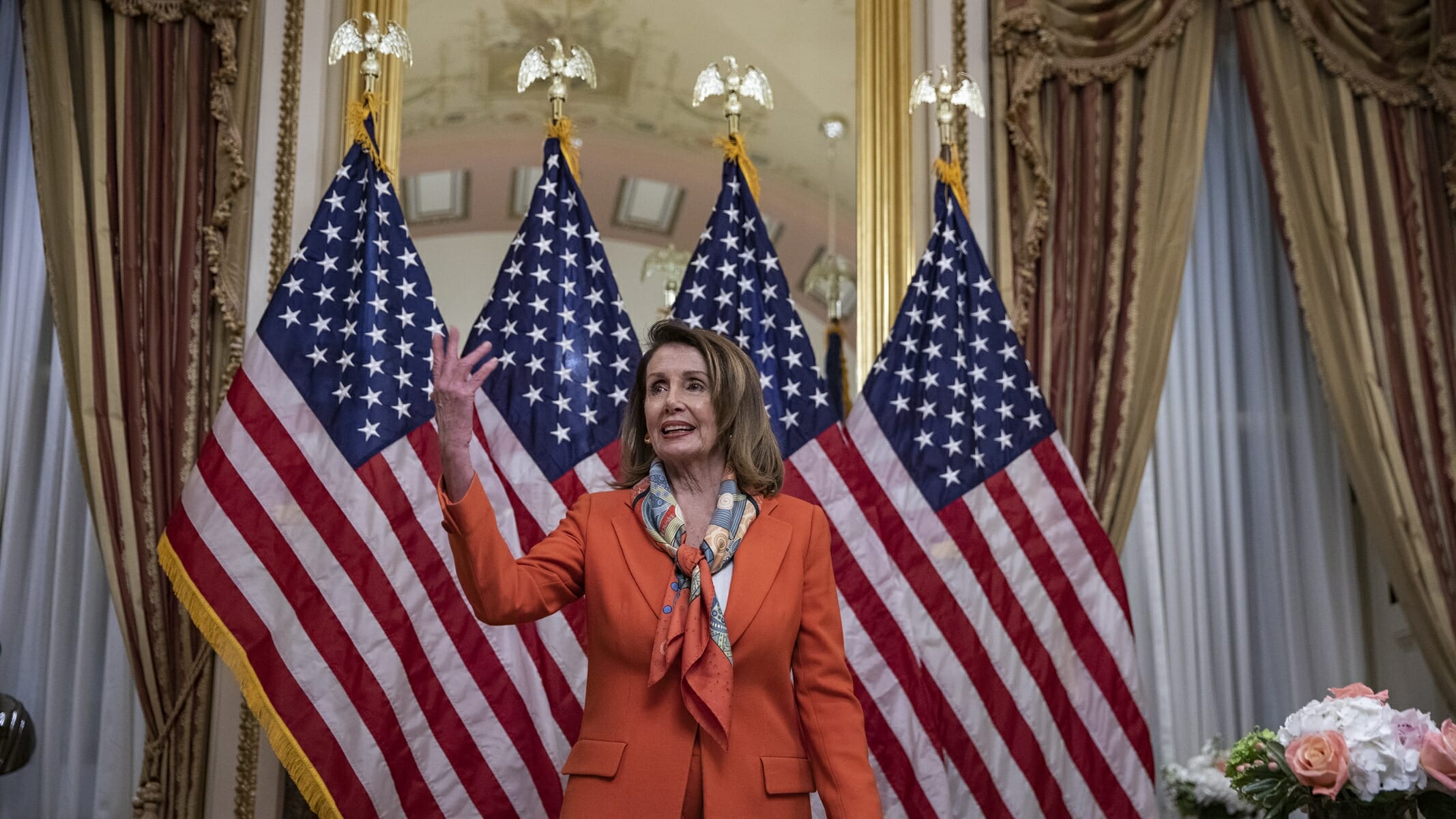 Nancy Pelosi says that she is "not for impeachment," and if Donald freaking Trump cannot be impeached, then no president can.
We can talk all day about the legitimate political questions surrounding impeachment, but the constitution is far clearer. Trump has committed impeachable offenses (his refusal to comply with Congressional subpoenas was one of Nixon's articles of impeachment), and by not impeaching him, Congress is abdicating their constitutionally mandated oversight duty. While at first, the opposition to Pelosi's refusal to impeach was happening lower down on the Democratic totem pole, recent days have brought much more powerful Democrats into the fray. Per The Washington Post:
Several members of House Speaker Nancy Pelosi's leadership team pressed her to begin an impeachment inquiry against President Trump in a series of Monday night meetings, according to multiple officials in the rooms — an effort the speaker rebuffed each time.
At least five members of Pelosi's leadership team — four of whom also sit on the House Judiciary Committee, with jurisdiction over impeachment — pressed Pelosi (D-Calif.) in a closed-door leadership meeting to allow the panel to start an inquiry, which they argued would help investigators attain documents and testimony that Trump has blocked.
Several hours later, Judiciary Committee Chairman Jerrold Nadler met with Pelosi as well and made the case to start the inquiry, he later told his panel member on a call.
Nancy Pelosi is a political creature, through and through. By stating that a president who has committed impeachable offenses should not be impeached, Pelosi is openly stating that her brand of political expediency should come before her constitutional duty as one of the most powerful people in Congress.
Her brand of political expediency is following—not shaping—public opinion. This is what I was alluding to in the first paragraph when I referenced the "legitimate political questions surrounding impeachment." A majority of Americans do not want Trump impeached—and because Democrats legislate with all the enthusiasm of one of those tiny dogs that's constantly shaking because it's afraid of everything, Democratic leadership is letting a razor-thin margin on public opinion overrule their duty.
Americans' support for impeaching Trump has been on the rise this year, and it has gone up since the Mueller Report was released. A Reuters/Ipsos poll from a couple weeks ago noted that "The number of Americans who said President Donald Trump should be impeached rose 5 percentage points to 45 percent since mid-April," and "42 percent of Americans said Trump should not be impeached. The rest said they had no opinion."
I'm not great at math, but I'm pretty sure that 45 is bigger than 42—a plurality, if not quite a majority—so the notion that the American public is against impeachment is specious at best. Sure, it would be a huge fight with major political risks, but the Mueller Report makes it clear that Trump committed impeachable offenses, and Robert Mueller even asked Congress to look into his obstruction of justice findings. Most Democrats get this. Even most of the Democratic leadership seems to get this now, per this new WaPo report—including those in the House Judiciary Committee who would oversee impeachment proceedings like Chairman Jerry Nadler. Hell, even a Republican in the House understands that Trump deserves to be impeached. Nancy Pelosi and her allies in the Senate are becoming more and more isolated on this topic by the hour.
This whole Mueller ordeal is such a perfect encapsulation of the inherent inadequacy of the Democratic Party. Pelosi and her kind were more than happy to play up the Mueller investigation, and indulge their supporters' conspiracy theories regarding Russia, but now that the Mueller Report has asked Congress to do something difficult—but nonetheless required by the constitution—the Democrats are abdicating their duty. Representatives like Adam Schiff became political TV stars overnight by hyping up the Mueller investigation, and now that it has borne real fruit in the form of an impeachment referral to the House, Democrats like Adam Schiff are running away. The Democratic Party isn't interested in exercising power, even if it means opposing the wishes of Democratic voters. If you're surprised by Nancy Pelosi's intransigence on the topic of Trump's impeachment, welcome to the party status quo. They have no problem fundraising off the unpopularity of Trump and the GOP, but when it comes to actually exercising serious political power to stop them, Democratic leadership is never anywhere to be found.
Jacob Weindling is a staff writer for Paste politics. Follow him on Twitter at @Jakeweindling.