AOC Stops By the Democratic Roast of Mike Bloomberg
Images via The Breakfast Club/YouTube, Bill Pugliano/Getty
Politics
News
Mike Bloomberg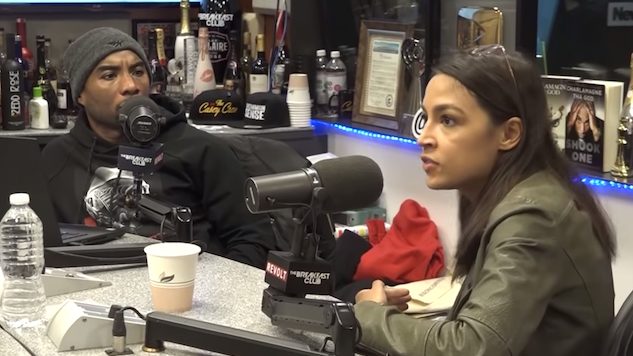 The Great Democratic Roast of Mike Bloomberg continues.
Following a beating at last week's debate, on Tuesday, the billionaire took another hit from star Congresswoman Alexandria Ocasio-Cortez, who represents New York's 14th district.
"If we beat Trump and go back to the same policies that we had before, a worse Trump is going to come," AOC said of the prospect of a Bloomberg presidency. "A Trump that's more sophisticated, whose fascism is less obvious, is going to come, and things could get even worse."
Ocasio-Cortez made the comments during an hour-long conversation on The Breakfast Club, which, for the uninitiated, is a topical group radio show with the vibe of your most A Lot friends having a politically charged brunch. The congresswoman argued that those "falling in line" behind Bloomberg now don't know him like New Yorkers do, and haven't suffered under his leadership like Black and Brown New Yorkers in particular did.
"We lived under his tenure as mayor," said Ocasio-Cortez, a former Bronx bartender (for which she has been famously derided, despite the fact that we cannot think of a single more Cool Girl occupation). "We know exactly what he did."
She pointed out the fascist-y stop-and-frisk policy Bloomberg headed up during his tenure as Mayor of New York from 2002-2013, which gave police officers free rein to stop and search folks they suspected of … crime, generally. Because of course it did, the policy resulted in a vast majority of the frisked being black or Latinx folks just trying to get to their workplaces, some of which mistreated them as a result of Bloomberg's vetoing legislation to improve working conditions in the city.
In 2013, a federal judge overturned Bloomberg's racialized panopticon, a decision the Mayor railed against until … November 2019, when he started publicly apologizing. Maybe the Thanksgiving spirit really got to him? AOC thinks not.
"He was down with stop-and-frisk. He fought for it in the courts, the courts overturned it as unconstitutional. He still fought it, defended it after him being mayor and then … five minutes before he runs for president he says, 'Okay, maybe this wasn't the right policy,'" she said, accurately. "I think that redemption in politics is an acceptable thing, but you have to earn it. People need to prove through their actions and through what they're willing to withstand how down they're going to be with our communities."
AOC, who supports Vermont Senator Bernie Sanders, went on the offensive partly as a Sanders surrogate and partly as a New Yorker, to counteract Bloomberg's zillion-dollar constant ads and Genius Billionaire Playboy Philanthropist reputation.
"A lot of people don't know Bloomberg. And this is part of what he's doing, when he comes in, swoops in, super late in the game, with billions of dollars at his disposal, and is able to kind of shower the airwaves with his cash. But also, he funds a lot of nonprofits and a lot of charities with his Bloomberg Philanthropies," she said. "So I think people see what he's done with his money, and I think a lot of people may have endorsed him without seeing what he did when he actually had a position of power."
Watch AOC's interview on The Breakfast Club below. Her comments on Bloomberg begin around the 17:50 mark.