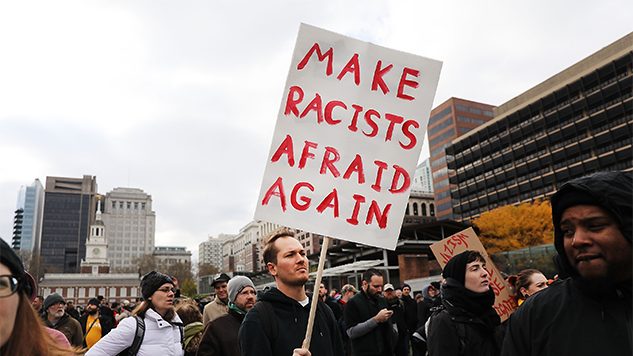 Three churches in Louisiana's St. Landry Parish were set ablaze and destroyed over the course of 10 days: St. Mary Baptist Church on March 26, Greater Union Baptist Church on April 2 and Mount Pleasant Baptist Church on April 4. That these churches have predominantly black congregations is no coincidence.
Twenty-one-year-old Holden Matthews, son of a sheriff's deputy, was arrested Wednesday for three counts of simple arson following the revelation that "all three of these fires [were] intentionally set, and all three of these fires are related," Louisiana State Fire Marshal "Butch" Browning told CNN. Matthews was linked to the crimes upon review of his purchasing history and the presence of a car matching the make and model of his own vehicle in the vicinity of two of the churches around the time of each fire.
As to his motivations, it appears quite clear that Matthews was acting out his own white supremacist beliefs. He was active on both pagan and black metal pages on Facebook, commenting on two memes about Varg Vikernes. Vikernes is a neo-Nazi and former metal musician who served time for murdering a fellow metal artist and burning churches in Norway. If you're unfamiliar with black metal, The Daily Beast has a fairly succinct explanation of its connection to neo-Nazism and white supremacy:
Neo-folk shares some of its musical DNA with black metal, another genre fighting a Nazi problem.
Across two days in late January, hundreds of black metal fans packed a Brooklyn music hall for a reckoning. Their scene was home to bands led by women, immigrants, people of color, and unapologetic anti-fascists. But a subgenre, often termed National Socialist Black Metal or NSBM, had become an unwanted presence in recent years, seeming to rise with white supremacist sentiment in the U.S.
Paganism by no means denotes hateful beliefs, but it can be popular with neo-Nazis. Matthews seemed particularly aligned with Norse pagan pantheon, according to activity on his Facebook page. In one Facebook post featuring a pagan figure with a design resembling a swastika on his belt, Matthews commented, "well yea the belt gives him extra strength and power….. white power lmao jk jk I had to." This is awfully reminiscent of the joking-not-joking racist cadence of the shooter in Christchurch, New Zealand who targeted Muslims.
While mainstream media remains cautious about linking Matthews' online history to his motivations, the nature of his hateful actions remain all-too familiar in this day and age. The NAACP declared the arsons domestic terrorism, CNN reports, adding that the "spike in church burnings in Southern states is a reflection of the emboldened racial rhetoric and tension spreading across the country." Louisiana Gov. John Bel Edwards said that the fires were a reminder of "a very dark past of intimidation and fear."
Neo-Nazis, racists, and their ilk may feel more at home in Trump's America, but our advocacy (not just mere "thoughts and prayers") for vulnerable populations can drive out their hatred. Pastor Gerald Toussaint of Mount Pleasant Baptist Church told The Daily Beast, "Even though we've lost our church—our building, our building—look who's been brought together. Our country has to find out that the God we serve does not look on the outside. He sees the heart."