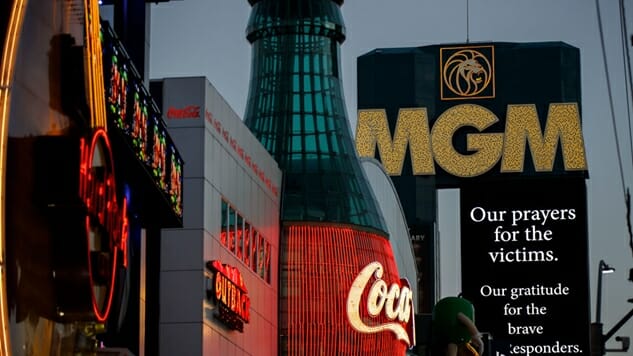 Yes, this is 100% real. Per the Vegas Review-Journal:
MGM Resorts International has filed federal lawsuits against more than 1,000 Las Vegas mass shooting victims in an effort to avoid liability.
The company, which owns Mandalay Bay and the Route 91 Harvest festival venue, argues that it cannot be held liable for Oct. 1 deaths, injuries or other damages, adding that any claims against MGM parties "must be dismissed," according to complaints filed Friday in Nevada and California.
"Plaintiffs have no liability of any kind to defendants," the complaints argue.
MGM Resorts cites a 2002 post-9/11 law that extends liability protection to companies that use "anti-terrorism" technology that can "help prevent and respond to mass violence." They hired Contemporary Services Corp. to protect the festival which wound up hosting the deadliest mass shooting in American history, and because Contemporary Services Corp. was certified by the Department of Homeland Security, MGM is arguing that they should qualify for this same federal protection.
MGM is not seeking money from the victims, but they are trying to cut off the victims' ability to bring future civil lawsuits against the resort who provided a mass shooter with a base to commit crimes against humanity. Las Vegas attorney Robert Eglet—who represented several victims—told the Review-Journal that this is a "blatant display of judge shopping" by MGM Grand that "quite frankly verges on unethical." He went on to say "I've never seen a more outrageous thing, where they sue the victims in an effort to find a judge they like. It's just really sad that they would stoop to this level."
This saga pokes a gigantic hole in the mythical "logic of the market." I think it's safe to say that civilized society (whatever is left of it in the Era of Trump) wholly opposes gigantic billion-dollar corporations suing the victims of mass shootings. This is the kind of PR nightmare that per the stated rules of capitalism, should completely destroy MGM Grand. I can tell you that as someone who gambles, I will go out of my way to avoid patronizing any of their establishments for the rest of my life, but if people like me were a serious threat to their bottom line, we wouldn't be here.
Modern capitalism is about what you can control, not who you can convince to use your product. MGM Grand sees a wave of civil litigation coming their way, and they are suing mass shooting victims to avoid appearing in court. Per the logic of MGM Grand's actions, the "wisdom of the market" has little to no effect on this ordeal. They're using their massive leverage to isolate victims in court, and are hoping to find a judge willing to be as cold and heartless as MGM Grand is—this whole effort in the name of protecting their bottom line.
MGM Grand isn't even trying to pretend that this is anything other than what it looks like, as Debra DeShong, a spokeswoman for MGM, released a statement confirming that litigation is the prime motivator here.
The Federal Court is an appropriate venue for these cases and provides those affected with the opportunity for a timely resolution. Years of drawn out litigation and hearings are not in the best interest of victims, the community and those still healing.
Read: civil court would likely result in MGM Grand losing millions of dollars, so we're trying to jam these victims into federal court. I would say I'm surprised, but "gigantic organization sues victims of mass shooting" is a pretty good description of where America is at right now. MGM Grand should feel ashamed, but the oligarchs of late-stage capitalism have long proved that they have zero ability to feel normal human emotions like shame or empathy.
Jacob Weindling is a staff writer for Paste politics. Follow him on Twitter at @Jakeweindling.