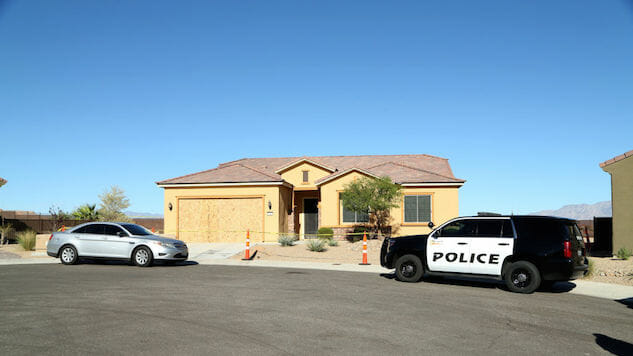 Stephen Paddock, the 64-year-old man responsible for killing 59 people and injuring hundreds more in Las Vegas on Sunday night, wasn't known for angry outbursts or strong political views, according to those who knew him. And yet it was Paddock who was found dead in a 32nd-floor hotel room in Mandalay Bay, having fired indiscriminately into a crowd of 22,000 attending a country music festival.
Articles are now coming out from every major news source, trying desperately to figure out what motivated Paddock to commit the deadliest mass shooting in modern history. Yet, answers have not exactly been easy to come by. Investigations into Paddock's friends, family life and home (pictured above) have yet to unearth any specific motive.
Paddock's brother, Eric, expressed shock when he heard the news. From CBS News:
Eric Paddock said he is "horrified" and "dumbfounded" by his brother's actions. "No religious affiliation. No political affiliation. He just hung out," Eric Paddock said. "He had a couple of guns but they were all handguns, legal," he told reporters. "He might have had one long gun, but he had them in a safe."
The number of guns found in Paddock's hotel room begs to differ. At least 23 guns were found next to the dead man, who used one of them to kill himself before a SWAT team reached him. He had more in his house.
The NYT reports that Paddock had no serious criminal history. His father was the family criminal: he was a bank robber. Paddock spent his time gambling, either playing video poker or in casinos. His brother says he was a multimillionaire real estate developer. His girlfriend, Marilou Danley, lived with him in Mesquite, Nev., but was overseas when the shooting occurred. She has not yet been questioned.
Aside from Paddock making some suspicious financial transactions (moving $10,000 to an account in the Philippines, for one) and buying three guns from a store called Guns and Guitars in the past year, no one can come up with much in terms of suspicious activity. All Paddock seems to have been known for in his local community was gambling at casinos, so they can't speak to a motive.
All this didn't stop ISIS from declaring he had converted to Islam and done the shooting on their behalf, however. That's most likely bullshit, but the rest of the world hasn't figured out any other reason yet.