The Best Tweets Responding to Homeland Security Secretary Kirstjen Nielsen's Lies. Period.
Photo by Hector Vivas/Getty
Politics
News
Kirstjen Nielsen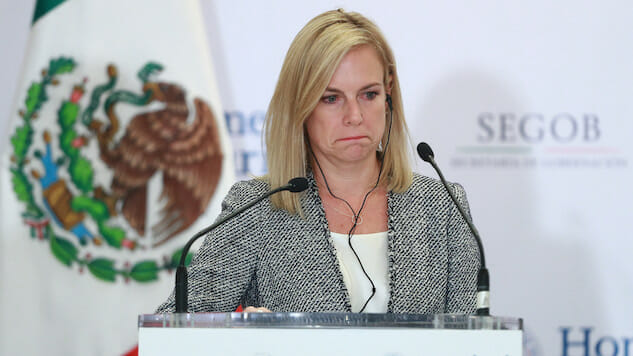 Homeland Security Secretary and blatant liar Kirstjen Nielsen tweeted on Sunday that the Trump administration does not have a policy of separating immigrant children from their families at the border. This tweet comes in the midst of nationwide backlash against the separation of immigrant families and the virtual imprisonment of the children in special detention centers.
We do not have a policy of separating families at the border. Period.

— Sec. Kirstjen Nielsen (@SecNielsen) June 17, 2018
According to NPR, despite Secretary Nielsen's claims, the Department of Homeland Security announced last week that around 2,000 children have been taken from their families and placed in detention centers in the past six weeks. Officials also acknowledge that the number may be even higher. This tweet was just one in a series of blatant lies concerning the inhumane zero-tolerance policy. Nielsen also tweeted:
For those seeking asylum at ports of entry, we have continued the policy from previous Administrations and will only separate if the child is in danger, there is no custodial relationship between 'family' members, or if the adult has broken a law.

— Sec. Kirstjen Nielsen (@SecNielsen) June 17, 2018
You are not breaking the law by seeking asylum at a port of entry.

— Sec. Kirstjen Nielsen (@SecNielsen) June 17, 2018
This misreporting by Members, press & advocacy groups must stop. It is irresponsible and unproductive. As I have said many times before, if you are seeking asylum for your family, there is no reason to break the law and illegally cross between ports of entry.

— Sec. Kirstjen Nielsen (@SecNielsen) June 17, 2018
Obviously, all of these are lies, but just for the sake of proving a point let's fact check a little. On the DHS website it states:
"The Attorney General directed United States Attorneys on the Southwest Border to prosecute all amenable adults who illegally enter the country, including those accompanied by their children, for 8 U.S.C. § 1325(a), illegal entry. Children whose parents are referred for prosecution will be placed with the Department of Health and Human Services (HHS), Office of Refugee Resettlement (ORR)."
The website also includes a PDF flyer titled Next Steps for Families which details how a parent can locate their detained child, but doesn't supply any instructions on how to be reunited with the child. On Saturday, Stephen Miller, Trump's senior policy advisor, defended the policy to the New York Times.. He stated, "It was a simple decision by the administration to have a zero tolerance policy for illegal entry, period. The message is that no one is exempt from immigration law."
However, Nielsen obviously didn't read this article and tweeted away on Sunday denying the fact that the policy exists. She faced instant backlash on Twitter that revealed the truth she so blatantly denied. Here are the best, most clarifying responses.
Awkward.. pic.twitter.com/8gnafNUdfB

— Dawn McCallan (@DawnMacc) June 18, 2018
Did Trump pick @SecNielsen because she follows orders unquestionably no matter how immoral, or is it because he digs her Aryan appearance? https://t.co/aK2lpXo9JJ

— Greg Olear (@gregolear) June 18, 2018
Be proud, @SecNielsen you did this. https://t.co/abAiW1pWL5

— Molly Jong Un Fast (@MollyJongFast) June 18, 2018
For those seeking asylum at ports of entry, we have continued the policy from previous Administrations and will only separate if the child is in danger, there is no custodial relationship between 'family' members, or if the adult has broken a law.

— Sec. Kirstjen Nielsen (@SecNielsen) June 17, 2018
Sessions already said the policy was the law and that the Bible says it was OK. Is Sessions lying or are you?

— Dan Wilbur (@DanWilbur) June 18, 2018
Then why do it? Why the cages? Why the inhumane conditions?
What are you thinking??? The trauma inflicted on 1000's of children is unacceptable!
Stop this right now.

— Andrew Zimmern (@andrewzimmern) June 18, 2018
You

Are

On

The

Wrong

Side

Of

History

And you won't be remembered well for it.

Stand up for decency.

— STORMY Newport (@ruckus2) June 18, 2018
McAllen, TX #AThousandWordspic.twitter.com/MSO3VnAb0H

— MiaMarie (@WahcaMia) June 18, 2018
Thank you for your moral leadership, Laura Bush. I hope the @realDonaldTrump, @SecNielsen and Jeff Sessions heed your words. These are children. #KeepFamiliesTogetherhttps://t.co/JmLQyUAFDc

— Senator Jeff Merkley (@SenJeffMerkley) June 18, 2018
Madam @SecNielsen this is a blatant lie. Period. #EndFamilySeparationpic.twitter.com/AZQvLjLYI4

— Qasim Rashid, Esq. (@MuslimIQ) June 17, 2018
You mean this policy? This, on your website, doesn't exist?https://t.co/If5TkHdpWa

— keith•j•grant (@keithjgrant) June 18, 2018
.@SecNielsen is lying. Period. https://t.co/hSdUrb6reu

— Tammy Duckworth (@SenDuckworth) June 18, 2018
This is a bald-faced lie.

— DD Adams for NC05 (@DDAdamsCongress) June 17, 2018
Wait. We thought @SecNielsen said separating kids from their parents wasn't a real policy. https://t.co/uHDhCMeOhi

— Sleeping Giants (@slpng_giants) June 18, 2018
— I want a new president (@Vicious2707) June 18, 2018
Stephen Miller earlier this week: "It was a simple decision by the administration to have a zero tolerance policy for illegal entry, period."@SecNielsen of @DHSgov tonight: "We do not have a policy of separating families at the border. Period."

— Kurt Andersen (@KBAndersen) June 18, 2018
Dear @SecNielsen: You are lying. Period.

How do we know you are lying Sec Nielsen? Because Stephen Miller pushed for the policy change & AG Sessions gleefully announced it.

Also, 2000 kids didn't voluntarily decide to leave their parents. You forced the separation. Get it? https://t.co/BNqyZa7P7D

— Ted Lieu (@tedlieu) June 18, 2018
This is not correct. I was at the ICE detention center in Elizabeth, NJ this morning and met with parents separated from their children when they entered the US seeking asylum. @SecNielsen should be honest about the Admin's enforcement policies. https://t.co/Cvhp8Vh99G

— (((Rep. Nadler))) (@RepJerryNadler) June 18, 2018
.@secnielsen, this isn't true. I just met with officials at Border Patrol Processing Center in McAllen, Texas, who told me 1,147 children have been separated from parents at their facility. https://t.co/1Z5WXMClbJ

— David Cicilline (@davidcicilline) June 17, 2018
In other words: @SecNielsen is lying in her tweet. https://t.co/yl4wmTmjyE

— Soledad O'Brien (@soledadobrien) June 18, 2018
— LeslieMac (@LeslieMac) June 18, 2018
Liar. https://t.co/eQMGrSCfil

— Walter Shaub (@waltshaub) June 17, 2018
For those seeking asylum at ports of entry, we have continued the policy from previous Administrations and will only separate if the child is in danger, there is no custodial relationship between 'family' members, or if the adult has broken a law.

— Sec. Kirstjen Nielsen (@SecNielsen) June 17, 2018
One month ago, I asked DHS Secretary Kirstjen Nielsen about growing concerns that the admin was separating immigrant parents and children. Her response in a nutshell: "don't break the law." pic.twitter.com/ev4WmqIk5K

— Abby D. Phillip (@abbydphillip) June 18, 2018
2000 children are willing to testify against your lies.

— Patrick S. Tomlinson (@stealthygeek) June 17, 2018
If this isn't the White House policy, please tell the officials who I spoke with in Tornillo today who believe it is. Either own it or change it. Scratch that – just change it. #KeepFamiliesTogetherhttps://t.co/GxyzG1QrmZ

— Rep. Joe Kennedy III (@RepJoeKennedy) June 17, 2018