Senator Kirsten Gillibrand Announces Decision to Stop Accepting Donations from Corporate PACs
Photo by Chip Somodevilla/Getty
Politics
News
Kirsten Gillbrand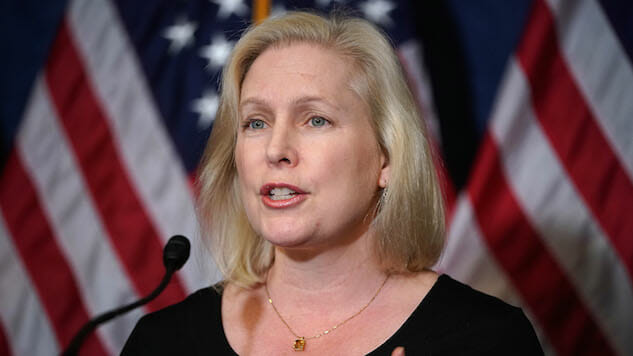 New York senator Kirsten Gillibrand has announced that she will stop accepting donations from corporate PACs.
Like many prospective Democratic candidates for president, Gillbrand announced in a video posted to Twitter that she wants to pave the way for campaign finance reform.
I will no longer accept donations from corporate PACs, and I wanted to share why I've made that decision. I hope you'll join me in doing everything we can to fight to reform our broken campaign finance system. pic.twitter.com/v2oWvEiUCe

— Kirsten Gillibrand (@SenGillibrand) February 13, 2018
Although she cites campaign finance reform, specifically the Citizens United Supreme Court decision, as the motive for her decision, she appears to use careful language and instead of indicating that she wouldn't accept money from any super PAC, she used the phrase "corporate PACs." Super PACs, unlike corporate PACs, raise money from corporations, unions, individuals or other groups.
In the video, Gillibrand doesn't provide a reason as to why she accepted money from corporate PACs to begin with and this could prove to be a mere political decision rather than an idealogical one, because this is an issue that progressive voters feel strongly about.
Gillibrand cites a need for transparency in the campaign finance system and she says that she was the first member of Congress to post her schedule, earmark requests and her financial disclosure online and says she's since added her taxes. She also says that the banning of "corporate PACs" is the logical next step in the fight for campaign finance reform.
She recently got into a Twitter fight with President Donald Trump after Trump tweeted with grossly inappropriate insinuations that "Lightweight" Gillibrand came to his office "begging for campaign contributions not so long ago (and would do anything for them)."
Lightweight Senator Kirsten Gillibrand, a total flunky for Chuck Schumer and someone who would come to my office "begging" for campaign contributions not so long ago (and would do anything for them), is now in the ring fighting against Trump. Very disloyal to Bill & Crooked-USED!

— Donald J. Trump (@realDonaldTrump) December 12, 2017
Gillibrand fired back in response:
You cannot silence me or the millions of women who have gotten off the sidelines to speak out about the unfitness and shame you have brought to the Oval Office. https://t.co/UbQZqubXZv

— Kirsten Gillibrand (@SenGillibrand) December 12, 2017