Making Sense of this Ukrainian Mess With Joe Biden, His Son, the NYT and Rudy Giuliani
Photo by Mitchell Layton/Getty
Politics
Features
Joe Biden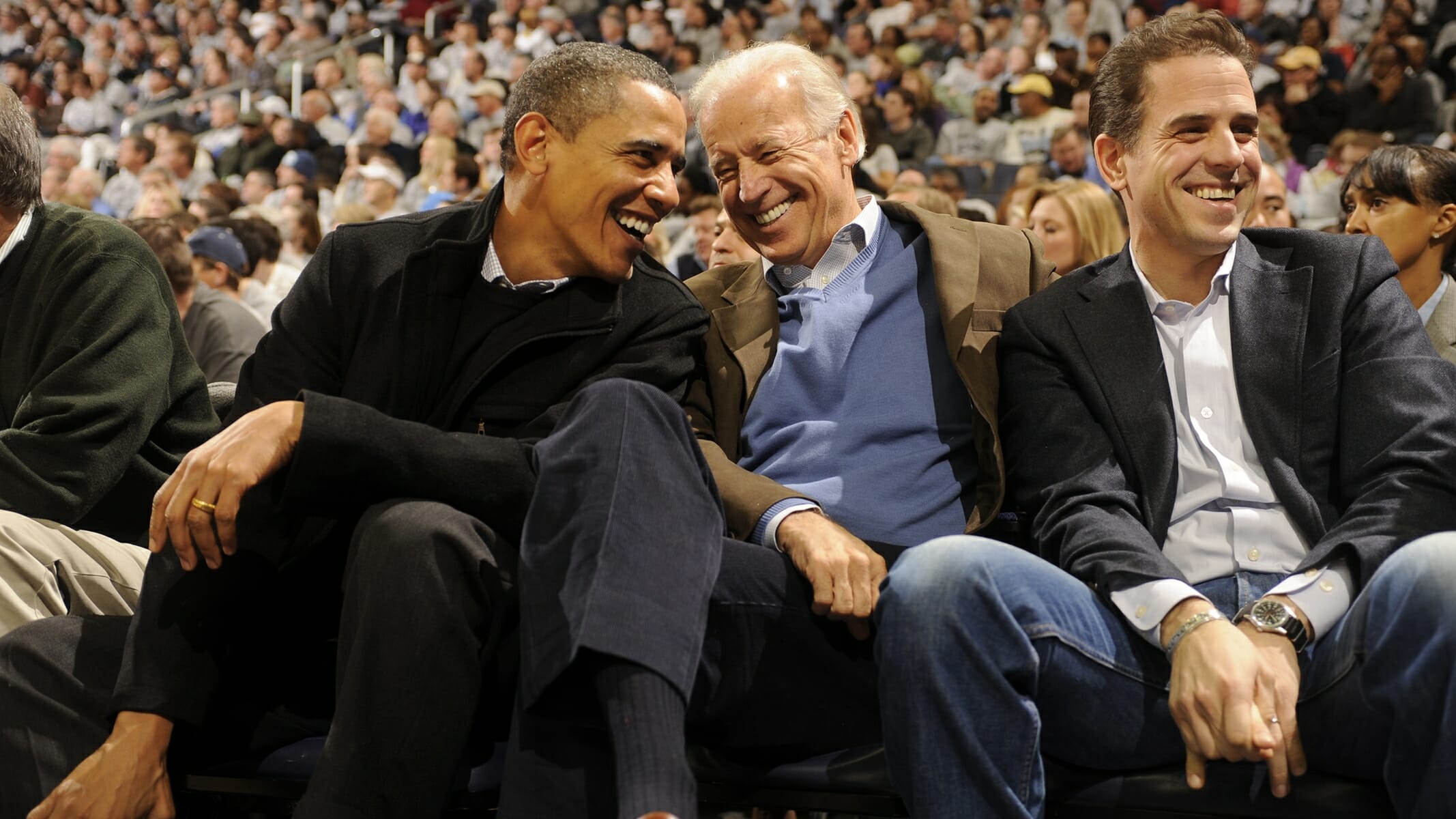 I should disclose up front that I am not a fan of Joe Biden. He has been a conservative Senator who has passed some of the most destructive bills in Congress over the last 40 years, and before he stood next to the most popular politician in America for a near-decade, he was simply known as an unserious gaffemaster who didn't poll above 5% the last time he ran for president in 2008.
That said, I smell a rat—multiple, actually—and while there are some legitimate concerns arising from this recent report, the fact that Rudy Giuliani is pushing this revelation hard should give everyone pause (not to mention the fact that it's the NYT reporting it—an outlet that has never seen a bad faith conservative argument unfit for print).
It was a foreign policy role Joseph R. Biden Jr. enthusiastically embraced during his vice presidency: browbeating Ukraine's notoriously corrupt government to clean up its act. And one of his most memorable performances came on a trip to Kiev in March 2016, when he threatened to withhold $1 billion in United States loan guarantees if Ukraine's leaders did not dismiss the country's top prosecutor, who had been accused of turning a blind eye to corruption in his own office and among the political elite.
The pressure campaign worked. The prosecutor general, long a target of criticism from other Western nations and international lenders, was soon voted out by the Ukrainian Parliament.
Among those who had a stake in the outcome was Hunter Biden, Mr. Biden's younger son, who at the time was on the board of an energy company owned by a Ukrainian oligarch who had been in the sights of the fired prosecutor general.
This report reveals that Hunter Biden is one of those lobbyist/swamp creatures/corporate mercenaries that populate capital cities across the globe. The NYT found previously unreported documents proving that a law firm which Hunter Biden worked for (Boies Schiller) took $283,000 in 2014 from Ukrainian energy company, Burisma. In 2014, Hunter Biden joined Burisma's board of directors. This same financial data also revealed that Hunter Biden joined the board of Rosemont Seneca Bohai LLC in mid-2014, when Burisma paid $3.4 million to the firm over the course of the next year. Additional data reveals that payments continued into the future.
To understand why this looks really, really bad for Hunter Biden, you must understand the wildly corrupt Ukrainian politics, where Kremlin influence is everywhere.
An Extremely Quick and Inadequate Recent History of Ukraine
Ukraine came on to the American newsmap most recently in 2014 when Russia annexed Crimea. The peninsula holding one of the most strategically important ports in the world on the northern coast of the Black Sea has long been disputed going back to ancient times, and history is repeating itself yet again. In 2014, Russia began its slow invasion of Ukraine by declaring Crimea to be property of Russia. As detailed in All the Kremlin'sMen, Ukrainian Prime Minister Mykola Azarov suspended negotiations for the Ukraine-EU Union Agreement, which triggered civil unrest, and he resigned and found political asylum in Russia in 2014. Dmitry Firtash, a former key figure in the gas trade between Russia and Ukraine, was arrested in Austria in 2014 at the request of the United States on bribery and other charges. Rinat Akhmetov is a Ukrainian steel and iron ore magnate who was the main funder of Viktor Yanukovych's 2004 and 2010 presidential campaigns. President Yanukovych fled Ukraine in 2014 for Russia, as he joined Azarov in pushing relations closer to the Kremlin.
I'm torn between how brutally history is repeating and how legit bad it was for Biden's son to take a $50,000/month gig with a Ukrainian oligarch in 2014 https://t.co/iGoODxzPDy

— Tom Gara (@tomgara) May 2, 2019
To work for a Ukrainian oligarch in power at that time meant that you were working on behalf of Kremlin interests whether you were aware of it or not. Russia effectively controls the southeastern part of Ukraine in an (ongoing) war that has killed at least 8,000 people. This all began in 2014—when Hunter Biden started working in Ukraine while his father sat in the White House.
Remind You of Anyone?
Paul Manafort worked for Ukrainian oligarchs connected to Russian oligarch Oleg Deripaska for years. Deripaska sued Manafort for $19 million in the Cayman Islands in 2014. Immediately after assuming power atop Trump's 2016 presidential campaign, Manafort texted a man whom Mueller said Manafort told him that he believed to be a Russian spy, Manafort's top Ukrainian deputy Konstantin Kilimnik about reports of his promotion to campaign manager: "has OVD operation seen" and "how do we use to get whole."
A leaked 2006 U.S. State Department cable described Deripaska as "among the 2-3 oligarchs Putin turns to on a regular basis" and "a more-or-less permanent fixture on Putin's trips abroad." The way that Russian influence works is through the convergence of finance, intelligence, business and organized crime. Everything is a gray area, and energy is the Kremlin's lifeblood. The most correct thing John McCain ever said is that Russia is a "gas station masquerading as a country. It's kleptocracy. It's corruption. It's a nation that's really only dependent upon oil and gas for their economy."
Now, there is a reason why you have only read the name Hunter in front of Biden and not Joe. The only time that Joe Biden's name appears in the story is in the lede letting us know that it is his son who is the focus of the report, and that Joe Biden fought against Ukraine's corrupt government and helped push the country's top prosecutor out of office. The NYT provides no evidence that Hunter Biden's gastacular adventures in Ukraine at the same moment it was being invaded by a gas station directly affected any policy coming out of his father's White House—there are just some convenient coincidences—but sometimes that's all that "conflicts of interests" are. As of right now, this is a story about the nature of power in this world—not Trump-grade deviancy out of Joe Biden.
Power Is Not American
We have royalty here in America.
Clinton. Bush. McCain. Biden. Kennedy. Etc.
Having one of these last names guarantees you at least cultural relevancy, and in many instances, provides you with a divine right to hold public office. This is our public aristocracy. They are funded by a private aristocracy that has driven us to the worst wealth inequality seen in a century. This network of financiers may be American citizens, but their money isn't. Capital is global, and it's basically a proven fact at this point that the wealthiest people in America value their money above all else. In the service of their most beloved asset, America's oligarchs have no problem working against the interests of their fellow countrymen.
So they hire the Hunter Biden's of the world, because they know it gets them one step closer to the true power center in the family: Joe. Whether moves like this by American oligarchs and their fiduciary allies across the globe have any demonstrable impact is difficult to criminally prove—as The Mueller Report painstakingly demonstrated—but look at the dystopian reality surrounding us.
Wealth concentration is a global pandemic. None of this happened by accident. People with power exercised that power in myriad ways—with the aid of the political system—and gained more power as a result of it. In a way, the Russian model is the same for global capital. Organized crime (or in this case, fraud and tax evasion), business, government and high finance all work together in an overwhelmingly byzantine network to funnel 50% of global wealth towards eight men. A 2011 study found that less than 150 businesses control 40% of all wealth in this world—and less than 750 businesses control 80% of it. The army of Hunter Bidens at their disposal is one way that this happens.
Given the timing of his Ukrainian arrival and the nature of his relationships with Ukrainian gas companies, it seems highly probable that Hunter Biden is wrapped up in something shady because that's just how global capital works—especially in that region in this present moment. Perhaps Biden's "brow-beating" of Ukraine had something to do with his son's jobs in Ukraine (that Biden denied knowing about until he read press reports, which…come on, man), but as the NYT notes, this is about a foreign government bringing in "well-connected Democrats during a period when the company was facing investigations backed not just by domestic Ukrainian forces but by officials in the Obama administration." This is bigger than just one vice president. This is how things really work.
To push back against some Democratic operatives characterizing this as another conservative hit piece sneaked past the goalie at the Times, they do note that Rudy Giuliani is pushing this story, and that it is gaining traction in conservative media. They even gave this report a weirdly sheepish title of "Biden Faces Conflict of Interest Questions that Are Being Promoted by Trump and Allies," and have seemingly turned it into a political question for 2020. That's not the main takeaway from this report—the point is that conflicts of interest are simply how power perpetuates itself in this world.
Jacob Weindling is a staff writer for Paste politics. Follow him on Twitter at @Jakeweindling.